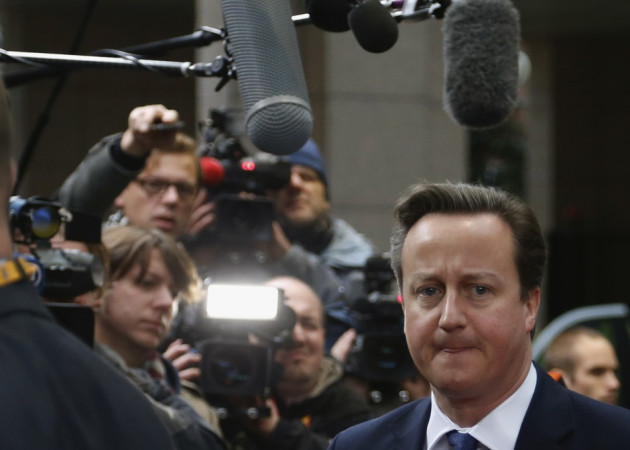 The European Union's two-day budget talks have collapsed without an agreement after little progress was made to gather a consensus on trimming the region's €1 trillion spending plans.
Reports suggest that European Council president Herman van Rompuy was preparing a third budget draft to be debated by European leaders in early 2013 after he failed to bring together support for his proposal of modest €1bn decrease - to €972bn - from the previous deal brokered by Tony Blair in 2005. Including so-called "off budget" items, however, takes the headline figure in van Rompuy's plan to around €1.041bn.
"Not enough progress made," Prime Minister David Cameron said on Twitter. "We need unaffordable spending, cut. That's what's happening at home, that needs to happen here."
Cameron, in particular, was said to have offered little support for the second version of van Rumpoy's budget as it included a proposed 11 percent reduction to Britain's treasured rebate, first negotiated nearly 30 years ago by former prime minister Margaret Thatcher. Adjustments to the way the rebate is calculated would take it to around €3.5bn over the life of the seven-year budget, according to leaked copies of the proposal.
At the same time, spending increases in the proposal were earmarked for agricultural subsidies and developments funds for the poorer members of the EU, something Cameron had both sought to avoid and gathered support against from unlikely allies in German Chancellor Angela Merkel, Sweden's Prime Minister, Fredrik Reinfeldt and Finland's Jyrki Katainen.
France, Ireland and Spain, El Pais reported, were pushing for an additional €6bn to the €8bn addition van Rompuy had tabled. France's newly elected President, Francois Hollande, told reporters when talks broke up late Thursday evening that he was not optimistic about reaching an agreement before the weekend.
"Everyone agrees this is going to take time," he said, telling reporters the "most likely outcome" was a failure to agree at the first time of asking.
The EU's controversial administrative budget looked to be untouched at €62bn under the second version of the van Rompuy proposal.
If the leaders fail to agree a deal in the next few days, or even into late next year, the current budget plan will roll-over in 2014 unchanged. That deal, first negotiated in 2005 but not formalised until the Spring of 2006, was only realised after a grueling 30-hour session of argument and compromise in which Blair, outflanked by Merkel and then-President Jacques Chirac, agreed to a €10.5bn reduction in Britain's rebate in exhange for modest increases in agricultural subsidies.