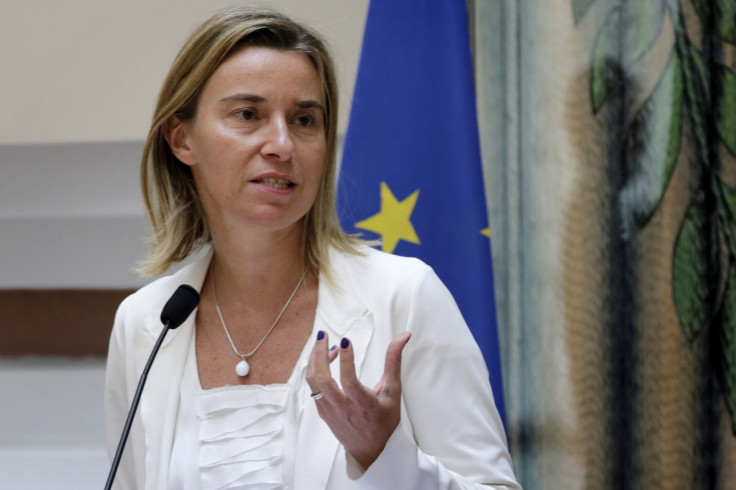 The European Union has agreed a plan to strengthen the defence and security roles of the bloc that could see it sending swift response forces to foreign countries for the first time. The EU is said to be considering strategies to act without US support.
The 16-page defence plan — agreed at a meeting in Brussels on Monday (14 November) — is envisaged to provide greater coordination in certain areas by sending its forces to stabilise a crisis before the EU-led UN peacekeepers can take over.
It also seeks to provide naval efforts to reduce refugee flows, and defence spending and research by EU nations on items like drones and helicopters, EU foreign policy chief Federica Mogherini said.
However, the intention of this proposal is not to compete with the Nato, or create a European army or a military headquarters, she said. The organisation would rather work to boost the alliance with Nato, she added.
She also stressed that Donald Trump's surprise victory in the US presidential elections on 9 November did not stimulate this plan and that the EU defence and security ministers had considered it even before his win.
The Republican had criticised the bloc for its poor defence spending and had suggested during his campaign in July that with him as president, the US may not come to the aid of a Nato ally under attack.
"This is a qualitative leap in the European Union's security and defence," BBC cited Mogherini as saying.
French Defence Minister Jean-Yves Le Drian said: "Europe needs to be able to act for its own security."
The aim of the plan was to ensure the safety of both the EU and its citizens at home and abroad, Mogherini added. There has been support from governments on using so-called EU battle groups of 1,500 forces, which have been operational since 2007 but was never used, she added.
"Clearly it is a message for all of to see how we can increase and improve our coordination," Reuters quoted Sweden's Foreign minister Margot Wallstrom as saying, referring to Trump's campaign comments, although Sweden is not a member of the Nato alliance.
British Defence Secretary Michael Fallon said: "Rather than dreaming of a European army, the best approach to the Trump presidency is for European countries to step up their own defence spending."
The EU's defence spending is reported to be at an all-time low in some parts of western Europe since the end of the Cold War.