A British exit from the European Union could mark the beginning of the end for "Western political civilisation", European Council President, Donald Tusk, said on Monday (13 June).
In an interview with the German daily newspaper, Bild, Tusk warned that the UK will face an uncertain economic and a geopolitical future if it votes to leave the single market in the referendum, taking place on 23 June .
"As a historian, I am afraid this could in fact be the start of the process of destruction of not only the EU but also of Western political civilisation," he told the paper.
Tusk added that renegotiating new treaties between the UK and the EU in the event of a Brexit would be a complicated process that could take up to seven years to complete. Employment Minister, Priti Patel, said the EU chief's "extraordinary language" only served to "reveal his own desperation".
Leave campaigners have accused their Remain counterparts of using scare tactics to persuade Britons to vote to stay in the 28-member state bloc.
Meanwhile, multiple opinion polls suggest that support for exiting the EU is mounting in the UK, with a Guardian/ICM survey - conducted over the weekend of June 11-12 - showed 53% of respondents were in favour of Vote Leave.
An unpredictable future
"The Leave campaign carry a very clear message: 'Let us leave, nothing will change, everything will stay as before'. Well, it will not," Tusk said.
"Not only will the economic implications be negative for the UK, but first and foremost there will be geopolitical consequences.
"Why is it so dangerous? Because no one can foresee what the long-term consequences would be."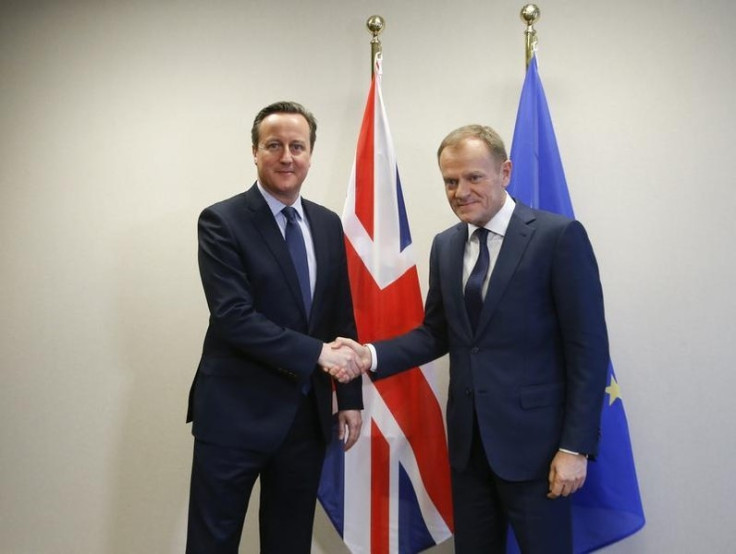 The European Council president said a Brexit would also heighten anti-EU sentiment in other member countries and put the political bloc's future in jeopardy.
"Every family knows a divorce is traumatic for everyone involved. Politically, it would encourage all radical anti-Europeans inside the numerous member states," he stated. "Moreover the day the Brits leave the EU, our external enemies will open a bottle of champagne. We should do everything to spoil that party."
Tusk's remarks come days after German Chancellor Angela Merkel warned that a Brexit will rob the UK of its influence in Europe.
Eurosceptic Tory MP Patel told the BBC: "This is extraordinary language from the EU president, and serves only to reveal his own desperation.
"The only thing that is destroying civilisations is the euro, which has ruined economies and led to youth unemployment soaring to nearly 50% in southern Europe."