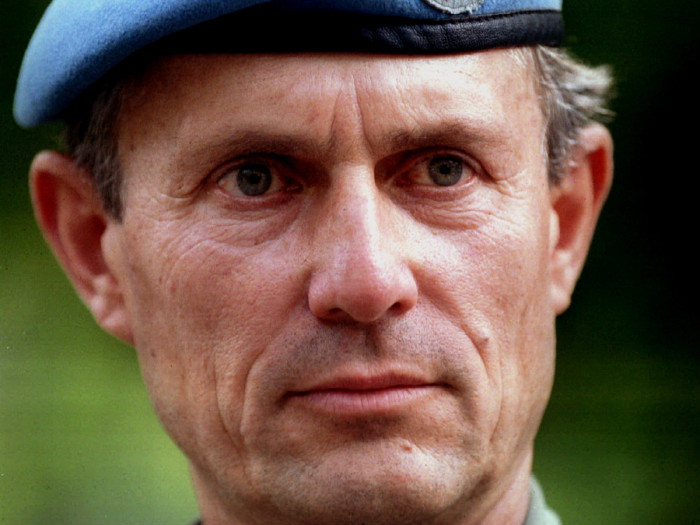 10 Downing Street has been forced to make an embarrassing apology after admitting one of the signatories to a letter from military top brass claiming the UK was safer within the EU hadn't actually signed it. General Sir Michael Rose said he had seen a draft of the letter, which had been sent out by Downing Street, but hadn't wanted to sign it.
Signatories to the letter included Field Marshal Lord Erwin Bramall and Field Marshal Lord Charles Guthrie, but Sir Michael - the former commander of the Special Air Service (SAS) who served in Bosnia and commanded the Iranian embassy siege of 1980 - has asked for his name to be removed. A Downing Street spokeswoman said: "Due to an administrative error on our part, General Sir Michael Rose hadn't signed the letter which appeared in the Telegraph this morning."
In the letter, published in the Telegraph (24 February), 13 former high-ranking military chiefs said the UK faced a number of significant risks from sources including Russia and Isis/Daesh. The letter said: "Europe today is facing a series of grave security challenges, from instability in the Middle East and the rise of Daesh, to resurgent Russian nationalism and aggression. Britain will have to confront these challenges whether it is inside or outside the EU. But within the EU, we are stronger."
Number 10, already facing accusations of scare-mongering after circulating both the letter from military bosses and business leaders, is now having to face accusations of misleading the public - and not for the first time. Immediately after Prime Minister David Cameron announced the forthcoming referendum on 23 June, a letter was circulated by pro-Europe MPs congratulating the Prime Minister on his triumphant negotiations with Europe - before they knew what had been agreed.
Health Secretary Jeremy Hunt also got into trouble when he spoke about a letter supposedly signed by 20 NHS chiefs backing controversial reforms to junior doctor's contracts. However 10 of the 20 later said they did not agree with the new contracts.