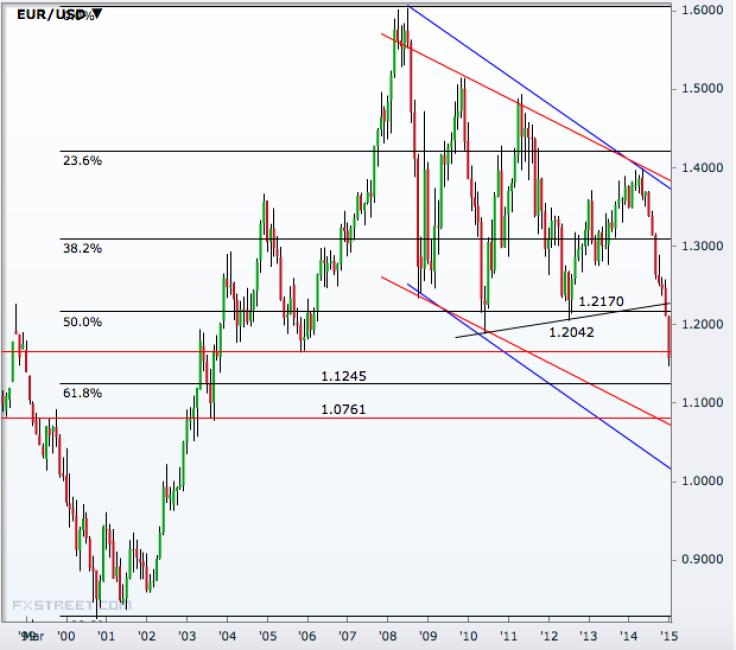 The euro has been falling since May last year but it was the clear indication by European Central Bank President Mario Draghi at the start of this year that pushed the common currency down to a multi-year low.
Draghi told the German daily Handelsblatt that the risk the bank will not fulfil its mandate to keep prices stable is greater now than it was six months ago.
"We have to avoid too-high inflation and we have to avoid too-low inflation as well," Draghi said. "We are making technical preparations to alter the size, pace and composition of our measures in early 2015."
Markets took it as crystal clear guidance from the central bank that it is about to expand the government bond buying programme and an announcement on that would be likely at the 22 January meeting.
The EUR/USD traded as low as 1.1460 on Friday, its lowest since November 2003, and down 5.3% from December-end. It adds to the 12% loss in 2014.
The common currency had two big reasons this week to be sold off - the Swiss National Bank decision to abandon its EUR/CHF floor that strengthened the Swiss franc broadly and weakened the euro through the EUR/CHF cross.
In addition, Friday's US data showed inflation in the world's largest economy has not eased as feared in December, underpinning expectations of a sooner Fed rate hike.
The year-on-year headline inflation rate was 0.8%, down from 1.3% in November, but higher than market expectations of 0.7%.
Also, the Reuters Michigan consumer confidence index stood at 98.2 for January, up from 93.6 in December and beating the market consensus of 94.1.
Next week's will be the ECB's first meeting after the frequency of rate reviews has been reset to six-weekly from monthly until last year.
Technical analysis
The EUR/USD has been keeping the broad downtrend and is on track to test 1.1000 in the coming months.
A precise support range for the pair will be between 1.1245 (the 61.8% Fibonacci retracement of the eight year rally since 2000) and 1.0761, a wave bottom.
A break of that will steepen the trend and take the single currency to parity versus dollar.
Only a reversal above 1.3000 will be able to weaken the downtrend but there are levels like 1.2042 and 1.2170 to pass before that.