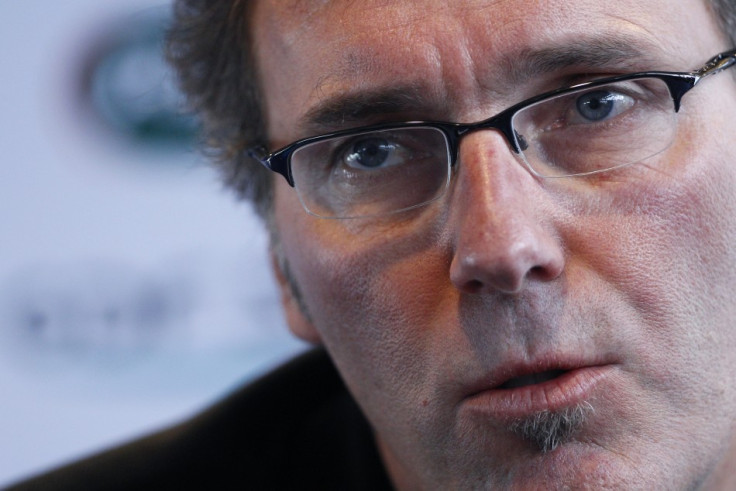 Arsenal right back Bacary Sagna spoke to the Premier League club's official Web site, as Les Blues prepare for their opening game of the summer's 2012 European Championships - against England - in a Group D encounter.
The defender, who unfortunately will not play in the tournament because of a broken leg suffered during a Premier League game against Norwich City, said his country's recent success was because they had gone back to basics.
"We had to go back to our roots and start working even more. We were in a bad way, and couldn't find the right way to play football," he told Arsenal.com, "We had the players, but on the pitch we couldn't play together. When you don't have that special thing as a team you don't win games. Now we have changed many things - training is different, everyone is more focused to come back strong. We are confident and people are not scared because we have had some quite good results recently. But we know that in a competition it can be totally different."
Why France Could be a Handful for England
The French endured miserable campaigns in the previous two major international tournaments, exiting the 2008 European Championships and the 2010 FIFA World Cup in the group stages; more importantly, the now infamous Raymond Domenech-led era saw everything but success for the national side, with player revolts, disciplinary problems and abysmal performances taking centre stage.
All that changed, however, when former Girondins Bordeaux managaer Laurent Blanc took charge in July, 2010. The state of French football, at the time, was so poor Blanc's first act was to suspend all 23 players from the 2010 World Cup squad. The players suspended included former Chelsea and Real Madrid striker Nicolas Anelka, Chelsea winger Florent Malouda, former Barcelona striker Thierry Henry, Bayern Munich winger Franck Ribery and Arsenal right back Bacary Sagna.
Two years on, however, France are as a phoenix from the ashes of those miserable years. Blanc has instilled a sense of pride in playing for the country and successfully banished the disciplinary problems his predecessor faced.
"When they put their talent at the service of the group that changes everything... take Karim [Benzema]. The talent was always there, he had it already for five or six years. The difference now is that he is one of Real Madrid's best players ... In keeping the ball, in duels, in winning balls with his head, he has become a complete player. It is the same for the young Ménez or the young [Hatem] Ben Arfa. They have the talent and the potential. But that is not enough," Blanc was quoted as saying, in an article by the Guardian.
The proof of the revitalised French pudding is in the fact that Les Blues are on a 21 match unbeaten run and will carry the form and confidence of a 4-0 win over Estonia, in their last game, when they step out to meet England. In all fairness, the win did mask defensive concerns for Blanc.
"It's always better to win, even if it's just friendly matches and the opposition were not as strong as Iceland and Serbia. It was important for players to gain confidence from an individual perspective, though, ironically, I felt that the defence was not good enough. We got in trouble on some plays and we had to do some tinkering at the break. I'm not worrying, but I am not sure about certain things. But I do not want to complicate matters and we hope to be ready [for England] on June 11," Blanc explained. Nevertheless, England must remain cautious against a side that has beaten tournament favourites Germany (2-1 in Bremen) and Serbia (2-0 in Reims).
The French boast an impressive vein of world-class players through most positions, starting with one-time Manchester United goal keeping target (and now national team captain) Hugo Lloris and ending with in-form Real Madrid striker Benzema up front. Indeed, such is the strength in depth in most positions that Sagna's leg break has not caused too much of a headache for Blanc, with Manchester City's Gael Clichy, United's Patrice Evra and Lille's Mathieu Debuchy all available for selection.
Blanc's only concern is midfield.
"My final hesitation concerns a long-term problem - the midfield is suffering from a lack of leadership and a lack of players with international experience. There are players who have the potential to be in the France team - but players who have proven they can really be a part of it, there are very few," Blanc had explained, in an earlier Guardian report. He seems to have ironed that problem out though, with the likes of Ribery, Newcastle United's Yohan Cabaye and Ben Arfa, City's Samir Nasri, Malouda and PSG's Jeremy Menez, in addition to others, ready to do battle.
Barcelona's Andres Iniesta: France Will Beat England
Further endorsement of France's chances against England come from Barcelona and Spain midfielder Andres Iniesta, who pointed to the absence of Manchester United star Wayne Rooney and the time it takes to get results under a new coach (the English only recently appointed Roy Hodgson as national team boss) as his reasons for favouring France.
"I have watched France on television several times and I think they are going to make England suffer. The French have improved under Laurent Blanc and the connection between Yohan Cabaye, Franck Ribery and Karim Benzema is a very dangerous one. A few months ago I had my doubts. But now I believe France are better than England," Iniesta told The Sun.
Roy Hodgson and Frank Lampard Differ on England's Chances
Hodgson, meanwhile, has sought to take the pressure of his side by playing down expectations, even as Chelsea midfielder Frank Lampard drew parallels with the Blues' maiden Champions League win.
"England can do what Chelsea have done. There are a lot of similarities, after all - new manager and key players missing through injury and suspension. At Chelsea we found all the adversity brought us even closer together," Lampard told The Sun.