Euro 2012 News: Dutch Report Racial Abuse in Training [VIDEO]
Nigel de Jong and Gregory van der Wiel racially targeted during training sessions in Stadion Miejski in Poznań, Poland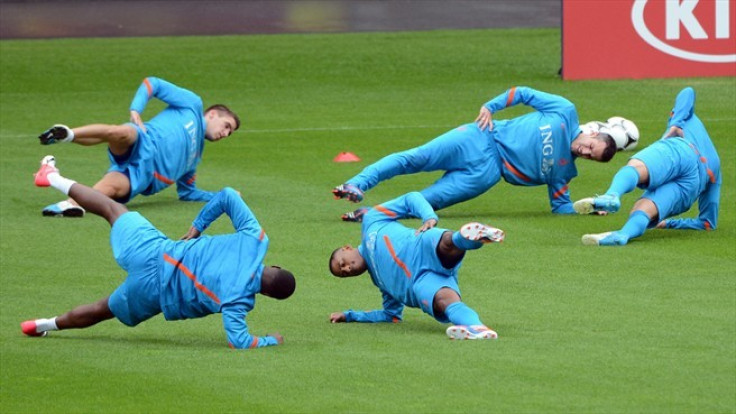 Just hours before kick-off, Euros 2012 has been hit by its first racism storm with claims that the Dutch squad were subjected to monkey chants and racial slurs during an open training session at the Stadion Miejski in the Polish city of Poznań.
Midfielder Nigel de Jong (Manchester City) and right back Gregory van der Wiel (Ajax) were targeted by some of the crowd at the training session.
An angry national team captain, Mark van Bommel (PSV), instructed his team-mates to practice on the other side of the pitch.
"It is a real disgrace especially after getting back from Auschwitz [the Dutch squad visited the former Nazi concentration camp on Wednesday] that you are confronted with this," The Sun quoted van Bommel saying.
"We will take it up with Uefa and if it happens at a match we will talk to the referee and ask him to take us off the field," he told the Telegraph.
The Dutch players were greeted with loud taunts and monkey chants as they were jogging around the pitch at the beginning of their training session. As the taunts got louder the players stopped their warm-ups.
"At least now we know what we can encounter. Very atmospheric," said a sarcastic Bert van Marwijk (Holland coach), according to a Goal.com report.
Uefa denied the jeers were racially motivated. Officials believed the spectators were protesting because Krakow had not been made a 2012 Euro host. In another theory, the football body claimed that Wisła Kraków fans were simply booing the Dutch team because they did not want anyone using their team's home stadium.
"You need to open your ears," said van Bommel. "If you did hear it [the monkey chants], and don't want to hear it, that is even worse," he said, according to the Guardian.
Uefa has a zero-tolerance policy on racism. President Michel Platini, who chose to ignore comments made by former Arsenal defender Sol Campbell on BBC's Panorama programme, earlier said that any player who walked off the field without the referee's permission would be cautioned.
© Copyright IBTimes 2023. All rights reserved.