Wales manager Chris Coleman has praised Aaron Ramsey for shutting his doubters up with a series of brilliant performances for his country in the group stages of Euro 2016 which saw Wales top the group ahead of arch rivals England. The Arsenal man has two assists to his name and a goal and was named Man of the Match against Russia in a 3-0 win for the British side.
Wales will now play Northern Ireland in another all-British affair in the Round of 16 on Saturday, 24 June and Coleman believes that Ramsey has shown that he has developed the maturity and mental strength to perform at the top level. However, he had special words for his main man's makeover, with Ramsey shocking the world with his striking new haircut which made him the centre of attention in the Wales team. Coleman was appreciative of the midfielder, stating that Ramsey knew that his performance on the pitch will overshadow the hoopla around it.
"I think it suits him. If you're going to have a haircut that will shock people - and it did! - You have to have a bit of confidence because you know you are going to be in the spotlight. I think he was more than confident that people would end up talking about his football, rather than his haircut," Coleman said, as quoted by the Mirror.
Coleman has tipped the player to make the midfield position his own and lead Wales further in the tournament. Ramsey has missed a major part of his club career with Arsenal through injury and has failed to replicate his 2013/14 form in the last couple of seasons where he led the Gunners through some scintillating football and finishing to the top of the table before fading away.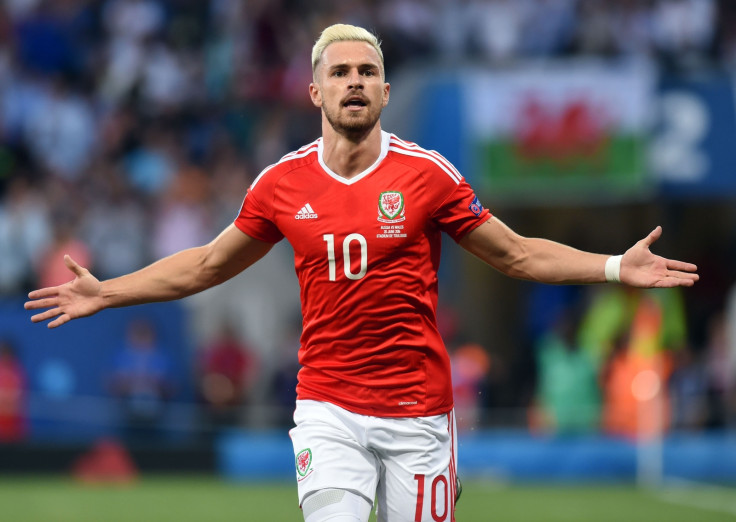 "He's always believed in himself, he's always had that confidence. But the older he gets, the more he realises what his role is. Now you are seeing a positionally more aware Aaron Ramsey in international football against top teams — if he's out of position, he knows the consequences are great," Coleman added.
"We know how good he is on the ball — he's great, fantastic. Rambo is a terrific player, his energy levels, his imagination, he's got the capacity to open any defence up. He can score a great goal and he's box to box. His all-round game has been great. But now he knows his responsibilities, he can be a bit more stubborn. That's improved in his game."