Iceland's joint-manager, Heimir Hallgrimsson, has warned England they know everything they need to know about their Euro 2016 last 16 opponents.
Arnor Ingvi Traustason came off the bench to score an injury-time winner for Iceland in a 2-1 victory over Austria, a stunning result at the Stade de France that secured his side a place in the knockout rounds in their very first appearance in a major international competition.
They will meet Roy Hodgson's side in Nice on Monday 26 June.
"I'm not afraid of England," said Hallgrimsson, who manages Iceland alongside Lars Lagerback. "And now we know how fun it is to win, how good it is to get to the last 16 the first time trying. It wasn't negative to get second place in the group as we get two extra days to prepare. We always knew the opponent will be difficult in the last 16. From today, all that matters is we are in the last 16.
"Iceland has to have the perfect game, we have to have our best game and we know that and we say that when we play the best team, we just have to play our best and that's what we have to do. Even when we play our best we know we can still lose.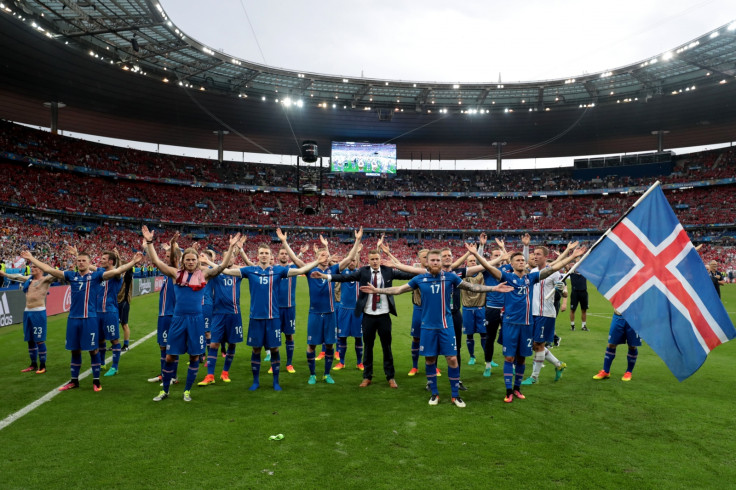 "Iceland knows everything about English football, we are English football crazy. I don't think we need analyse them much but I don't think they know too much about Iceland players. I could count all the players [as being dangerous] it is a creative team a little bit different the English team than before as before, Roy Hodgson deserves credit for that – there are a lot of threats in England team."
England were on course to face Portugal until Iceland's late winner on Wednesday. A win over the tournament debutants would feed the Three Lions into a quarter-final tie with either hosts France or the Republic of Ireland.