Real Madrid star Karim Benzema has accused France boss Didier Deschamps of 'bowing to racists' by omitting him from the hosts' 23-man squad for the summer's European Championships. The French Football Federation confirmed in April that that 28-year-old would not be available due having been charged with conspiracy to blackmail after allegedly acting as an intermediary between the extortionists and team-mate Mathieu Valbuena – which he denies.
But Benzema claims Deschamps – who confirmed his squad for the summer finals which begins on 10 June – has alternative motives when not selecting the former Lyon forward. Former France and Manchester United striker Eric Cantona had claimed Deschamps' decision to overlook Benzema and Hatem Ben Arfa was due to their North African roots, and the Real forward has supported the accusation.
"No, I don't think so (Deschamps is racist) but he has bowed to pressure from a racist part of France," Benzema, who was suspended indefinitely by the FFF last December, told Marca. "You have to know that an extremist party reached the second round in the last two elections in France.
"I don't know, therefore, if the decision was only Didier's because I have got on well with him and with the president. I don't have a problem with anyone. In fact, they try to make out that I create problems, go looking for stories and that I'm never happy but this isn't true," the Real Madrid striker added.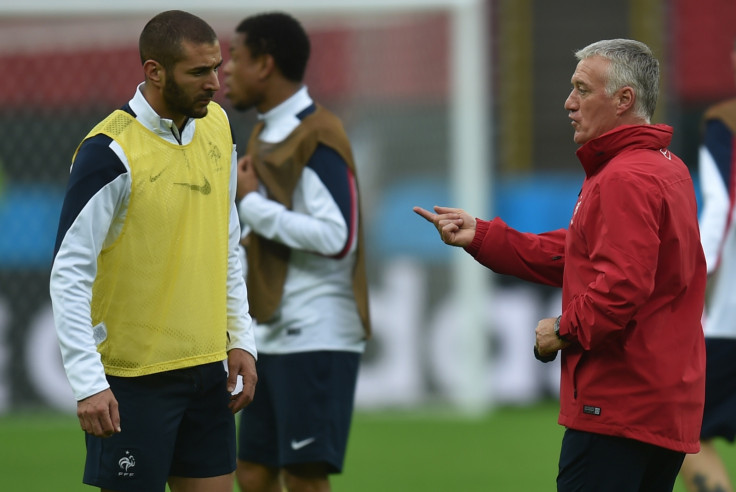 "I have more than 40 million fans on social media and they said that people don't want me. That's ridiculous. There's been a lot of pressure, of course, but that's because some journalists have said things on television which aren't true. I don't know if the decision was Didier's or the president's but what I would like is that they make the decisions and don't bow to pressure."
The criticism, which is the latest episode to cast a cloud over the host nation's preparation for the tournament, throws into doubt Benzema's future international career with Deschamps in charge. Lawyers acting on behalf of the former Chelsea and Juventus midfielder have begun proceedings against Cantona, and actions could yet be taken against Benzema.
"Of course (I could play again for France)," Benzema added. "They've made up a rule so they can't pick me, okay. But in sporting terms I don't understand why because at a judicial level I haven't been judged, I'm not guilty so we'll have to wait to see and let justice be done. Now, I am available for selection, if they want me, but it isn't a problem for me. I like football and playing for my country.
"In life, you shouldn't be hateful - you should learn from mistakes and reflect on the hard times like this. Now I am calm and I've already won the best title with my club. France are going to realise they have treated me unfairly."