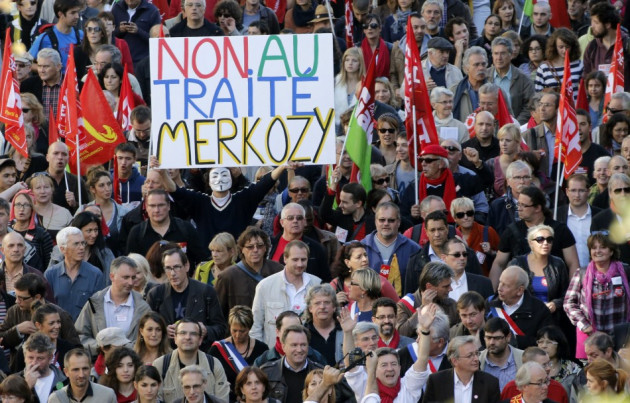 Politicians and central bankers around the world are struggling to find solutions for what appears to be a coordinated economic slowdown after sharp falls in manufacturing data threatened the pace of recovery in the world's most important markets and helped push the jobless rate in Europe to an all-time high.
Data from China, Europe and the United Kingdom have all indicated marked contractions for the month of September, with slowdowns also reported in Norway and Switzerland. The figures will make grim reading for policy makers around the world as they grapple with a sagging global economy that remains mired in the debts Europe's government finances and the legacy of bank rescues from the 2008 financial crisis.
Even more troubling for Europe, however, is the persistent rise in joblessness around the single currency area, which comes just as EU leaders frame the final debates for the region's fiscal pact and hundreds of thousands of citizens march in protest over government spending cuts and rising unemployment.
Eurostat, the region's official data collector, said Eurozone unemployment rose to a record 11.4 percent in August with just over 18.1m citizens looking for work - a rise of 2.2m in the last 12 months.
Meanwhile, a private measure manufacturing activity around the seventeen-member Eurozone for the month of September was reported at 46.1, marginally better than first anticipated but still a significant distance from the benchmark level of 50 which normally signals economic expansion.
The numbers were equally grim in the United Kingdom, where data complier Markit, along with the Chartered Institute of Purchasing Managers, reported September manufacturing output fell to 48.4 in September from an already-weak 49.6 in September.
"The weaker export orders sub-index suggests an ongoing drag from the euro area," wrote RBS economist Ross Walker in a client note. "All in all, broadly as expected but still a sobering survey."
Japan China tensions
The litany of concerns facing the global economic recovery, however, is by no means isolated to Europe.
Official figures from China, the world's second-largest economy, showed September factory output rose modestly to 49.8 - from 49.2 in August - while Japan's comprehensive quarterly economic outlook, known as the Tankan, showed weakening business sentiment throughout the three months ending in September.
Japan's top central banker warned last week that the economic recovery will be delayed by around six months as global demand stalls and Europe's sovereign debt crisis continues. Trade with China, which amounts to around $340bn each year, could also slow sharply if the recent spate of protests over the sovereignty of the Diaoyu islands intensifies. Japan's three largest automakers have said some their China-based dealerships have been attacked by protestors while Suzuki has suspended operations of one of its motorcycle factories.
Last week the United States said its economy grew just 1.3 percent in second quarter, down for an original estimate of 1.7 percent and well below the 2 percent recorded in the three months ending in March. Factory output fell to the lowest level since 2009, according to the private Markit survey, as global demand for US goods faded and new export orders slowed the most in at least a year.
The US Department of Labor is expected to report an increased in the August jobless rate to 8.2 percent this week, the longest consecutive streak - 44 months - the rate has been north of 8 percent since records began in 1948.
The backdrop of this seemingly co-ordinated global slowdown is an effort by central banks in Washington, London, Frankfurt and Tokyo to ignite growth with perhaps the most extraordinary and controversial set of monetary policies in history. Near zero interest rates, coupled with asset purchase programmes and easy lending, criteria have defined central bank tactics in various measures for at least three years, but have yet to find definitive traction in consumer demand.
Austerity drive challenged
At the same time, many have argued that accommodative monetary policy - which has pumped many trillions of dollars in the global economy - is being stifled by the current drive for austerity in Europe and the United Kingdom.
The new fiscal discipline, designed to reverse the persistent growth of government budget deficits and maintain critical debt capital market access, has instead led to slowing economic growth and rising unemployment.
"The Great Depression taught policy makers the hard way that tight money and fiscal austerity were really bad ideas in the face of a deeply depressed economy," wrote the Nobel Prize winning economist Paul Krumgan in his "Conscience of a Liberal" blog. "But, several generations on, all that was forgotten except by the economic historians, and policy makers were ready to resurrect the Treasury View, get all worked up about the dangers of inflation despite the absence of actual inflation, and in general to repeat their grandfathers' mistakes in full."
Earlier this month, global investors responding to a Bank of America Merrill Lynch fund manager survey said they were growing increasingly concerned about the impending "fiscal cliff" in the US, a reference to an automatic programme of spending cuts and tax increases worth more than $600bn that will automatically kick-in on 1 January.
Just over 35 percent of the respondents to the benchmark poll cited the impending fiscal trigger in the US as the biggest "tail risk" to their investment performance, two percentage points higher than the European debt crisis.
Austerity is also being challenged in Europe in protests that may yet yield a change in government policy that has failed to engineer growth despite promises to the contrary.
Madrid, Athens, Berlin, Rome and Lisbon have all seen demonstrations this week - some of them escalating into violence - calling for an end to government spending cuts that have defined policy since the peak of the financial crisis.
Governments in Spain, Greece and Portugal have announced austerity measures worth more than €100bn in budget plans for 2013. Eurostat figures released Monday show August unemployment hit 24.4 percent last month in Greece and topped 25 percent in Spain. Among the under 25s, the figures were even more dire, rising to 55.4 percent and 52.9 percent respectively. Those figures compare to rate of 8.1 percent in Germany.
In Paris on Sunday, as many as 80,000 took to the streets in a march organized to protest newly-elected Socialist President Francois Hollande's first budget and his parliament's debate over the European Fiscal Compact, a constitutionally binding agreement that would permanently limit government spending to 3 percent of GDP.