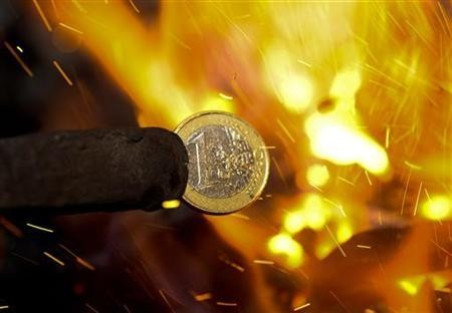 Eurozone private sector output contracted for its seventh consecutive month, signaling another recession as the single currency area's troubles roll on.
A continued drop in new business for firms was a catalyst in the August contraction, while new export orders for manufacturers slumped again for the fourteenth month running, according to data firm Markit's eurozone composite purchasing managers' index (PMI) survey.
The data "reinforces the prevailing view of the economy dropping back into recession during the third quarter of 2012," said Rob Dobson, senior economist at survey compilers Markit, whose flash report is based on 85 percent of the available data.
It would be the second eurozone recession in three years.
"Taken together, the July and August readings would historically be consistent with GDP falling by around 0.5-0.6 percent quarter-on-quarter, so it would take a substantial bounce in September to change this outlook," Dobson said.
"The downturn is still led by the manufacturing sector, despite its pace of contraction easing a little this month. The service sector is also not out the woods, as business activity declined at an accelerated pace."
Eurozone composite PMI came in at 46.6 in August, almost unchanged from July's 46.5. Anything over the neutral 50 figure represents expansion in output, while under signifies a contraction.
A sovereign debt crisis has rocked the currency union for more than two years, stemming from fears that member state Greece would be unable to repay investors in its government bonds when the financial meltdown in 2008 rocked the country's precarious finances.
This provoked a loss of investor confidence in many states across the eurozone, such as Italy and Spain, whose high levels of debt are a cause for bondholder concern.
As a result, the borrowing costs of some of these states has soared towards what is considered the unsustainable benchmark of 7 percent on ten year sovereign debt, as investors seek more reward for their risk-taking.
There have been bailouts worth hundreds of billions of euros in total for Ireland, Portugal, Spain and Greece to try and keep the area afloat.
The European Central Bank (ECB) has also played a key role in trying to hold the area together with its efforts in debt-restructuring for eurozone states and loose monetary policy.
Germany, a eurozone powerhouse whose manufacturing prowess has played a significant part in funding bailout packages, is also now struggling, causing a wave of concern across the world.
"Hopes that German economic strength will aid recovery in the broader currency union were dealt a blow by its rate of economic contraction accelerating, and further signs that its export engine has slammed into reverse gear," Markit's Dodson said.