Evacuation orders for thousands of Californians were lifted on Sunday (21 August) as fire crews come close to controlling the 37,000 acre Blue Cut wildfire in southern California. The fire in the Cajon Pass in San Bernardino County was 85% contained, the joint state and federal incident management team announced.
According to NBC News, the evacuation orders at one point affected more than 82,000 people in the area. The San Bernardino County Sheriff's Department also announced that residents from the Lyle Creek area would be allowed to return but were required to show proof of residency to return, CBS News reported.
No deaths were reported in the massive wildfire, but at least 105 homes were destroyed, the California Department of Forestry and Fire Protection (Cal Fire) said. CBS San Fransisco reported that 216 outbuildings were also destroyed.
"This fire did not go through a dense community, like some fires do," spokesman Costa Dillion said. "Almost all of this area is sparsely populated." Although the evacuation orders were lifted, San Bernardino County remained under a smoke advisory.
The destructive and rapid blaze started on the morning of 16 August, about 60 miles east of Los Angeles. NBC News reported that in the last five days, railroad lines, State Highway 138 and Interstate 15 were closed.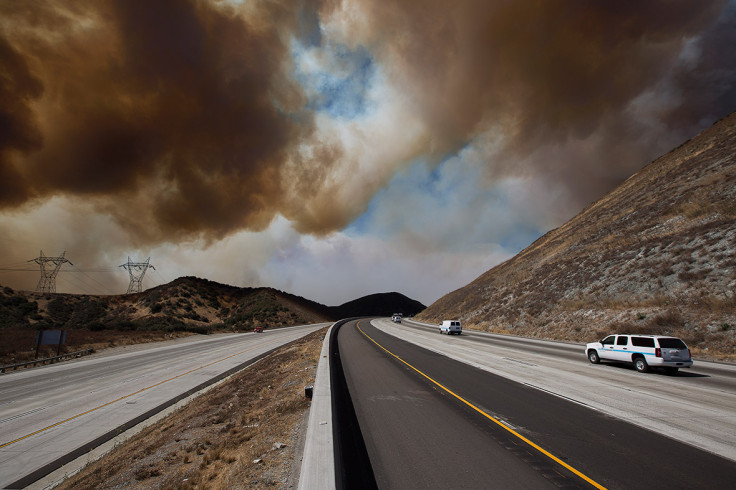 Dillion said firefighters were going property-to-property to put out any lingering flames and hot spots. "You don't want somebody to come back to a neighbourhood where a fire could suddenly flare up on the property next door from something still smoldering," he said.
Authorities said the cause of the fire remains under investigation. Drought conditions in California have allowed dangerous wildfires to spark throughout the state.
In northern California, evacuations orders remain in place for residents around Lake Nacimiento as the Chimney Fire grew to 24,096 acres. Cal Fire said that fire was at only 35% containment. Historic Hearst Castle was forced to close due to the fire.