Everton star Gerard Deulofeu says Barcelona return is still the dream
Catalans have a buy-back option over the Under 21 Spanish international.
Winger believes Pep Guardiola's side are the favourites to win the Premier League.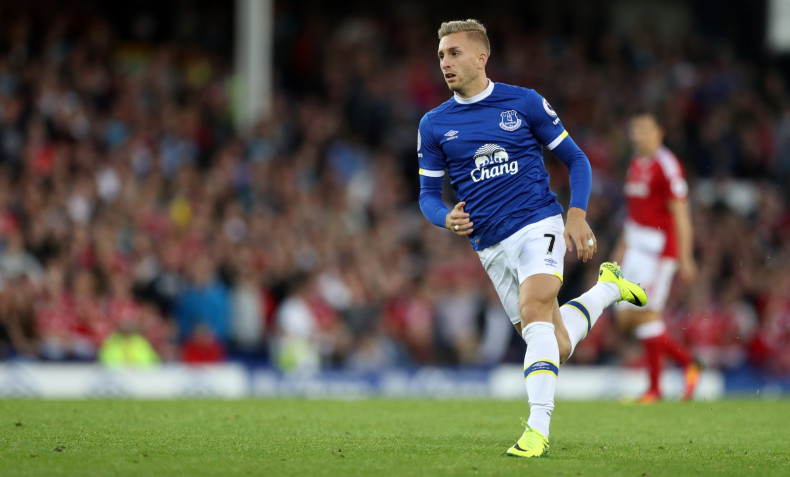 Everton star Gerard Deulofeu has admitted that a return to Barcelona is still on his list of dreams, but his only focus right now is at Goodison Park. The 22-year-old winger hopes to help his side to beat Manchester City on Saturday (15 October) when Ronald Koeman's side visit the Premier League leaders.
Deulofeu was once considered the next big thing to emerge from the prolific La Masia academy, following the footsteps of the likes of Xavi Hernandez, Lionel Messi and Andres Iniesta. He scored 18 goals in the 2012-2013 season for the Barcelona B team in the second division of the Spanish football before the club sent him on loan to Everton to continue his development.
However, the Spain U21 international struggled to convince Luis Enrique he deserved a role in the Barcelona first team and was loaned again to Sevilla in the 2014-2015 campaign, before being sold to Everton. Barcelona included a buy-back option in the contract in case the player emerged as a true star.
Asked during an interview with Mundo Deportivo whether his Barcelona dream is already over, Deulofeu said: "In the day-to-day one only thinks about his club, in training and trying to be in the starting line-up. But obviously it is an option that is still there and Barcelona have the last word. I am calm and will see what happens. It is true that playing at Barcelona right now is very difficult, but at the same time it is everyone's dream."
"[I have improved since I left Barcelona]. Especially in defensive aspects. When he played at Barcelona sometimes I forgot about it, but I learned that if I did not acquire that commitment I could not play in the first division. [Pep] Guardiola worked with me in that aspect and since then I have improved. In football you can not only play because of your quality and talent. Defence is a must."
Deulofeu is trying to show his new manager Ronald Koeman those improvements in order to become a regular part of his plans at Everton. In the meantime the former Barcelona talent is enjoying life at the Toffees, who are fifth in the Premier League ahead of their visit from Manchester City.
The Spaniard believes his former manager Guardiola has made City the main candidates to win the title this season, but said that Everton are ready to follow the example of Tottenham in order to get a positive result on Saturday, after Spurs beat them 2-0 before the international break.
"Manchester City are the team that plays better football and the favourites to win the Premier. There are other teams like Chelsea, United, Arsenal, Liverpool or us that will fight for it but for now they have shown who are the best," Deulofeu said. "We have to press them high to prevent them from shaping the game at the back. Both Tottenham and Celtic are two references for us because they got it. If we do not, they will be very dangerous. We need to be patient because the game will be long and they will try to undermine us with the possession."
"It is a difficult stadium but we go with the intention to win. We also have a competitive team and we will not settle anything."