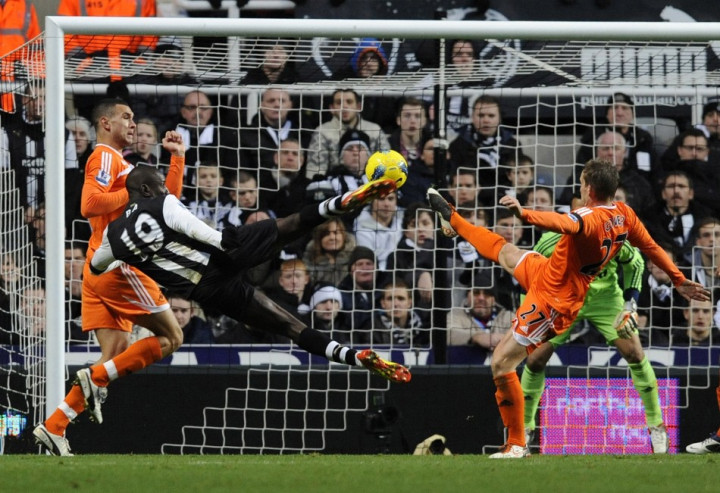 Demba Ba has refuted claims he wants to leave Newcastle United, after comments made by Armand Doorn to the International Business Times UK suggested the forward was the subject of interest from Manchester United.
Speculation surrounding Ba, 26, has increased in recent days, after Doorn - a man purporting to be a member of the player's management team headed by Ba's brother - told IBTimes UK that Manchester United were keeping tabs on the Newcastle forward.
EXCLUSIVE: Manchester United Interest in Demba Ba Confirmed
"A lot of clubs are calling for Demba. At this moment we are doing it [transfer negotiations] with his brother, before we did it alone and now we do it with his brother," Doorn told the IBTimes UK.
"It is true Manchester United, it's true but nothing concrete," Doorn added. "No manager [has] called me and said 'Armand, can we sit down' and everybody is asking how much his release clause is, but nothing concrete."
Ba has been a revelation since arriving at Newcastle on a free transfer in the summer. The Senegal international has scored 15 goals in 17 Premier League starts this season, and Doorn confirmed a number of clubs, including Manchester United, had enquired about the striker's availability in the last week.
However, responding to Doorn's comments in the IBTimes UK, Ba quashed speculation he is poised to leave St. James' Park and insisted he was looking forward to his future on Tyneside.
"Really, I don't know how desperate this "armand doorn" can be to talk like he's my agent!!" Ba said on his Twitter page. "He's nothing for me. Stop lying and show respect."
And a spokesman for Ba's management team reiterated Ba's comments regarding the aforementioned Doorn, and once again confirmed Newcastle have not received any offers for the star striker.
"Armand Doorn is not Demba's agent. Alex Gontran is the only person who can speak on his behalf and Newcastle have not had an offer for him," the spokesman told talkSPORT.
"Demba feels good at Newcastle. He has just started something there. There is a release clause in his contract but the figure will remain confidential.
"If a club wants to speak to Demba, then they must go to Newcastle first. We respect the process."
Ba was instrumental in Newcastle's superb victory over Manchester United last week. The Senegalese international scored the opening goal and was a menace to Rio Ferdinand and Phil Jones throughout the Magpies' 3-0 win at St James' Park. Ba was the Premier League Player of the Month in December following his five goals in six matches and is currently away with Senegal preparing for the Africa Cup of Nations.
IBTimes UK endeavoured to contact Armand Doorn on Wednesday but he was unavailable for comment.