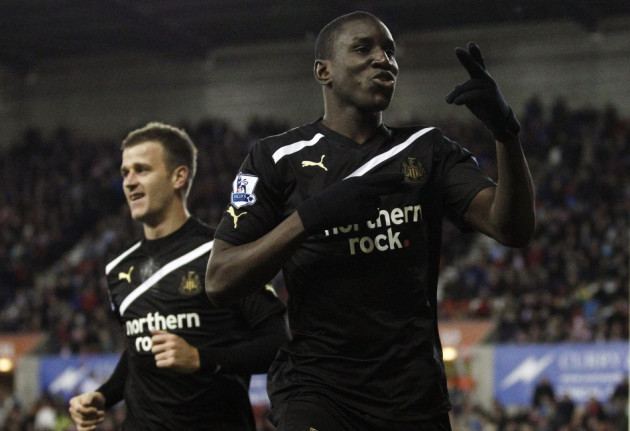 Manchester United are interested in signing Newcastle striker Demba Ba but the club are yet to make an official approach, according to a purported member of the player's management team.
Speculation surrounding the in-form striker has increased in recent days, after Tottenham manager Harry Redknapp revealed there is a release clause in the 26-year-old's contract that allows him to leave St. James' Park for less than £10m.
Tottenham and Paris Saint-Germain are both said to be amongst Ba's rumoured admirers, and Armand Doorn - a member of the player's management team headed by Ba's brother - told the International Business Times that Manchester United are also monitoring the Newcastle United forward.
Ba has been a revelation since arriving at Newcastle on a free transfer in the summer. The Senegal international has scored 15 goals in 17 Premier League starts this season, and Doorn confirmed a number of clubs, including Manchester United, had enquired about the striker's availability in the last week.
"A lot of clubs are calling for Demba. At this moment we are doing it [transfer negotiations] with his brother, before we did it alone and now we do it with his brother," Doorn told the IBTimes UK.
"Obviously he is doing very well at Newcastle, he's not injured and a lot of clubs are showing interest but there is nothing concrete at this moment."
Asked if any clubs had made contact over a possible January move for the player, Doorn confirmed that although nothing official had been agreed at this stage, Manchester United had made tentative enquiries over the former-West Ham forward's availability.
"It is true Manchester United, it's true but nothing concrete," Doorn added. "No manager [has] called me and said 'Armand, can we sit down' and everybody is asking how much his release clause is, but nothing concrete."
Earlier this week Tottenham boss Harry Redknapp admitted he should have signed the Newcastle striker when he was available in the summer.
Ba signed a three-year deal at St James' Park when he arrived in June and is believed to have a release clause in his contract that allows him to leave for less than £7m.
"I keep hearing conflicting stories about how much the buy-out clause is, one person says one figure, another says he can be bought out for X amount. The only ones who know are Newcastle and Demba Ba," Redknapp said.
However, while Doorn confirmed the existence of the buyout clause he said activating it was much more complicated than recent media reports have suggested.
"There is a clause but it is not simple. Newcastle knew when they signed him that it was in his last [contract]," Doorn said.
Nevertheless, a return to France appears to be the most likely destination for Ba, should he decide to leave Tyneside.
The striker started his club career with French side Rouen and has admitted a move to Paris St-Germain would be "enticing".
Ba, whose involvement in the African Cup of Nations this month will complicate any possible deal, said he would be interested in joining PSG, the Qatari-owned club he supported as a boy.
"Yes, who not? It's possible. I have always supported PSG, and it's a club that is enticing," Ba told French radio station RMC. "But it will be difficult to do that in January.
"I'm in Newcastle, fans like me, and then the transfer market will be closed when I go back, so I'm not focused on it.
And Doorn agreed that a move to PSG would certainly be easier to negotiate, given the reputation Ba already enjoys with the Ligue 1 side.
"PSG did show some interest, maybe more concrete too but this is because I know there are a lot of new people on the board there and a lot of people know Demba already, since he was young," Doorn added.
"So it is easier for them to talk to the brother, to the family and yes there is a possibility but again, there is nothing concrete. We haven't sat down with anybody yet."
Ba was instrumental in Newcastle's superb victory over Manchester United last week. The Senegalese international scored the opening goal and was a menace to Rio Ferdinand and Phil Jones throughout the Magpies' 3-0 win at St James' Park. Ba was the Premier League Player of the Month in December following his five goals in six matches and is currently away with Senegal preparing for the Africa Cup of Nations.