Exclusive: Juan Mata enjoying new life under Jose Mourinho at Manchester United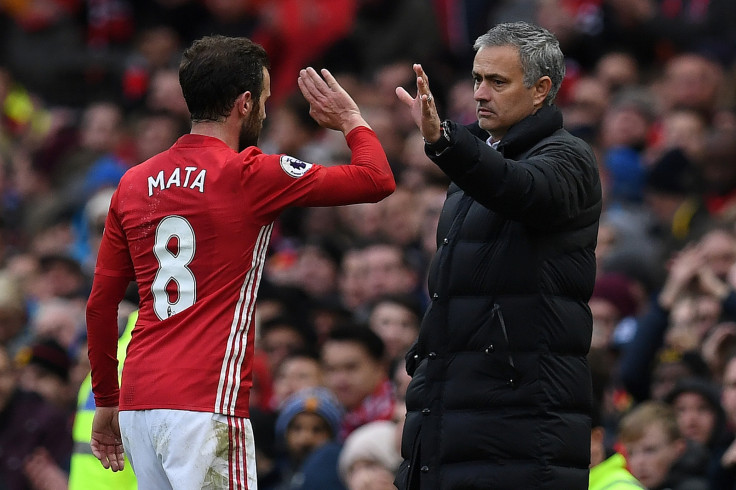 KEY POINTS
Former Chelsea star spoke to IBTimes UK following the 2-1 victory over Crystal Palace.
Spaniard discusses competition with Henrikh Mkhitaryan and long-term future.
Juan Mata is enjoying his new life under Jose Mourinho following a summer of "untrue" speculations regarding his future at Manchester United. The Spaniard insisted that the start of the new season is proving that the relationship with his former Chelsea boss is good and discusses the huge competition for places in the attack following the renaissance of Henrikh Mkhitaryan.
Mata swapped Stamford Bridge for Old Trafford in January 2014 after falling out of favour with the Portuguese tactician, despite having been named Chelsea's player of the season in 2011-12 and 2012-13.
Many reports in the summer claimed that Mourinho was ready to do the same following his arrival to United to replace Louis van Gaal. However, Mata has become an important player for the Portuguese boss in his new tenure at Old Trafford, starting 16 games in all competitions while scoring five goals.
"I am fine. I already said that many things that were said in the summer were not true. My relationship with the manager is good and everything that has come out on that has not been true," Mata said to IBTimes UK after the Manchester United's 2-1 crucial win over Crystal Palace on Wednesday night. "He simply asks me to play my football. He wants me to find those small gaps between the midfielder and the defence, to keep the position play with the possession to exploit my skills. He doesn't ask for anything special."
Mourinho earlier in the season even said that Mata had found his "natural habitat" at United as his style fitted like hand in a glove with what he wanted to create at Old Trafford. Yet, the Spaniard lost his place in the line-up in recent games against West Ham (EFL Cup) Everton and Tottenham to an impressive Mkhitaryan.
Mata returned to the Manchester United line-up at Crystal Palace after the £26.3m summer signing suffered an injury after scoring the winner against Spurs. However, the Spaniard believes that they eventually can play together as they proved during the Europa League 2-0 win over Zorya.
"I've played a lot so far. I'm happy. I have scored some goals and I feel good. It is true that there is a big competition but I have always had during my career and now I am at United. I have to keep fighting," Mata said. "I do not think (my rival for the place is Mkhitaryan). We are different players and we can play together. Then it depends on each game as the manager decides what is best for the team. But I think we are different players and I am happy for his recent performance because he is a great guy and deserves it."
"I love playing with Ander, with Mkhitaryan.... We are different but we understand each other well on the pitch because we play the same type of football. Then the manager has the decision. He decides what is best for each match."
Mata's good start to the season at United saw some reports claiming that Mourinho was even ready to hand him a new deal to commit his long-term future to the club. But asked about that, the former Chelsea star said: "Let's see. Right now there is nothing. I still have a few years left and we will see."
© Copyright IBTimes 2023. All rights reserved.