UPDATE: EU Law Blocking 'Urgent' Finance Help for UK Exporters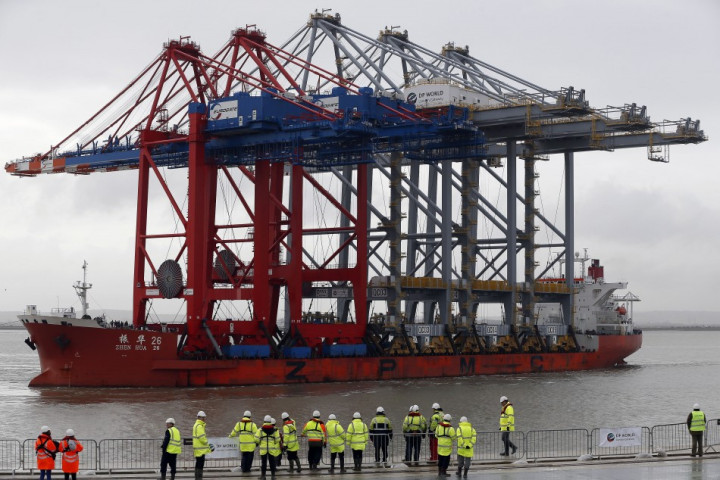 British exporters are exasperated by question marks hanging over the fate of "major" export finance schemes announced by the Treasury in 2012 - designed to give a much-needed boost for UK trade in the increasingly competitive global economy - after they failed to launch on schedule, IBTimes UK can reveal.
Despite repeated requests by IBTimes UK for clarification over what has happened to the £5bn Export Refinancing Facility (ERF), the government has not explained why the measure is not in action.
Exporters need all the help they can get to face tough competition for business in lucrative emerging markets. Chancellor George Osborne eyes exports as a route to economic recovery for the comatose UK economy, setting a target value of £1tn by the end of the decade.
The Treasury announced ERF in July 2012, declaring it a major new initiative that would "provide long-term loans for overseas buyers of UK exports at competitive rates by guaranteeing a series of short-term bank loans".
Ministers promised the scheme would be supporting loans by the end of the year. Despite the initial fanfare it has not materialised.
Furthermore, in his autumn statement for 2012, Osborne announced that the Treasury would let UK Export Finance make £1.5bn in loans to finance small firms' exports under the Direct Lending Scheme, something expected to be in place by April 1.
Jon Coleman, chairman of the British Exporters Association (BExA), told IBTimes UK that ERF and the Direct Lending Scheme (DLS) "represented the commitment of significant and much welcomed government support to the UK's exporters".
"We are therefore very disappointed that neither of these schemes is yet available. The requirement for implementation of both products is no less urgent now than when they were announced," Coleman said.
Jim Bligh, head of exports policy at the Confederation of British Industry (CBI), Britain's biggest business lobbyist, also called for the government to speed up in its delivery of the schemes.
"To help renew the UK's role as a trading nation, financing of vital long-term export orders needs to be improved," Bligh said.
Government must deliver
"The proposed ERF could help and while businesses understand that complex products take time to develop and roll out, greater clarity is needed around the timing of delivery - and we urge the government to deliver on this as soon as possible."
Minutes from a September meeting of the Export Guarantees Advisory Council, part of the government's UK Export Finance (UKEF) department, noted that ERF was being developed.
UKEF business group director Steve Dodgson told the council that his department, the Treasury, and the British Bankers' Association were in talks on designing the scheme but had to consult the EU Commission on whether it would breach European state aid laws.
Another meeting of the advisory council in December said that the DLS was also in development and was meant to complement the ERF.
Labour's Chris Leslie, the shadow financial secretary to the Treasury, had attacked ERF in an October House of Commons debate on the Infrastructure Bill, under which the scheme fell, for focusing help outside the UK.
"Of course we believe that export credit guarantees can be legitimate and helpful to construction exports but in times of UK recession, our priorities should lie squarely here at home," he told MPs.
Global trade
Competition in global trade is intensifying because of the economic downturn, meaning that UK exporters need all the help they can get if they stand any chance of meeting Osborne's £1tn export target .
The World Trade Organisation downgraded its forecast for global trade growth in 2013 to 3.3 percent from its original estimate of 4.5 percent. In 2012 there was just 2 percent growth in world trade, showing the intensity of market competition the world over.
UK trade data for February, published by the Office for National Statistics (ONS), showed a worse than expected deficit between exports and imports across the month as the gulf between the two reached £3.6bn.
"With domestic demand growth constrained over the coming years by fiscal austerity and squeezed household incomes, the UK really needs to see significant export growth and an improvement in its trade balance position as part of a sustained and robust economic recovery," said Scott Corfe, an economist at the Centre for Economics and Business Research.
"Yet movements towards a trade surplus remain elusive. If this continues, the medium-term UK economic outlook could prove even worse than our already relatively bearish forecasts suggest."
Forecasts for the economy predict just 0.6 percent growth in 2013 as subdued demand across the world, particularly in Europe which is the destination for around half of all UK exports,
There is some hope from developing markets in Asia, however, eyed by the UK as a key region in which to develop more trade, with China posting a 14.1 percent rise in its imports during March, a greater leap than expected.
HSBC's Global Connections Report said future UK export growth will rely on expanding trade with emerging markets rather than Europe.
The bank expects UK merchandise exports to Asia to expand by 9 percent annually between 2013 to 2015, over double the average annual growth forecast for exports to Europe at just under 4 percent.
China is one of 19 priority markets highlighted by UK Trade & Investment as offering lucrative export opportunities for British business.
As well as China is Hong Kong, India, Indonesia, Malaysia, Singapore, South Korea, Taiwan, Vietnam, Brazil, Colombia, Egypt, Mexico, Qatar, Russia, Saudi Arabia, South Africa, Turkey, and UAE.
---
Follow @shanecroucher