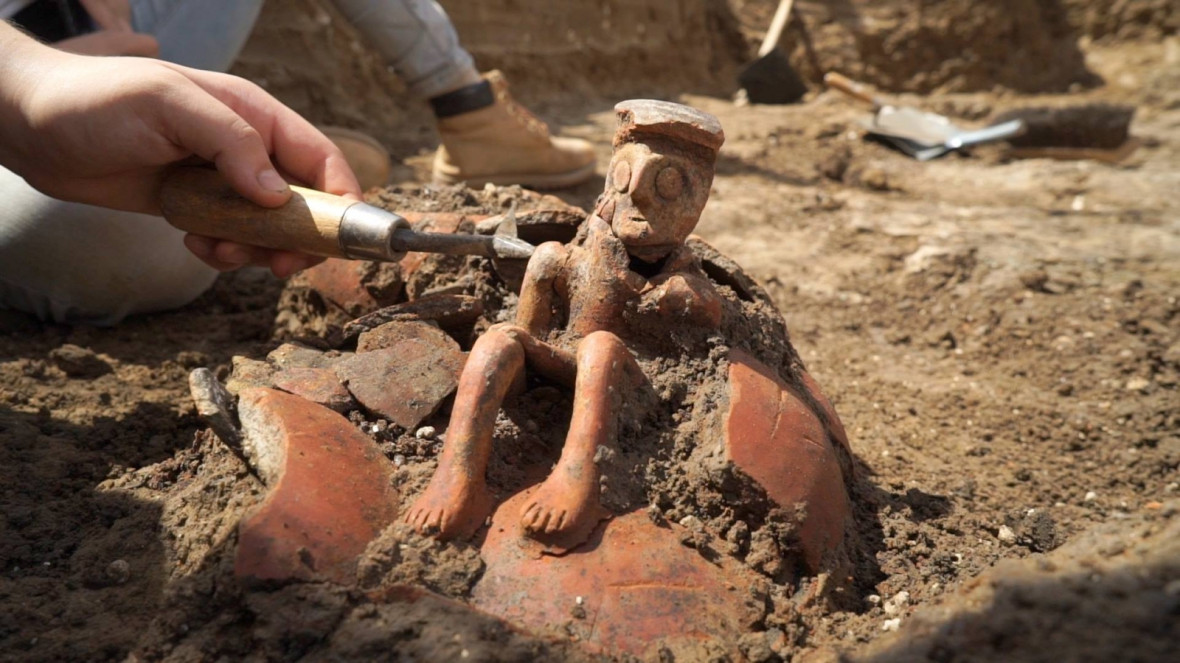 An ancient jug bearing the image of a "reflective" person has been discovered in Israel. The vessel dates back to the Middle Bronze Age and is believed to be approximately 3,800 years old. Archaeologists at the site in Yehud said similar pottery jugs have never before been found in the country.
The jug is believed to have been a funeral offering to a "respected member of the ancient settlement," a statement from Israel Antiquities Authority said. It was found alongside daggers, an axe head and arrowheads, sheep bones and what appear to be donkey bones.
Gilad Itach, the excavation director, said: "It seems that these objects are funerary offerings that were buried in honour of an important member of the ancient community. It was customary in antiquity to believe that the objects that were interred alongside the individual continued with him into the next world. To the best of my knowledge, such a rich funerary assemblage that also includes such a unique pottery vessel has never before been discovered in the country."
The unusual 18cm-tall jug features a sculpture of a man on the neck of the vessel, sitting as if in thought with his hand on his chin. It is believed the figure was added to the jug after the main body had been made.
"The level of precision and attention to detail in creating this almost 4,000-year-old sculpture is extremely impressive," Itach added. "The neck of the jug served as a base for forming the upper portion of the figure, after which the arms, legs and a face were added to the sculpture.
"One can see that the face of the figure seems to be resting on its hand as if in a state of reflection. It is unclear if the figure was made by the potter who prepared the jug or by another craftsman."
The IAA said the area was occupied as far back as 4,000 BCE, with other artefacts – including pottery vessels, animal bones and flint tools – also found at the site.