Arsenal star Granit Xhaka has been interviewed by police over claims he racially abused British Airways check-in staff at Heathrow, allegedly calling one worker a "f****** white b****".
The 24-year-old midfielder, who is already reportedly set for showdown talks with manager Arsene Wenger for his ill-discipline on the field, attended a police station and was interviewed under caution on Monday (23 January), The Independent reported.
The Swiss international is understood to have been at Heathrow Terminal 5 to bid farewell to friend, German sixth division footballer Leonard Lekaj, who was refused entry on a flight back to Germany after arriving late.
Xhaka allegedly became angry at the refusal and began verbally abusing British Airways check-in staff.
He is alleged to have called a staff member a "f***ing white b****" – a comment said to have been heard by another member of staff.
Xhaka is understood to have disputed ever saying the words.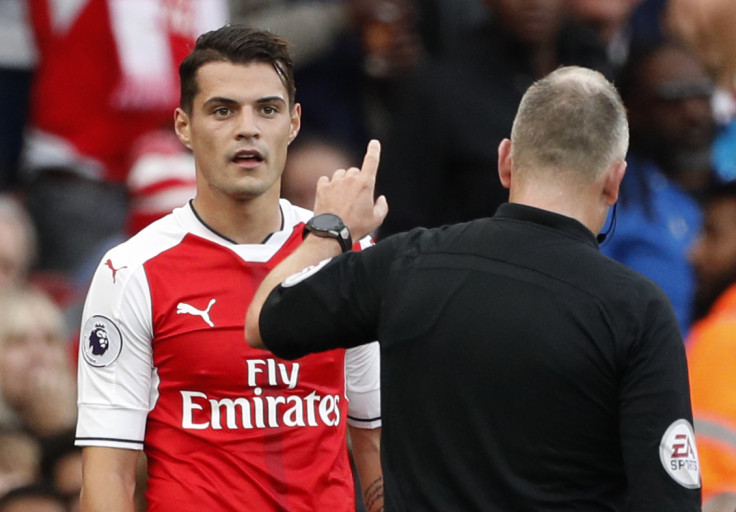 Met Police officers were called to the scene and took witness statements.
A Met spokesperson said: "Police were called at 19:29hrs on Monday, 23 January following an allegation that a member of staff had been racially abused at Heathrow Airport, Terminal Five.
"The allegation was made by a third party. Officers attended and spoke with a man in his 20s. He was not arrested. He voluntarily attended a west London police station where he was interviewed under caution. Enquires continue."
A spokesman for Arsenal described the incident as "a private and police matter."
Xhaka became Arsenal's third most-expensive transfer after joining from Borussia Monchengladbach for around £30m last year.
While recently cementing a regular first-team spot, he has been criticised for his discipline on the pitch.
On Sunday, Arsenal's tight win over Burnley saw him receive his third red card of the season for club and country after a dangerous two-footed lunge on Steven Defour. His sending off almost spelled disaster for the Premier League title chasers as the Gunners subsequently lost their one-nil lead after conceding a late penalty.
They battled with 10 men to eventually grab a last-gasp 2-1 victory in extra time when Alexis Sanchez scored with a penalty.
Xhaka, who now faces a four-game suspension, has accumulated nine red cards in just three years.
Media reports suggested Wenger is losing patience with the midfielder and is set for showdown talks over his lack of discipline – something the Arsenal manager has already warned him about.
Wenger said after the Burnley game: "He has to control his game and not punish the team with his lack of control and his tackling. We don't encourage our midfielders to go down in tackles, we want them to stand up and not make these kind of fouls."