Arsene Wenger fears that Granit Xhaka's disciplinary issues could hurt Arsenal in their derby showdown against Tottenham at the Emirates Stadium on 6 November.
Xhaka was sent off in Arsenal's win over Swansea in October and has also been booked on two other occasions this season.
The 24-year-old also received a red card in Switzerland's World Cup qualifying win over Portugal in September.
Wenger urged Xhaka to keep his emotions in check ahead of his first north London derby against Spurs.
"Am I bit concerned? Yes, of course," the Frenchman was quoted as saying by the Guardian when asked if he was worried by Xhaka's disciplinary problems.
"The discipline is important and we want to be effective in all situations we face, and in the derby it is important to keep control of your reaction and to have a strong discipline, because it is part of the effectiveness in these games.
"Normally he is a very composed and calm guy. Sometimes on the field he has a reaction that is a bit impulsive and he knows that. It is not because you talk about that. He has to work on that and keep control of his reactions in the game."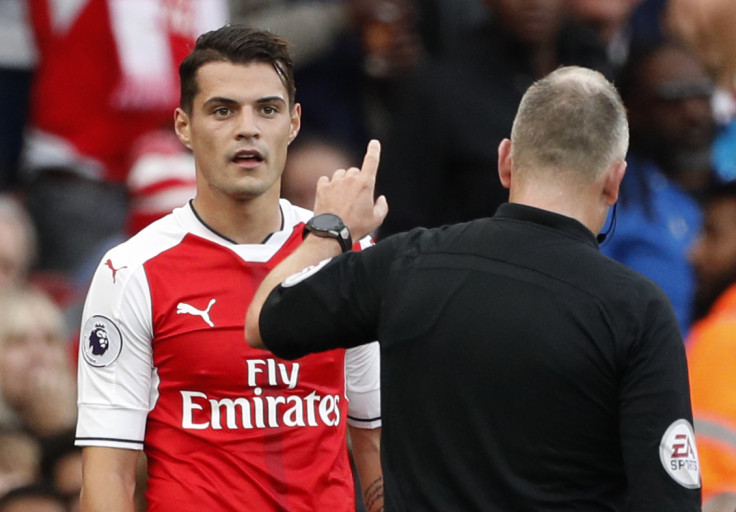 Arsenal have won 10 of their 11 matches in all competitions and beat Ludogorets 3-2 to qualify for the Champions League knockout stages in midweek.
In contrast, Spurs suffered a second successive defeat in the Champions League on 2 November as Kevin Kampl's goal condemned the north London club to a 1-0 defeat against Bayer Leverkusen at Wembley.
Wenger said the Spurs game was an excellent opportunity for his team to show their title mettle.
"What I am focused on is that this is more than the derby. We're in a strong position in the league but we want to strengthen overall, as do Tottenham," he said.
"It's very tight at the top of the league and it's a home game so we are very focused on winning it.
"Be it Spurs or anyone else, we want to win our home games. We're going into a period when we will play big games and we want to win big games," he added.