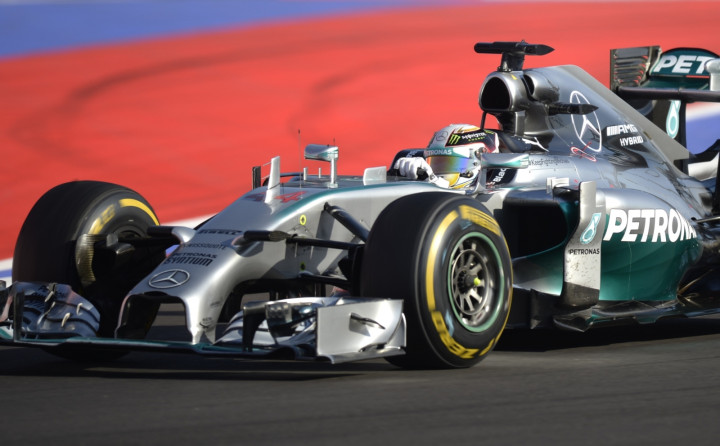 Lewis Hamilton extended his lead in the world drivers' championship to 17 points after clinching a fourth successive victory at the inaugural Russian Grand Prix ahead teammate Nico Rosberg as Mercedes clinched their first ever constructors' title in Sochi.
The Briton helped claim the team's 12th race victory of the season and ninth 1-2 of the year to end Red Bull's stranglehold of the title and continue his pursuit of the second championship of his career. Hamilton also equals Nigel Mansell's record of 31 race wins in Formula 1.
Rosberg was forced to make a pit stop early on and was being unable to claw back Hamilton's advantage finished ahead of Williams' Valtteri Bottas and McLaren pair Jenson Button and Kevin Magnussen.
Just a week after Jules Bianchi's crash at the Japanese Grand Prix, the 21 competing drivers united in a moment of silence before the race to pay tribute to the Frenchman, who remains critical in hospital following the tragic events in Suzuka.
With a 10-point deficit to make up, Rosberg began the grand prix in determined fashion, overtaking Hamilton going into turn two before being forced to give the place back after going wide through the next turn.
The error came amid telemetry problems which have dogged his season and forced the German to pit just two laps into the race, allowing title rival Hamilton to surge into a healthy lead.
Such was the Briton's advantage he was able to pit stop on lap 27 and retain his lead ahead of Bottas and Button, who had both maintained their qualifying positions.
Rosberg was quickly back in sight of Hamilton and moved into second while reporting minimal degradation on the harder tyre as the race entered the final 10 laps.
But Hamilton was unperturbed, claiming a fourth straight win for the second time this season to secure Mercedes their maiden constructors title and tighten his grip on a first drivers' title since 2008.