The 2012 Formula 1 World Championship returns to the serious business of racing on Sunday, after a mid-season break that some drivers and teams may now be wishing they hadn't taken. The first half of the season saw fluctuating fortunes for several of the front-runners. McLaren, for example, started the season strongly, displaying both qualifying and race pace before fading away in China, Bahrain and Spain. Ferrari, meanwhile, started poorly but recovered strongly by the time the first European leg began, clocking wins in Valencia and Germany to re-assert title-challenging credentials and help Alonso take a strong 40-point lead into the break.
The defending champions - Sebastian Vettel and Red Bull - have been steady but not spectacular, so far this season, meaning that while they have a commanding lead in the constructors' championship, both Vettel and his team mate, Mark Webber, have work to do to challenge Alonso.
Finally, also in the mix are dark horses like the Lotus-Renault outfit, for whom both Romain Grosjean (76 points) and Kimi Raikkonen (116 points) have put in strong performances and the Sauber-Ferrari team, for whom Sergio Perez and Kamui Kobayashi have delivered reasonable drives.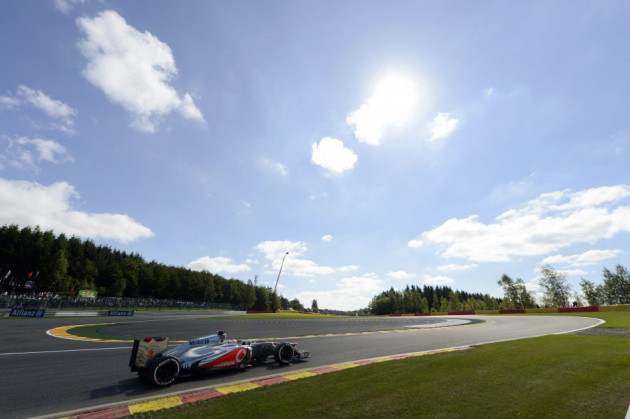 Qualifying Recap
The qualifying sessions for the 2012 Formula 1 Belgian Grand Prix have thrown up interesting combinations and unexpected results, with traditional front-runners like Vettel, championship leader Alonso and Hamilton all off accustomed top row starting positions.
Hamilton's team mate, Jenson Button, scores his first pole of the season, while the Ferrari-powered Saubers sandwich the excellent Raikkonen, who took his Lotus to third on the grid. You have to look down to fifth to see Alonso and another row back to see the McLaren of Hamilton. The biggest shock, however, was Red Bull's qualifying performance. The defending champion in the constructors' title race could manage only 10th (Vettel) and 12th (Webber) after a thoroughly lacklustre Saturday afternoon.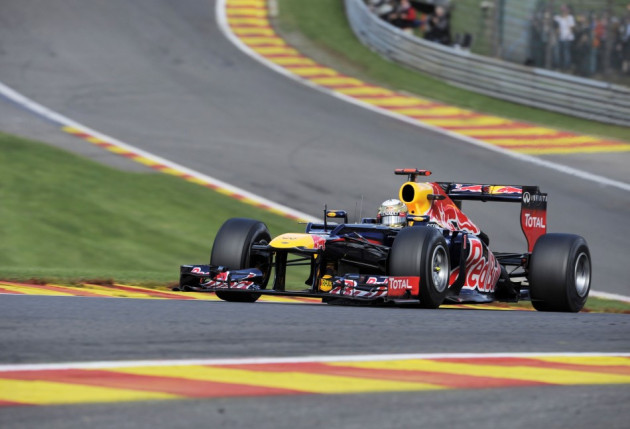 Button was in supreme form all through qualifying, lapping with a Q3 time of 1:47.573, up from a previous best of 1:47.686. Indeed, the improvement, it turned out, wasn't actually needed. Kobayashi took a surprising but deserved second for Sauber with 1:47.871, a full three-tenths of a second off the British driver's pace. Raikkonen's third place was on the back of a poorer time than Pastor Maldonado's 1:47.893 (the Finn managed 1:48.205) but the Williams driver has since been given a three-place penalty for blocking the Force India of Nico Hulkenberg in Q1.
"It's been quite a long time since I got my last pole position - that was back in 2009, Monaco I think. It was pretty emotional. Sunday's have been good for the past few years, but Saturdays have not gone perfectly you could say," Button explained in the post-qualifying press conference, "So, a great qualifying session and it's so important to come back after the break, such a long break, with a good result on Saturday. I know the race is tomorrow but this is close to winning a race for me because it's been so long."
Meanwhile, Alonso failed to find significant improvement on his Q2 time of 1:48.958 but will move up one place from his Q3 place of sixth (1:48.313), as a result of Maldonado's penalty. Perez, who qualified fifth with 1:48.219, will benefit too and move up to fourth.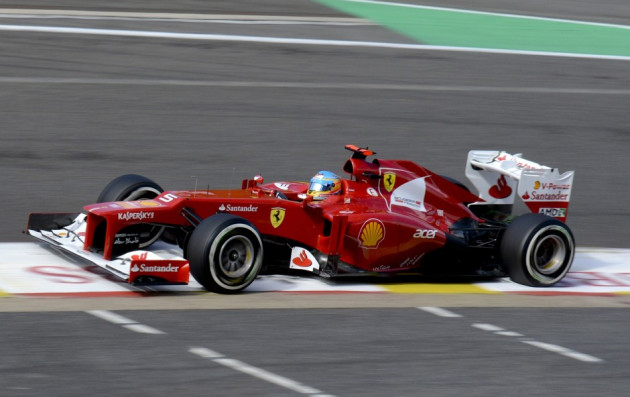 The Red Bulls had an absolutely torrid Saturday afternoon. Vettel missed out on Q3, with a best of only 1:48.792, meaning he qualified 11th. However, a measure of luck was with the German, for his team-mate's five-place penalty, for changing his gearbox, pushes him into tenth place. Webber qualified seventh with 1:48.392 but will now start 12th.
The McLaren of Hamilton was similarly struck down and then pushed up; the British driver managed eighth with 1:48.394 but will start seventh after the penalty to Webber. Raikkonen's team mate, Romain Grosjean, was unable to recreate the Finn's top speeds and will have to be content with 1:48.538 for ninth and an eighth place start.
The final grid penalty of an already confusing line-up went to Mercedes' Nico Rosberg, who too was penalised for unscheduled gearbox changes. In his case, however, it really didn't make a difference - the German qualified a miserable 18th, with a best time of 1:50.181 (his team mate, Michael Schumacher, racing in his 300th Grand Prix at his favourite track, finished 13th with a time of 1:49.081). Rosberg will start 23rd, splitting the Marussia Cosworth of Charles Pic and the HRT-Cosworth of Narain Karthikeyan.
Weather
The rain gods have teased and taunted teams and drivers in recent races, often leaving one day full of rain and the race itself to be run in dry conditions. The last race before the mid-season break - the Hungarian Grand Prix - is an example. It has been no different so far this weekend, with Friday practice sessions being made almost irrelevant after torrential rains limited track time and ruled out any serious fast laps. Indeed, the fact the fastest time on Friday was 2:11.389, from Kobayashi, says it all.
The BBC's weather service rightly predicted sunshine and some cloudy weather for Sunday. Fortunately for the teams, drivers and, importantly, the spectators, the spell of sunshine is set to continue through the day, albeit with cloud cover playing a larger part than on Saturday. Maximum temperatures in the afternoon and early evening will hover around the 16 degrees Celsius mark, although it could push up by a degree or two later in the day. There is some mist expected towards nightfall but that is unlikely to create trouble for the race.
All in all, it should be a fine, if slightly chilly, day to go racing!
Where to Watch Live
Coverage of the race starts with pre-race build-up, on Sky Sports F1 HD, from 11am onwards; the telecast runs till 4.15pm. You can watch the race live on BBC One and BBC One HD, from 12.10pm to 3.15pm. You can also follow the race via live text updates on the Formula 1 official website and follow the race via commentary on BBC Radio 5 live at 1pm.