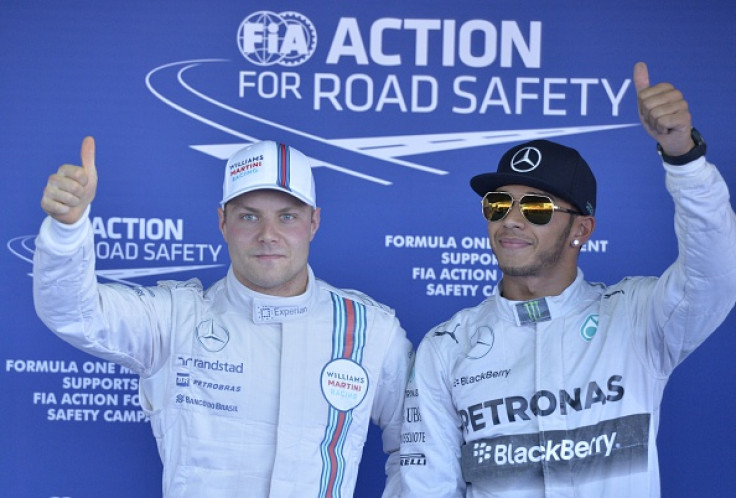 Valtteri Bottas is positive that he can challenge Lewis Hamilton for the Formula One title and follow in the footsteps of Nico Rosberg, who beat him in 2016 after the Briton had won the title in the previous two seasons.
The Finn was recruited by Mercedes after the reigning world champion announced his retirement from the sport just five days after winning his maiden title. Bottas has been warned ahead of his partnership with Hamilton — with the latter's father calling his switch a possible career-ender.
The former Williams driver paid respect to his new teammate, who has won three world titles and is second in overall race wins only to Michael Schumacher. But Bottas made it clear that he has joined the Silver Arrows team to win and not to "be in second place".
The 26-year-old is yet to win a race in F1 after four years with Williams, but has shown that he has the pace after capturing nine podium finishes. The rules have been refreshed for the 2017 season with the focus shifting back to aerodynamics rather than just the power unit, and the Finn is hoping that Mercedes can continue their dominance at the head of the grid — they have won the constructors and drivers' championship for the last three years.
"I feel it is possible," Bottas told Sky Sports in Germany. "Nico showed beating Lewis is possible."
"But I really respect what he has done with his career. He has so many poles, wins — three titles — and I still don't have a race win. I have a lot to prove.
"If the car is the strongest, yes [I can fight for the title]. I'm not here to be in second place or worse. It is definitely a challenge, and going up against Lewis is always going to be a challenge," the Finn explained.
"But for me, it's a massive opportunity. Everything is still ahead, so it's going to be an exciting year."