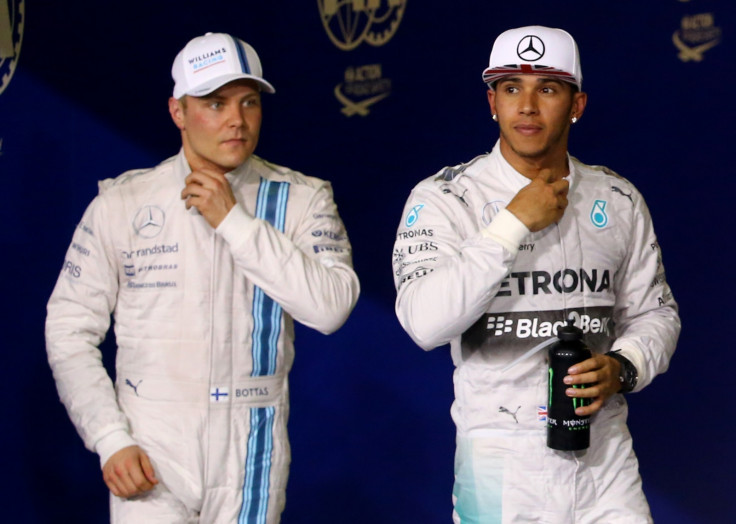 Lewis Hamilton could end Valtteri Bottas' career should the pair go head-to-head for the Formula One drivers' title in 2017, according to the father of the three-time world champion. The Fin will be Hamilton's fifth teammate in his top flight racing career, with the Briton having endured a tempestuous relationship with each of his previous teammates.
The 32-year-old saw off the challenge of Fernando Alonso and Jenson Button at McLaren – either side of being partnered with Heikki Kovalainen – before constantly being at loggerheads with Nico Rosberg prior to the German capturing the world title last term. But such were the mental demands of going up against Hamilton; Rosberg took the decision to retire from the sport after claiming his maiden drivers' championship.
Bottas was enlisted from Williams to replace Rosberg for the upcoming season, with Hamilton having already warned his new Silver Arrows rival, "I usually don't get on with teammates", during a lighthearted pre-season interview. But his dad Anthony Hamilton has gone one step further and suggested that Bottas' future in the sport could be in jeopardy if he goes toe-to-toe with his son.
"Anybody who goes up against Lewis needs to have planned their career correctly because it could be a career-ending move when you go up against Lewis," Hamilton senior told Sky Sports. "I personally think, while he's getting older and more mature, he's still actually heading towards the prime of his career. So Lewis is going to be a force to be reckoned with this year."
Hamilton is the overwhelming favourite to regain his title and go fourth on the all-time list of world champions, level with Alain Prost and Ferrari's Sebastian Vettel. Argentine Juan Manuel Fangio and Michael Schumacher, who have won the title five and seven times respectively would be the only drivers separating Hamilton from motor sport immortality.
Though Hamilton did win the championship in 2014 and 2015 up against Rosberg, he will be unable to set the record straight after the now retired 31-year-old prevailed last year. Nevertheless, Hamilton's quest to dominate F1 again remains unquestionable.
"Lewis only ever thinks about winning," his father added. "He's happy for Nico, like we all are to be quite honest. We've known him a long time and Nico has really worked hard. You need a little bit luck along the way, and he's had that, but I think Lewis is just looking forward now to winning the championship back on his own merit."