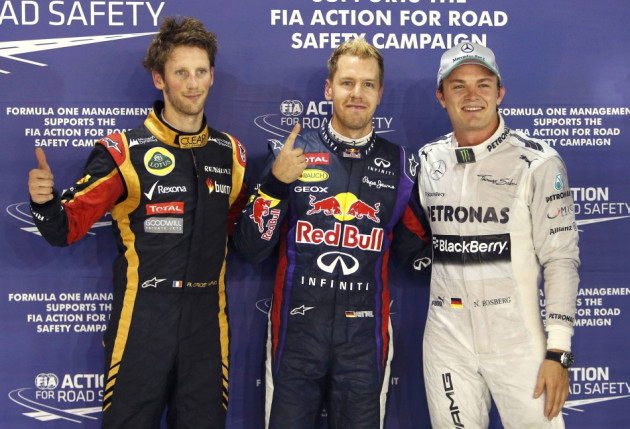 Defending champion Sebastian Vettel will start the 2013 Singapore Grand Prix on pole, after emerging on top in yet another the qualifying session this season. The Red Bull driver, who won the last two races in Belgium and Italy convincingly, has momentum on his side and will be confident of yet another triumph, as the championship moves from Europe to Asia.
Mercedes' Nico Rosberg has also earned a place in the front grid, after qualifying less than a tenth of a second behind Vettel. Meanwhile, Lotus' Romain Grosjean's gamble on the medium tyres paid off, after he ended up a surprise P3 on the grid, finishing above the likes of Mark Webber, Lewis Hamilton and Fernando Alonso.
Where to Watch Live
The race starts at 1pm BST, with Sky Sports F1 and BBC Radio 5 Live providing live coverage in the UK. Real-time internet updates are available on the Live Timingsection of the sport's official website. Watch the race highlights at 5pm on BBC One and BBC One HD.
Track Facts
Circuit Name: Marina Bay Street Circuit
Fastest Lap: Nico Hulkenberg (Force India) 1:51.033
Most Wins: Graeme Lawrence (3)
2012 Winner: Sebastian Vettel (Red Bull)
2012 Pole: Lewis Hamilton (McLaren)
Qualifying Review
Vettel was so confident in his lap time of 1:42.841 from his first run in Q3, that he did not even consider making a second attempt. Rosberg came close to upsetting his fellow German but had to eventually settle for second with 1:42.932. Grosjean clocked 1:43.058 to finish almost a tenth of a second above Vettel's Red Bull team-mate Webber who ran 1:43.152.
Vettel, Webber and Grosjean had saved an extra set of super-soft tyres from Q1, by staying on the mediums. While the Red Bull pair comfortably made it through to Q2 regardless, Grosjean only made it through by about two-tenths of a second. However, the gamble reaped its reward as it effectively helped the Lotus star to gain an extra run in Q3 with a fresh set and the Frenchman made the most of them.
Championship hopefuls Hamilton (1:43.254) and Alonso (1:43.938) qualified fifth and seventh respectively, sandwiched by the latter's Ferrari team-mate Felipe Massa (1:43.890). Meanwhile, it was a disappointing day for Lotus' Kimi Raikkonen who missed out on Q3 and will start the race on 13th position.
Weather and Conditions
The forecast for Sunday is mostly cloudy but the weather is difficult to track in Singapore and rain is always a possibility. Peak temperature for the day is expected to be 32C though this should come down to 26C at night by the time of the race. Humidity ranges from 75 to 90 percent with a 20 percent chance of rain.
This is the only night race of this season and teams should be wary of ambient and track temperatures that will fall, rather than rise, as the race progresses. The conditions could make this one of the toughest races of the year, with the Marina Bay Street Circuit's having more corners than any other F1 circuit, making the traction critical.
Drivers' Championship Review
Vettel holds a comfortable 53-point lead over Ferrari's Fernando Alonso in the race for this season's title. The 26-year-old has 222 points, with Alonso on 169 and it is beginning to look like even a late rally from the Spaniard might not be enough to catch up with the Red Bull star. Meanwhile, the race for the second position could heat up with Mercedes' Lewis Hamilton (141), Lotus' Kimi Raikkonen (134) and Red Bull's Mark Webber (130) all hopeful of climbing higher up the table.
Constructors' Championship Review
Vettel and Webber's consistent points-scoring finishes in the first-half of the season have given Red Bull a massive 104-point lead over second-placed Ferrari. The Milton Keynes team has 352 points to the Italian outfit's 248 and, barring a miraculous turnaround in fortunes, Red Bull should win the tile with ease this season. Mercedes are right behind Ferrari on 245 points, while Lotus (191) is the only other team to have crossed triple figures in the Constructors' table so far.
Qualifying Time (Q1, Q2 and Q3)
1 Sebastian Vettel Red Bull 1:45.376 1:42.905 1:42.841
2 Nico Rosberg Mercedes 1:45.208 1:43.892 1:42.932
3 Romain Grosjean Lotus 1:45.851 1:43.957 1:43.058
4 Mark Webber Red Bull 1:45.271 1:43.727 1:43.152
5 Lewis Hamilton Mercedes 1:44.196 1:43.920 1:43.254
6 Felipe Massa Ferrari 1:45.658 1:44.376 1:43.890
7 Fernando Alonso Ferrari 1:45.115 1:44.153 1:43.938
8 Jenson Button McLaren 1:45.009 1:44.497 1:44.282
9 Daniel Ricciardo STR 1:45.379 1:44.407 1:44.439
10 Esteban Gutierrez Sauber 1:45.483 1:44.245 no time