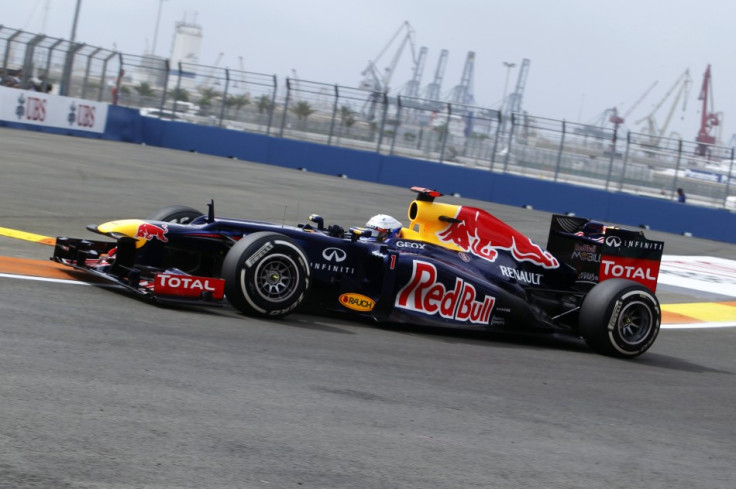 The first Free Practice session for the 2012 European Formula 1 Grand Prix (read the IBTimes UK preview) got off to a quiet and uneventful start, with Williams' Pastor Maldonado leading the way from the Red Bulls of defending world champion Sebastian Vettel and his team mate Mark Webber. The Williams drive clocked the fastest time - a 1:40.890 - a fraction of a second (0.083s, to be precise) ahead of Vettel and a further 0.011s faster than Webber.
Free Practice 1
The race, held around the streets of the city of Valencia, will be the second time the Formula 1 circus visits Spain for a Grand Prix this season; the Spanish Grand Prix was held at the Circuit de Cataluña in Barcelona between 11 May and 13 May. Incidentally, Maldonado drove the wheels of his car to win that race, so the result of the first Free Practice session marks a triumphant return to Spain for the driver. Meanwhile, the McLaren of Jenson Button came fourth, with a time of 1:40.994 and the Ferrari of Fernando Alonso rounded out the top five; Alonso finished the first session with a best of 1:41.065.
A report on the session by ESPN F1 noted that Button could have actually gone faster than what was finally his best first session time but for a lock-up of his front wheels going into Turn 17. Nevertheless, the British driver will be delighted with his turnaround in fortunes, after suffering a disastrous Canadian Grand Prix, in which he qualified tenth and finished 16th, after being lapped by team mate and eventual race winner Lewis Hamilton. Incidentally, Hamilton also had a poor session, managing only a ninth place finish with a time of 1:41.158.
Meanwhile, second and third place finishers at the Canadian Grand Prix - Lotus' Romain Grosjean and Sauber's Serio Perez - fared less impressively than at Montreal, finishing behind team mates Kimi Raikkonen and Kamui Kobayashi in 11th and 13th respectively, with times of 1:41.784 and 1:41.861.
The biggest surprise of the session, however, was Ferrari's Felipe Massa. The Brazilian has had a horrible start to the season and has, in fact, performed so poorly he received a warning from the Ferrari camp about improving results. The statement seemed to put some life into the veteran, pushing him to a season-best seventh place on the grid for the Monaco Grand Prix (he finished sixth; his best finish of the season) and he went one better, on the grid, in Canada, only to slip back down and finish the race tenth. He was poor once again in Valencia, though, and finished 14th in the first session, with a best of 1:42.109.
There were strong performances by the Mercedes duo of Michael Schumacher and Nico Rosberg, who finished seventh (1:41.117) and ninth (1:41.182). Force India's Paul di Resta finished an impressive sixth, with a time of 1:41.105.
For the full time sheet from FP 1, click here.
Free Practice 2
The second practice session was even tighter, with the top 15 cars covered by one second. The leader of the first session, Maldonado, was off the pace this time around, finishing a hugely disappointing 13th, with a time of 1:40.075.
However, the fact that even that was an improvement by almost one second over times from the morning session is indicative of the relative lack of grip at the Valencia circuit early in the race weekend. The European Grand Prix is run on the city streets of Valencia and hence, much like Monaco, needs time for rubber to accumulate on the racing line and help drop lap times.
The fastest time of the session was set by Vettel, who lapped in 1:39.334, a 1.5s faster than Maldonado's fastest from FP 1. Force India continued their strong showing in Valencia, with Vettel's compatriot Nico Hulkenberg second on 1:39.465, while Sauber's Kobayashi continued his fine form, finishing third with 1:39.595.
Surprisingly the usual suspects were missing from the sharper end of the practice grid, with Alonso's Ferrari managing only 1:39.733 for seventh fastest, beating Vettel's team mate Webber, who finished ninth, by about 0.168s. The two sandwiched Grosjean's Lotus on 1:39.868.
Incidentally, Paul Hembery of Pirelli spoke of Mercedes' Michael Schumacher as the man to watch for this weekend and it appears he knows what he is talking about. The seven time world champion has come under pressure this season for having been outraced on more than one occasion by team mate Nico Rosberg. However, as in Monaco, where the German was supremely fast only to be let down by mechanical problems, Schumacher stormed to fourth place in the second practice session and his time of 1:39.601 was only 0.267s slower than Vettel. More importantly, it was more than 1.5s faster than his morning time of 1:41.117.
Meanwhile, the two McLarens and Felipe Massa's Ferrari had relatively poor second sessions, finishing 12th (Button; 1:39.990) and 14th (Hamilton; 1:40.147). Massa finished 15th, with a time of 1:40.224.
For the full time sheet from FP 1, click here.
Saturday's Sessions
The race weekend continues with the third and final Free Practice session and qualifying for Sunday's race scheduled for Saturday.