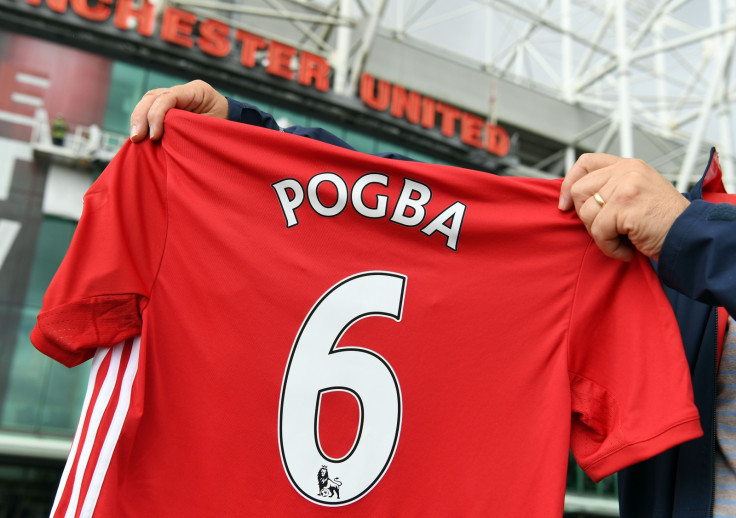 Manchester United's new £89m ($115.4m) signing Paul Pogba will not be in contention to make his second debut for the club against Bournemouth this weekend, it has been confirmed. In a slightly surprising release from the Football Association (FA) on Friday (12 August), it was revealed that the former Juventus midfielder is among four players – the others being teammate Chris Smalling, Stoke City defender Robert Huth and Tottenham Hotspur midfielder Mousa Dembele – currently serving suspensions ahead of the first weekend of the 2016/17 Premier League campaign.
Such an announcement caused much confusion and consternation across social media, with supporters and media alike clearly puzzled as to why he could possibly be banned. It has since transpired that Pogba, who left Old Trafford in 2012 amid frustrations over a lack of regular first-team opportunities under Sir Alex Ferguson, is ruled out due to picking up his second Coppa Italia yellow card during last season's 1-0 final defeat of AC Milan in Rome.
"He was booked twice in last season's Coppa Italia, which results in a one-game ban," the FA subsequently revealed, as per ESPN. "This has been transferred."
According to article 12 of Fifa's Regulations on the Status and Transfer of Players entitled Enforcement of Disciplinary Sanctions, "any disciplinary sanction of up to four matches or up to three months that has been imposed on a player by the former association but not yet (entirely) served by the time of the transfer shall be enforced by the new association at which the player has been registered in order for the sanction to be served at domestic level".
United, who have also announced that Adnan Januzaj has followed Paddy McNair and Donald Love in reuniting with former manager David Moyes by signing a season-long loan deal with Sunderland, are presumably aware of the suspension.
Indeed, it seems very unlikely anyway that Pogba would have been fit enough to feature during Sunday's early afternoon kick-off at the Vitality Stadium given that he was only pictured back in training earlier today after his protracted transfer saga followed a lengthy run to the final of Euro 2016 with France.