Wenger Warns United over Cesc Fabregas Deal
Arsene Wenger has confirmed the Gunners' interest in re-signing Cesc Fabregas, should the Spain decide to return to the Premier League. He signed for the Spanish champions in 2011, for a reported £35m and is contracted to them till 2016.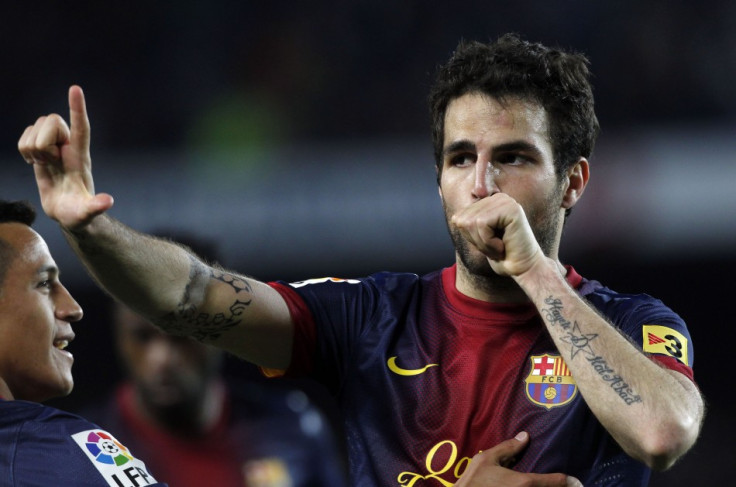 "At the moment, Fabregas has decided to stay one more year at Barcelona. We have the clause in the contract [a release/first option clause] so we would be on alert but at the moment that's not something we're after," Wenger said, according to a Mirror report.
The 26-year-old midfielder began his professional career at La Masia in Catalunya before moving to north London in 2003. And under Wenger's guidance, Fabregas established himself as one of the top attacking midfielders in the world, earning him a recall to the Camp Nou.
However, unlike his time with Arsenal, Fabregas has had to be content with a squad role in Spain, often relinquishing his starting role to compatriots Andres Iniesta and Pedro and, of course, Argentine international Lionel Messi. He has also had to invest considerable time and effort in learning the playing style under Pep Guardiola.
Fabregas admitted last summer that his first season in Spain was less than ideal, telling local publication El Pais, "It's one of the things you have to adapt to. It's not easy, it's been tough. It has been a radical change in my life and like it or not it is hard to adapt. I went from playing with complete freedom of movement to Barcelona where the game is more positional."
In September the midfielder told Marca, "I always wish my team-mates well and put a happy face on. If I have to take my unhappy face home then so be it, but I would never let my team-mates or manager see it. I am delighted to be a part of this team, but when a coach tells me I have to go, I will go."
And having lost out on Fabregas' team mate, Thiago Alcantara, to Bundesliga champions Bayern Munich, Premier League champions Manchester United reportedly decided to test Barcelona and Fabregas' resolve with a €30m bid, according to AS.
The Mirror claims United's vice-chairman, Ed Woodward, has rushed back to the continent to persuade the Catalans to accept his bid. Wenger, though, thinks this is a waste of time. And so too, importantly, does Barcelona coach Tito Vilanova, who has confirmed offers for his midfielder but has also said Fabregas will not leave the club this year.
"I am aware we have received offers. I talked with him and he told me he wants to stay. Cesc doesn't contemplate the possibility of going to another club," Vilanova said.
© Copyright IBTimes 2023. All rights reserved.