Fabrice Muamba Critically Ill: Bolton Star Rushed to Hospital [VIDEO]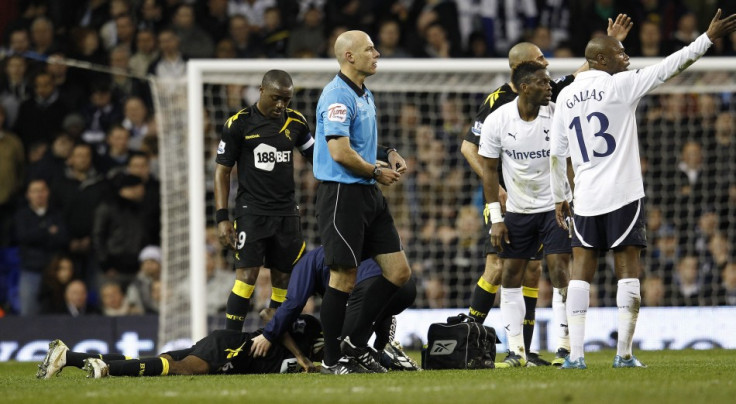 Bolton Wanderers' midfielder Fabrice Muamba was rushed to an intensive care unit of the London Chest Hospital, following a suspected heart attack. The 23-year-old succumbed to the attack while playing against Tottenham, in an FA Cup quarter-final game on Saturday evening.
"Bolton Wanderers can confirm that Fabrice Muamba has been admitted to The Heart Attack Centre at The London Chest Hospital where he is in a critically ill condition in intensive care," said a statement from Bolton, released at 9.30 p.m. GMT on Saturday.
Meanwhile, the Spurs management also released a statement: "Tottenham can confirm that Fabrice Muamba has been taken to hospital following his collapse on the pitch during the match at White Hart Lane this evening. The match was immediately abandoned. Everyone at the club sends their best wishes to Fabrice and his family."
The overwhelming and immediate compassion and support shown for Muamba, not only from his team mates but also Tottenham players, coaches and fans... as well as the Premier League management is probably the only bright spot in this horrible moment.
"The thoughts of the Premier League, its clubs and players are with Fabrice Muamba, his family and Bolton Wanderers. We would like to praise the players, match officials, coaching staff and medical teams of both clubs at White Hart Lane for their swift actions in attending Fabrice. The League would also like to commend the compassion shown by the fans of Bolton Wanderers and Tottenham Hotspur. We hope to hear positive news about Fabrice who is and has been a wonderful ambassador for the English game and the League at Arsenal, Birmingham City and Bolton Wanderers," read a statement from Premier League Chief Executive Richard Scudamore.
In what can only be described as a heart-breaking and tragic situation, the young Englishman apparently fell to the ground, with no other player around, at around the half-hour mark. A BBC report said the paramedics rushed to his side and spent six minutes trying to resuscitate him. A Guardian report confirmed that the medics used a defibrillator and continued trying to revive the unconscious player all the way to the hospital. Bolton's manager and club captain - Owen Coyle and Kevin Davies - accompanied Muamba to the hospital. An IBNLive report, released later than the two above, seemed to indicate the player was stable, although it still warned that he was "fighting for his life".
Back at White Hart Lane, referee Howard Webb called off the game after 41 minutes and the reaction from players was immediate.
Spurs' Dutch midfielder Rafael van der Vaart, who was on the pitch when Muamba collapsed, tweeted: "Terrible what happened with Muamba during the game. We're all praying for him." Arsenal's English midfielder, Jack Wilshere, also took to Twitter: "Hope Muamba is okay. Thoughts with him." Wilshere's Arsenal team mate Aaron Ramsey tweeted: "Thoughts are with Fabrice Muamba."
The flow of tweets of encouragement and support from fellow professionals has been simply outstanding.
"I'm so sad about what happened to Fabrice Muamba today. Played with him for a couple of years. What a great guy. Always a smile on his face. Please Fabrice bring that smile back. My thoughts are with you and your lovely family!" tweeted Arsenal's Dutch striker Robin van Persie.
"Hope Fabrice Muamba is OK. Praying for him and his family. Still in shock," said Manchester United's Wayne Rooney.
"Doesn't matter who you support. Doesn't matter if you aren't a football fan. Doesn't matter if you aren't religious. Pray for Fabrice Muamba," wrote Spurs' defender Kyle Walker.
Check out the video of Muamba at that critical moment:
Must Read: Who is Fabrice Muamba: A Strong Winner Both On and Off the Pitch [PHOTOS]
© Copyright IBTimes 2023. All rights reserved.