Facebook CEO Mark Zuckerberg today announced Graph Search, a new feature that lets users search the billion-member social network for anything that has been shared with them.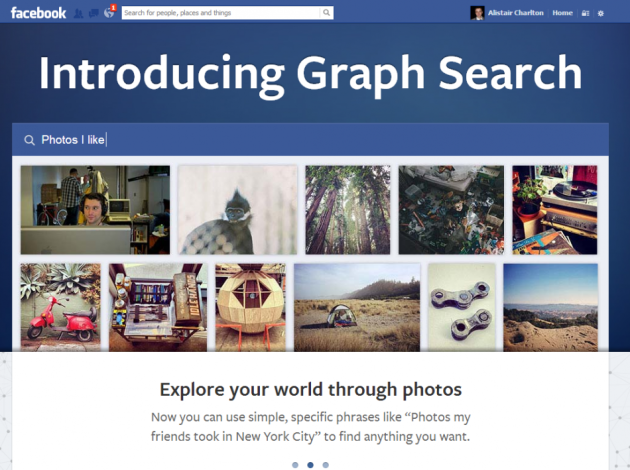 Users can use Graph Search to find photos of them with certain friends from a specific town, for example, or photos from a certain year; the search tool can also be used to search for music your friends like, or apps and games they have interacted with.
Speaking at Facebook's California headquarters, Zuckerberg was keen to emphasise that Graph Search is not like a web search engine, it does not index the web, and that privacy is a primary concern for developers of the new feature, which is currently in the beta stage of development and is not yet widely available.
The social network said in a blog post: "Facebook's mission is to make the world more open and connected. The main way we do this is by giving people the tools to map out their relationships with the people and things they care about.
"We call this map the graph. It's big and constantly expanding with new people, content and connections. There are already more than a billion people, more than 240 billion photos and more than a trillion connections."
"Today we're announcing a new way to navigate these connections and make them more useful. We're calling it Graph Search, and it starts today with a limited preview, or beta."
Zuckerberg explained how Facebook is split into three pillars - one for what's going on with people around you; Timeline for telling you something about a person; and finally Graph Search.
Search for photos of you and a friend, for example, and the results are arranged by engagement - such as the number of likes, comments etc. "It's such a warm and engaging experience, and you can't do this anywhere else," Zuckerberg said.
The search tool can be used for places too, so you can search for local restaurants that your friends have visited and 'Liked' in the past.
Facebook has undergone a redesign to accommodate Graph Search, where the entire blue bar at the top of the page is now a search box for you to enter your requests.
Demonstrating Graph Search, Facebook employees Tom Stocky and Lars Rasmussen showed how you can search for things like: "My friends who live in San Francisco, California," or "My friends who work at Google," and "Friends who like Star Wars and Harry Potter."
Results for each search show a list of your Facebook friends, with their profile picture, name, job, month you connected with them, and things that they like which are relevent to year search criteria - Harry Potter films, for example.
The Verge said Graph Search was "pretty spectacular" and added that it could be used to find people you met through mutual friends at a party, for example.
Beyond a search box, there are also numerous drop down boxes to help you filter results by place of education, place of work, relationship, hometown, interests, etc.
Four main areas of search
Graph Search is intended to be used in four main areas: People (friends who live in my city, people from my hometown); Photos (photos I have liked, photos of my friends before 1999); Places (restaurants in London that my friends have liked, countries my friends have visited); and Interests (music my friends like, strategy games played by friends of my friends).
Facebook demonstrated how the Graph Search could be used for dating, as you could search for 'female friends of friends who live in London', for example.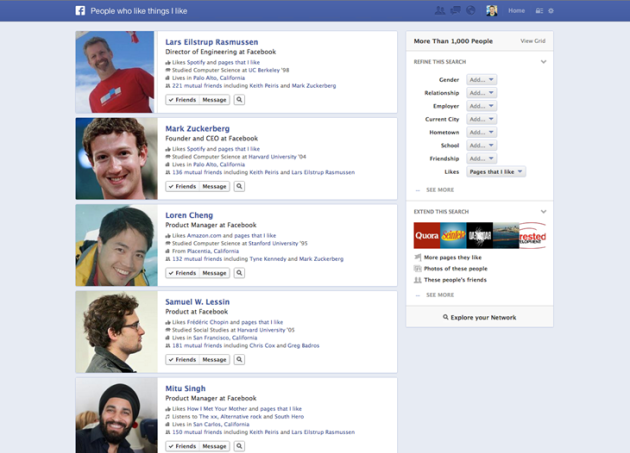 Alternatively, the tool could be used for recruitment with a search for 'friends of current employees at Facebook,' for example, and you could then narrow that search for specific job roles, or for people who have co-founded other companies.
Likewise, the Graph Search can be used to find certain photographs of friends, with a search like "photos of my friends taken in Paris". Photos with the most likes, comments and shares will be ranked most highly in your search results.
You could also search for places of interest or whole cities, similar to a Google images search, but again Facebook was keen to point out that you can only see content that has already been shared with you, or that is already public.
With privacy in mind, Graph Search results are ranked the same way as current privacy settings - so content can either be shared with only yourself, your friends, or made public for all users to see.
"For all the hours you stare blankly at your Netflix queue," Facebook said, you could use Graph Search to find out what films or TV programmes your friends have liked, and some of these results offer up video clips from brand pages.
Bing Search
Facebook has teamed up with Bing to bring web search results to the social network, so you can search for local weather reports or whatever you want to search the web for. Results appear in Facebook, but these are just links to external content - although Facebook will see it as a way to tempt users away from Google, when the centre of their social life and web searches can be found in one place.
The Graph Search beta starts today, 15 January, and you can go to www.facebook.com/graphsearch to add yourself to the waitlist, although this is reserved for US English users.
Signing off in a cautious tone, Facebook ended the blog post: "The roll out is going to be slow so we can see how people use Graph Search and make improvements."