Facebook may have grown by almost one billion users and seen dozens of changes since it first went online on 4 February, 2004, but a recently unearthed media kit shows selling targeted advertising has always been its goal.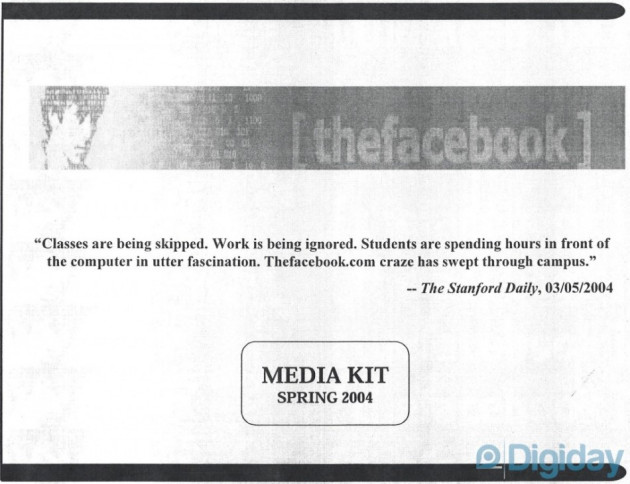 Originally presented to a potential advertiser in spring 2004 by the then-CFO Eduardo Saverin, the media kit has been published by Digiday and shows how thefacebook.com, as it was then called, had a much greater emphasis on targeting college students than it does now.
Played by Andrew Garfield in The Social Network (2010), Saverin spent much of 2004 trying to sell the idea of thefacebook.com to advertisers and investors in New York, and this media kit was created to sum up who the company was, what it did, and what it was offering to advertisers.
The presentation begins with a quote from students newspaper The Stanford Daily on the impact Facebook was having just a month after it launched: "Classes are being skipped. Work is being ignored. Students are spending hours in front of the computer in utter fascination. Thefacebook.com craze has swept through campus."
With the site just over two months old, the presentation talks about Facebook's 70,000 users across 20 major American colleges, and outlines the company's plans to grow to 200 colleges in six months.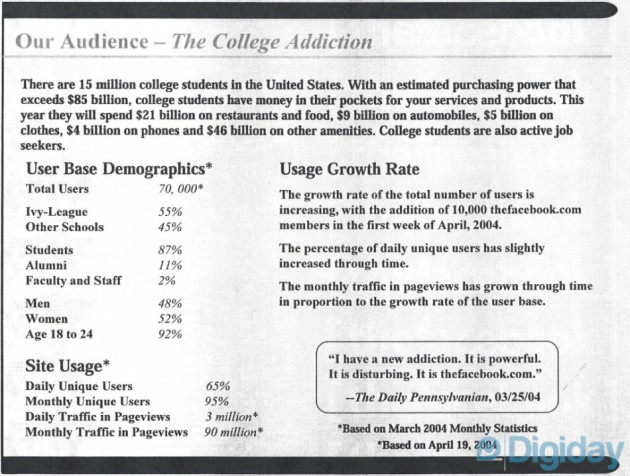 As an early indication of just how engaging Facebook would become, those 70,000 users generated three million page views every day and 90 million per month.
Contrary to The Social Network's impression that Facebook was created for men to meet women, after two months online 52 percent of users were female, and 92 percent were aged between 18 and 24.
"Thefacebook.com is an expanding online directory that connects students, alumi, faculty and staff through social networks at colleges and universities," the media kit explained.
"This online directory allows for user connections on the basis of friendship, courses and social networks (including intra and inter-school networks), and has a built-in messaging system."
Only available to American college and university students, Facebook's emphasis was strongly on education, with the ability to link up and communicate with students through their college, faculty and course.
Saverin knew that advertising was the key, and while traditional banner adverts in various sizes were offered up for sale, it was targeted advertising that was saved until the end of his presentation.
Everything from the college and degree type, to age, gender, relationship status and personal interests were listed as parameters that would help companies target their adverts to specific users.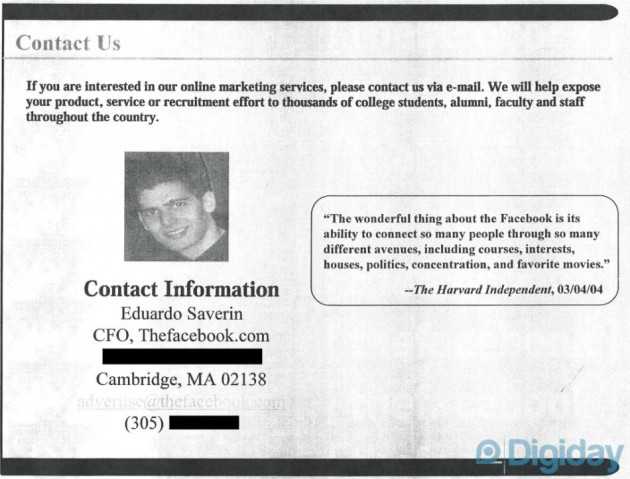 Saverin explained that the 15 million college students in the US had an estimated purchasing power of more than $85bn (£54bn). "College students have money in their pockets for your services and products."
Offering to help connect potential advertisers with a huge number of targeted and highly engaged students, Saverin ends: "We will help expose your products, service or recruitment effort to thousands of college students, alumni, faculty and staff throughout the country."
Little did thefacebook.com know that these "thousands" would soon become more than one in seven of the world's population.