One billion Facebook users will access the social network through a mobile device in 2015, according to new research, as the tech giant looks to capitalise on the growing mobile ad market.
The forecast from independent market research firm eMarketer found that 70% of all Facebook users around the world would use a smartphone to access their accounts.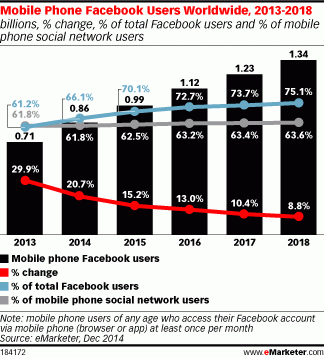 "Facebook has been a leader helping marketers to transition to mobile advertising," said Debra Aho Williamson, principal analyst at eMarketer.
"Because the Facebook experience is basically the same across devices, advertisers don't have to reinvent the wheel to place mobile advertising.
"As Facebook's user base shifts even more heavily toward mobile, it is well positioned to see increasing ad revenues from the channel."
It is predicted that by 2018 around 1.34 billion Facebook users will access the platform via a mobile device, almost double the number in 2012.
This is a significant turnaround for a company that claimed it generated no "meaningful revenue" from its mobile platform three years ago.
The latest figures from eMarketer's predict that Facebook will generate $18bn in revenue in 2016, with more than three quarters of its users accessing the social network via mobile phones on a regular basis.
The US will continue to be the biggest market for mobile phone Facebook users this year, however India will surpass the US by 2017.
The UK, Russia and Indonesia are the only countries in eMarketer's list of the top 10 mobile phone Facebook user countries where mobile phone users will account for more than 90% of all Facebook users by 2018.
In the race to cash in on the mobile ad market, Twitter announced earlier this week that it is acquiring ZipDial, an ad tech and analytics platform based in India.