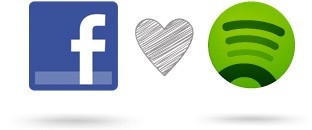 Spotify have gained one million new Facebook users in just under a week since the f8 conference last Saturday.
The Swedish-founded music service have been around since 2008 and had around 3.5 million users before last week, they now have 4.5 million registered members.
The partnership means that if enough people listen to an artist or album, it will be playable in the newsfeed.
Some Spotify members have been upset that they can no longer use the service without first having a Facebook account and then integrating the two.
They have joined a series of other 'Social Apps' that are working closely with Facebook to integrate their services further.
The Guardian, The Independent, USA Today and Hulu are among more media outlets to team up with Facebook. Figures show that anyone partnering with Zuckerberg could be extremely lucrative.
Gustav Soderstrom, Spotify's chief product officer told The Telegraph: "I think it's going to mean that things spread even faster than before. An artist that gets picked up is going to spread faster within a market and also between markets."
He continued: "I think people are going to listen to more music."