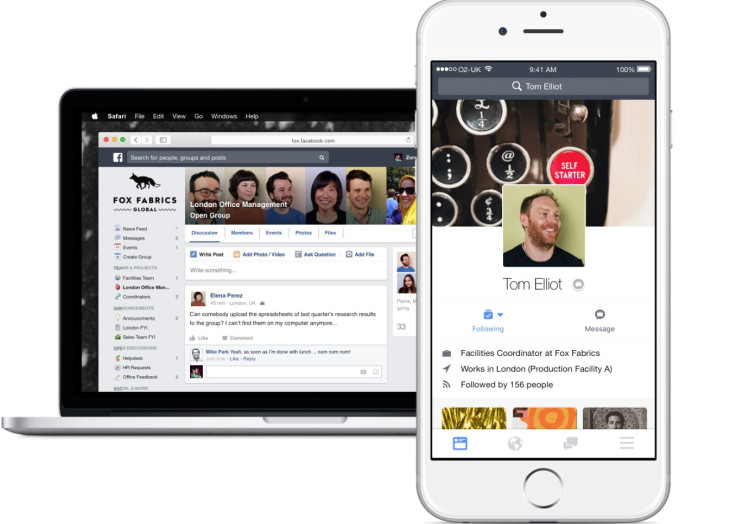 Facebook is nearing the commercial launch of the enterprise version of its social network site dubbed Facebook at Work. The social network is planning to charge companies on a monthly basis for their employees using its service.
Facebook's latest offering differs from its earlier plan to offer the feature for free to all companies on launch, but charge an additional amount for premium services such as analytics and customer support.
Facebook believes its professional version of the social network would be able to get employees engaged, which is why it has changed its decision to charge based on active users. Julien Codorniou, director of Facebook at Work, revealed the pricing plan to the Information, but declined to give details.
The same was later corroborated by Techcrunch, which claims Facebook will announce launch integrations or partnerships with other SaaS tool providers like Asana.
Facebook at Work is associated with a company and an employee can create and join groups with his or her co-workers to participate in relevant conversations. It helps co-workers connect and collaborate using features that are already present in the standard version of Facebook such as News feed, groups, messages and events.
So far, more than 450 companies across the globe are using Facebook at Work. Some of the new ones in the list using the service are Telenor, Canadian Tire, IJM Corp, Mobilink, Club Med, Royal Bank of Scotland, Heineken, Century 21, Kenshoo and Similarweb, Hootsuite and Weber Shandwick.
These beta testers will get a few additional months of complimentary subscriptions for testing. Those using Facebook At Work can also take advantage of features like Work Feed of posts from co-workers to exchange ideas. This functionality is similar to products like Convo that charges $9 (£7) per month, Salesforce Chatter that costs $15 a month, and Microsoft's Yammer that is available for $3-$24 in a monthly subscription.