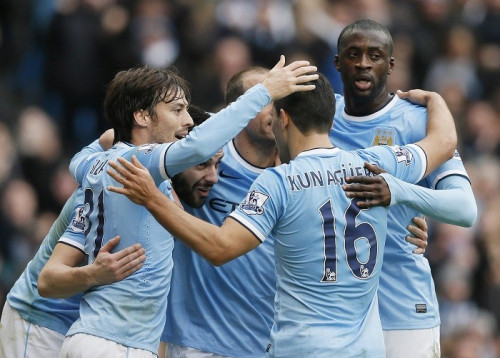 As the transfer window begins to kick into gear, IBTimes UK will be bringing you all the latest news, rumour and reaction until it slams shut at the end of January.
But while we are still in the infancy of one of the most hectic months in the football calendar, we have gathered the thoughts of fans from across the Premier League in order to determine what is expected of their club at this crucial time of the season.
To start things off we have spoken to Manchester City fan City Watch, who provides independent coverage of the club through his inexhaustible Twitter account.
We get his take on what areas of the team City should look to improve over the next four weeks, who should be shipped out and how crucial this wonderfully exasperating time of the season will be for his club's title aspirations.
What areas of the side are in need of the most strengthening?
City Watch: Defence and central midfield are areas City could still strengthen. Fernandinho (25 starts) and Yaya Toure (23 starts) have played more than anyone this season, a sign that Pellegrini doesn't have much faith in Javi Garcia as the number three. The other option, Jack Rodwell, is talented but injured so often that we don't see much of him. A good central defender who can also cover at right-back (with Micah Richards another who struggles to stay fit) would also strengthen the squad.
What players would you like to see brought in to fill those roles?
City Watch: Nemanja Matic would be a good central midfield signing who could partner with Yaya or Fernandinho, allowing Pellegrini to rotate more regularly and give Yaya and Fernandinho more rest. At the back, Sergio Ramos would be a dream signing with his experience and ability to play in the middle or on the right, but a more realistic option would be Kurt Zouma.
How optimistic are you of a successful window?
City Watch: Even if we make no signings I wouldn't say it was a failure because we have one of the best squads in the league. But adding either a talented defender or midfielder or both would help our push for four trophies.
Any dead wood? Do the club need to offload anyone who isn't pulling his weight?
City Watch: Many don't rate Garcia, but with Rodwell's chronic hamstring problems, we may need him even if we do sign a midfielder. The only players I'd consider dead wood are some of the older youth players with no future at this level like Alex Nimely and Abdi Ibrahim.
How important is the January transfer window to the club's ambitions for this season?
City Watch: Our hopes for success don't hinge on signing anyone this month, but one or two fresh faces in the aforementioned positions would benefit us greatly. Just as important as new signings would be City's injury prone trio of Jovetic, Richards and Rodwell being able to stay fit.
Do you believe the manager will be backed in his hopes (if any) of adding to the squad?
City Watch: Absolutely. I'm led to believe the funds are there if Pellegrini wants them, but he seems quite happy with the squad. That's his public stance, but we're being linked with defenders and midfielders.
Are there any other issues away from the transfer window the club need to address in the New Year?
City Watch: A big worry is the amount of muscle injuries at the club this season. Aguero, Kompany and Silva seem regularly affected, while Jovetic, Rodwell and Richards are injured more than they are fit. Pellegrini called it a coincidence and he knows better than I do, but the departure of first-team doctor Phil Batty after the title-winning season led to an increase in muscle injuries.
For more news and views on Manchester City from City Watch, keep up to date at That Kun Aguero.