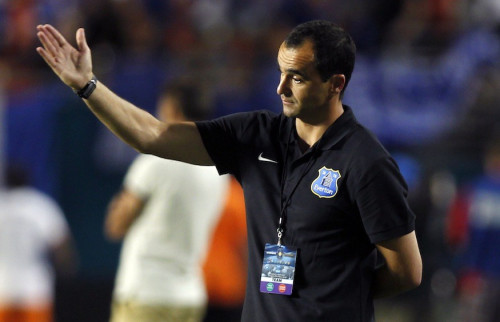 While the clubs around them have so far held on fire on their January business, Everton have wasted little time in strengthening their squad. The Toffees announced the arrival of Republic of Ireland international Aiden McGeady prior to their 2-0 win over Norwich on Saturday, a move that helped reinforce the rosy atmosphere reverberating around Goodison Park at the minute.
Roberto Martinez's ambition to lift the club into the top four been greeted with sincerity rather than trepidation, but what can he do this month to ensure the club's rise continues? IBTimes UK spoke to David Whitehead of Grand Old Team, the home of Everton's biggest online community to find out.
What areas of the side are in need of the most strengthening?
David: I think we need a second striker of or nearing the quality of Romelu Lukaku. Also, perhaps a young right back prospect to take over Tony Hibbert's role and provide quality injury cover for Seamus Coleman. Bryan Oviedo has proved that not only can you have quality cover, but perhaps that two players from the same position can be accommodated in the same side if they are good enough.
What players would you like to see brought in to fill those roles?
David: I think Christian Benteke would benefit from playing in a side of Everton's quality and style, I think we'd reap the rewards. Selecting a right back is a little more difficult as I'm not sure of the quality out there at the moment.
How optimistic are you of a successful window?
David: A lot more confident than in previous years. It's no longer seeming to be a case of damage limitation in the transfer window. Retaining Leighton Baines in the summer seemed to be key to that. Also good to hear is Roberto Martinez stating that only the players who will fit in and not disrupt morale will be signed. This makes me confident of avoiding the signing of any huge egos who may disrupt the dressing room.
Any dead wood? Do the club need to offload anyone who isn't pulling his weight?
David: I think it's common knowledge that John Heitinga and Nikica Jelavic want a move. There's been a lot of debate about Apostolos Vellios, the Greek forward who has apparently refused to go out on loan. It's a bit of a shame, as he's popular amongst fans at least, however you have to question his career motives and his own initiative.
How important is the January transfer window to the club's ambitions for this season?
David: Quite important - we need to retain and bolster our strength in depth. Also, if we, as it increasingly looks like, are to be playing in a European competition next season, I'm sure the manager knows we'll need as many bodies as we can lay our hands on. As a result I'm sure he's made it clear to the board that re-enforcements aren't just wanted, they're a necessity if we're to build on this. Hopefully lessons will have been learned from the monumental under-investment following the Champions League finish of 2004/05, where the marquee signing was Phil Neville. He proved to be a dependable player, but we should have aimed higher at the time and since.
Do you believe the manager will be backed in his hopes (if any) of adding to the squad?
David: Many may disagree, but I think he'll be backed, yes. I think that, while we're obviously not spending money like Chelsea can, we have more finances than David Moyes would have the press believe. Just because he didn't spend it doesn't mean we don't have it - look at his record at Manchester United. We've already signed Aiden McGeady, so that's a start.
Are there any other issues away from the transfer window the club need to address in the New Year?
David: Apart from needing to redevelop Goodison Park, the performances on the pitch have made most Evertonians happy. The summer dispute surrounding the crest seems light years away. There's a feel good factor around the club unseen since I went to my first match when we were league title holders - it's as if Roberto Martinez has given us our club back.
Keep up to date with Grand Old Team's coverage of Everton's season through Twitter.