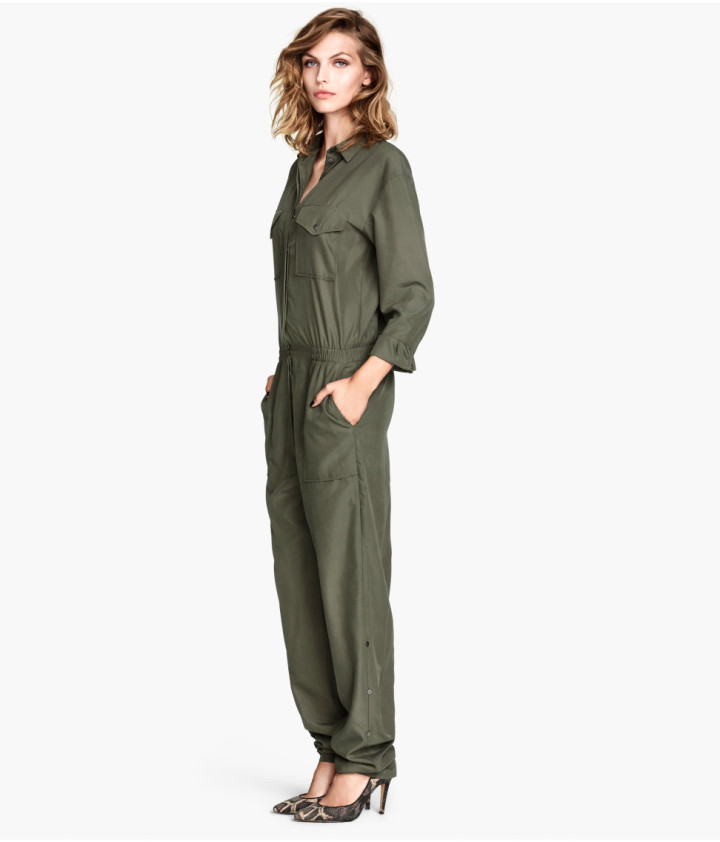 Swedish fashion retailer H&M has angered Kurds by releasing a khaki green jumpsuit which bears a strong resemblance to the uniforms worn by female Kurdish soldiers fighting Isis.
Outraged Kurds took to social media, hitting out at H&M for their lack of respect. "Disgraceful to say the least," Arwin Banirad wrote on Facebook. "At times like these, they choose to capitalise from the brave kurdish fighters in Kurdistan. They should be ashamed of themselves!"
Ali Najat Barzinjy was dismayed at the use of their outfit popularised by fashion: "Wtf this is our traditional uniform it is not for every one."
Photographs on the H&M website show the £14.99 jumpsuit in khaki green. Some claim that it is very similar to the loose-fitting fatigues worn by female fighters of the Kurdish People's Protection Units (YPG), who have been fighting with the Kurdish Peshmerga against the advance of the Islamic State.
H&M apologised, but denied any mimicking of the Kurdish uniforms and their trendy new jumpsuits.
"We are truly sorry if we have offended anyone with this piece, this was of course never our intention," said Ida Ståhlnacke, H&M's global press officer, in a statement.
"At H&M we want to offer the latest within fashion and trends and we continuously listen to our customers requests.
"The last seasons we have seen an increasing demand on jumpsuits and therefore we currently offer a selection of jumpsuits in different colors and materials, such as denim blue and deep red.
"The jumpsuit in question is made in a light and comfortable material and is a part of a larger collection consisting of many garments in khaki green, which also is one of the trendiest colors this season.
"The opinions of our customers are very important to us and we will keep this feedback in mind for future collections."
There was no statement from H&M to say they would withdraw the jumpsuit.
The Syrian Observatory for Human Rights reported that on 5 October, a female YPG soldier carried out a suicide bombing mission, killing a number of Islamic State fighters.
The fighter allegedly used a grenade to blow herself up near an important Islamic State position in the eastern part of Kobani. The woman has been named as Arin Mirkan, a commander in the Kurdish People's Protection Unit (YPG). She is thought to be the first female suicide bomb attack against Islamic State.