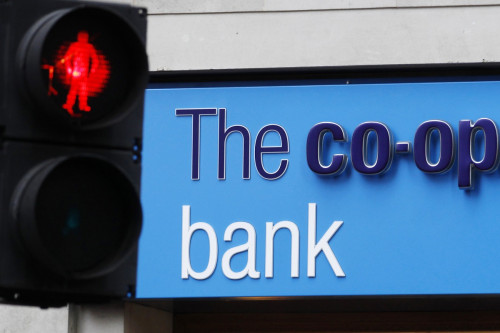 The Financial Conduct Authority and the Prudential Regulation Authority are launching an investigation into scandal-hit Co-operative Bank.
A source close to the banking regulators told IBTimes UK that both watchdogs have decided to investigate the troubled lender after UK Chancellor George Osborne announced in November that the government would launch an independent inquiry.
The investigation follows months of troubles emanating from the ethical lender, from announcing a £1.5bn capital hole on its balance sheet to the arrest of former chairman Reverend Paul Flowers amid a drugs and orgies scandal.
While the regulators declined to comment, the source familiar with the matter says the confirmation could be announced by the end of the day.
The Co-op Bank is one of UK's smallest lenders with 6.5 million customers and a 1.5% share of the current account market. However it is a household name in Britain, as the wider group includes supermarkets, funeral services and pharmacies.
Trouble started in May this year, after the Co-op Bank's head of banking Barry Tootell resigned after rating agency Moody's suggested that the British government may have to bailout the lender.
Moody's slashed the bank's debt rating to "junk" status, due to concerns that the lender had a £1.8bn black hole in its balance sheet.
On 22 November, police arrested Flowers, as part of an investigation into the supply of illegal drugs. He has since been bailed.
On the same day, Chancellor George Osborne launched an independent inquiry into embattled Co-operative Bank as it is engulfed in controversy.
"The investigation has been jointly agreed with the two regulators - the Prudential Regulation Authority (PRA) and the Financial Conduct Authority (FCA) - who agree there is a public interest in a statutory investigation," added the Treasury statement at the time.
"It will be led by an independent person appointed by the regulators, with the approval of the Treasury. Separately, the FCA and PRA have today announced they are both considering whether they should also launch formal enforcement investigations.
"The independent investigation under the Financial Services Act will therefore not start until it is clear it will not prejudice any actions the relevant authorities may take, including the potential FCA and PRA enforcement investigations."
Meanwhile, the Co-op has launched a "root and branch" investigation into how the embattled lender is run after a video emerged of its former chairman, who is also a Methodist minister, handing over money to buy hard drugs.