Marouane Fellaini is considering his future in England after admitting that he does not know where he will be playing next season. He will enter the final six-months of his contract with Manchester United in January and can talk to clubs outside England.
The midfielder believes that he has been treated harshly during the course of his career especially since he joined the Red Devils in 2013. Paris Saint-Germain are monitoring his situation and could make a move in January and agree a pre-contract ahead of a free transfer in the summer.
The Belgian midfielder joined the Red Devils in a £27.5m ($37m) move from Everton following the arrival of David Moyes to replace Sir Alex Ferguson. He has since played under Ryan Giggs, Louis van Gaal and currently under Jose Mourinho.
Fellaini has been used in a number of roles since his arrival, with Mourinho and his predecessor using him as a second striker at times when they are chasing the game. If not, he has been used in his preferred midfield role.
The 30-year-old has been branded the villain on a number of occasions when United have failed to deliver the desired results, and is a regular scapegoat for the supporters. Fellaini feels he has been wrongly judged based on his playing style and believes other players do not receive the same penalties he is handed.
Fellaini has been sent off only three times since arriving in England and the most recent was during the Manchester derby in April when he was sent off for head butting Sergio Aguero. The midfielder accepts that he has an aggressive style, but made it clear that he has never put an opponent in danger.
"They have labelled me an aggressive player, a murderer," Fellaini said, as quoted by the Daily Mail. "Look, I'm fanatical. The team that wants it the hardest wins. But there have been times when I came out as the villain.
"What should I do if they pull me by the hair? It sounds like a joke, but it really hurts," he said referring to the retrospective ban he received after he was adjudged to have elbowed Robert Huth.
"Last season I was suspended after the derby against City for a headbutt against Aguero. He stepped towards me and then dropped dead. But, no, I get the red.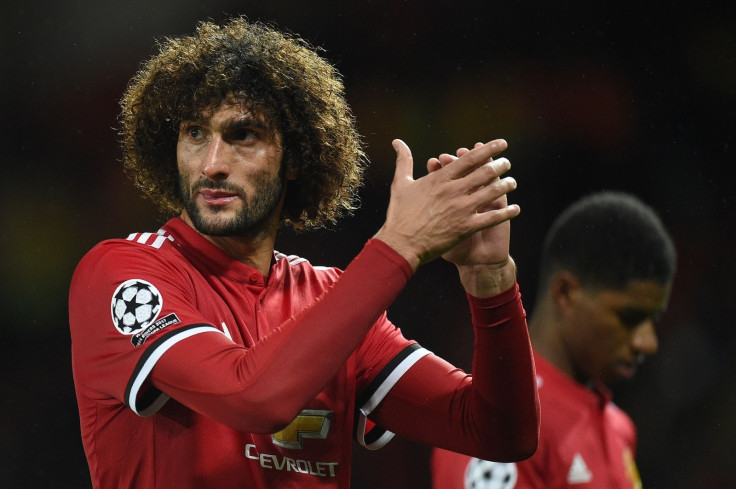 "Players often try to provoke me but do you know how many yellow cards I collected last season? Four, in 45 matches. I've never destroyed someone's career," he explained.
Fellaini's latest outburst indicates that he could find a club outside England once his contract expires at the end of the current campaign. United are keen to retain him but their latest proposal was rejected by the player as he seeks higher wages with the Daily Mail reporting that he wants around £170,000-a-week to sign a new deal.
The Belgium international is not short of interested suitors with The Mirror reporting that PSG are leading the chase with Turkish outfits Besiktas and Galatasaray also keen on signing him. The French club are keen to sign him on a free transfer and can hold talks with his representatives once the transfer window opens next month.