Thrustmaster is giving all gamers the chance to feel like Fernando Alonso, with the Ferrari F1 Wheel Add-On, which is an exact replica of the wheel found in this year's Ferrari F1 car.
The life-sized add-on is designed to attach to the T500 RS gaming wheel system and features an enormous 25 buttons, eight rotary dials and 'Push and Pull' gear select paddles.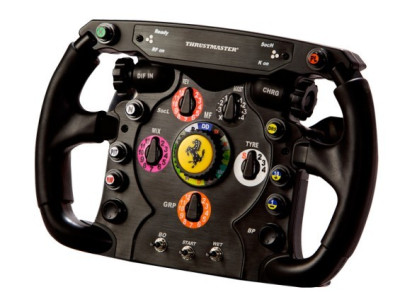 The Ferrari F1 wheel is compatible with PC and PlayStation 3 and is constructed of scratch-brushed reinforced metal and rubber-textured plastic, while the Quick Release attachment system enables users to add or remove the wheel add-on in a couple of seconds.
Gamers who have bought F1 2011, out earlier this month, will be able to use the wheel to operate their cars DRS and KERS, as well as change gear with the paddles and adjust other car settings using the very same buttons and knobs that Fernando Alonso and Felipe Massa use in their Ferrari F1 cars.
"The extensive built-in equipment - rotary knobs, switches and action buttons - boasts professional quality, enabling drivers to make precision adjustments according to his own racing style and the conditions on track," Thrustmaster said.
"The Thrustmaster Quick Release attachment system enables users to easily attach the wheel face to the T500 RS base in just a few seconds. This innovative concept allows all RS Series wheel base owners to invest in the wheels alone to enjoy optimum realism in all types of races."
The add-on will start shipping in early October for $199.99, and will hopefully pave the way for a whole range of themed add-on wheel in the future. There is no word yet on UK price or availability.