Ferrari driver Sebastian Vettel has accused Mercedes ace Lewis Hamilton of playing "dirty tricks" during the season ending Abu Dhabi Grand Prix on 27 November. Vettel eventually finished the race in third place, while Germany's Nico Rosberg – Hamilton's teammate – came in second to win the first F1 championship title of his career.
Although Hamilton won the race, it was Rosberg who won the 2016 F1 title, as the German needed only a podium finish to claim the championship. Rosberg finished second despite Hamilton "slowing down" the race, which has attracted criticism from fellow drivers and experts.
His tactics enraged a number of people with the Brit coming under fire from his own team and could face disciplinary action. Vettel too was not impressed by the skullduggery employed by the three-time champion.
"It was a difficult situation in the end with Lewis playing some dirty tricks. I did what I could. Following two cars, you slide and the tyres get hot. My interest, once I passed Max, was to win the race, bearing in mind they are fighting for the championship. Lewis was trying to back Nico into rest of the pack," said Vettel as quoted by Express.
"But I couldn't get past them. Behind Nico, I was faster due to the fact Lewis was slowing down, but they were very, very quick down the straights. With Red Bull, it was easier as Max didn't have the DRS, whereas Nico did," he added.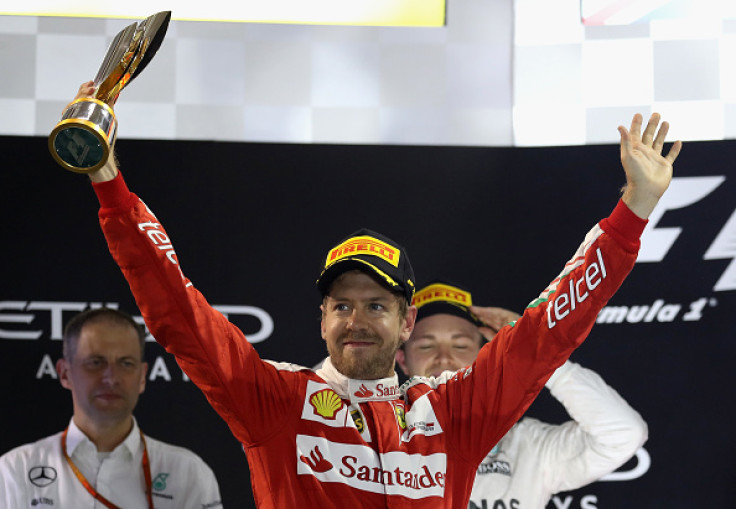 The 2016 Formula One World Championship Driver's Standings
1) Nico Rosberg (GER)- Mercedes AMG Petronas (385 points)
2) Lewis Hamilton (GBR)- Mercedes AMG Petronas (380 points)
3) Daniel Ricciardo (AUS)- Red Bull Racing (256 points)
4) Sebastian Vettel (GER)- Scuderia Ferrari (212 points)
5) Max Verstappen (NED)- Red Bull Racing (204 points)
6) Kimi Raikkonen (FIN)- Scuderia Ferrari (186 points)
7) Sergio Perez (MEX)- Sahara Force India (101 points)
8) Valtteri Bottas (FIN)- Williams Martini Racing (85 points)
9) Nico Hulkenberg (GER)- Sahara Force India (72 points)
10) Fernando Alonso (SPA) McLaren-Honda (54 points)