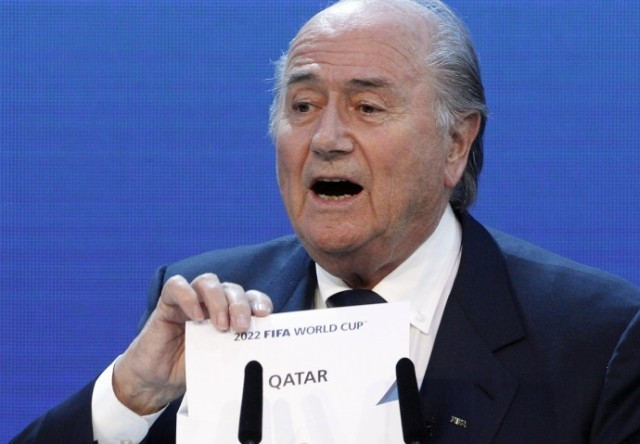 FIFA, football's governing body, has announced it is to investigate vice-president Jack Warner and presidential candidate Mohamed bin Hammam over bribery allegations.
Bin Hammam, the Qatari head of the Asian Football Confederation and the only man running aginst Blatter in the 1 June vote, was one of four officials summoned by FIFA to appear before its ethics committee on Sunday, following a report from fellow executive committee member Chuck Blazer.
Blazer, an American who is the general secretary of the Concacaf federation of which Warner is president, has alleged that violations of FIFA's code of ethics occurred during a meeting organised by Bin Hammam and Warner for Caribbean Football Union associations in the Bahamas two weeks ago.
Two CFU officials, Debbie Minguell and Jason Sylvester, have also been charged.
All four have been asked to attend a meeting in Zurich on Sunday to discuss the allegations, just three days before the presidential vote.
A spokesman for Blatter also said he would not comment and a Bin Hammam spokesman said any comment would come via his website.
A FIFA statement read: "On 24 May, 2011, FIFA executive committee member and Concacaf general secretary Chuck Blazer reported to FIFA secretary general Jerome Valcke possible violations of the FIFA code of ethics allegedly committed by officials.
"In particular, the report referred to a special meeting of the Caribbean Football Union, apparently organised jointly by FIFA vice-president Jack A. Warner and FIFA executive committee member Mohamed Bin Hammam, which took place on 10-11 May 2011. This meeting was linked to the upcoming FIFA presidential election.
"In view of the facts alleged in this report, which include bribery allegations, FIFA secretary general Jerome Valcke, in compliance with article 16 of the FIFA code of ethics, yesterday requested the FIFA ethics committee open ethics proceedings."
FIFA's crisis over alleged corruption has deepened after the dramatic announcement and raises questions over whether the presidential election will go ahead as planned on Wednesday.
The 208 associations will chose between the incumbent Sepp Blatter, who has been in the post for 13 years, or Bin Hammam, a Qatari seen as instrumental in his homeland after winning its controversial bid to host the 2022 World Cup.
Ongoing controversy
The new investigation follows on from a separate inquiry launched earlier this month by FIFA into claims made in the British Parliament regarding the bidding process for the 2018 and 2022 World Cups last year.
The former FA chairman Lord Triesman alleged during a culture, media and sport select committee hearing that he had witnessed "improper and unethical" behaviour by ExCo members - including Warner - during his time as England's 2018 World Cup bid chairman.
Earlier this month, a British parliamentary inquiry into why England failed to secure the 2018 finals was told by member of parliament Damian Collins there was evidence from the Sunday Times newspaper that Issa Hayatou of Cameroon and Jacques Anouma of the Ivory Coast were paid by Qatar.
Qatar, chosen in December to host the 2022 World Cup ahead of the United States, Australia, Japan and South Korea, have categorically denied the allegations as have Hayatou and Anouma.
Blatter, standing for a fourth term, already has the support of Europe, Africa, South America and Oceania.