Follow IBTimes UK's LIVE blog of transfer deadline day news.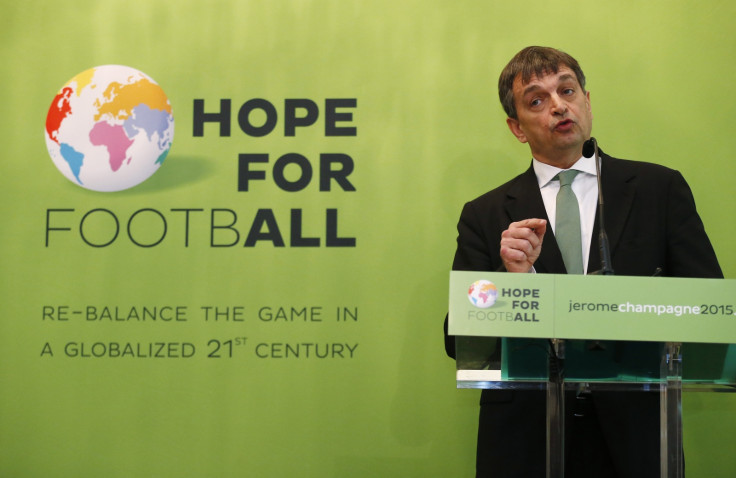 Jerome Champagne has confirmed he will not compete against Sepp Blatter for the Fifa presidency after failing to get the support he required.
Any potential candidate must receive nominations from at least five member associations and they need to have been active in football for two of the previous five years, according to rules introduced by Fifa in 2013.
The former French diplomat announced that after getting support from only three federations, he has been forced to withdraw and will not challenge Blatter for the election, which will take place at Fifa's Congress in May.
"I warmly thank the three federations that have endorsed me and the many presidents who explained with candour and friendship, that they could not do it despite their interest in my programme," Champagne said, according to The Guardian.
"The reasons were numerous. Because they feared reprisals from their confederations having issued 'recommendations'. Because their federations were candidates to host continental competitions. Because they relied too heavily on the financial support. Because they were committed to defend a united continental front."
After David Ginola also ended his campaign to run for the Fifa presidency towards the end of January, Blatter will only face competition from Prince Ali Bin Al-Hussein of Jordan, Dutch Football Association president Michael van Praag and former Portugal international Luís Figo.
Meanwhile, Champagne heavily criticised Uefa and other institutions, accusing them of campaigning against his candidacy.
He said: "I regret to have to announce that I have not presented the five sponsorship letters needed to be registered as a candidate in the election of 29 May. The institutions have mobilised to eliminate the only independent candidate.
"The latest events orchestrated in secret with barely veiled intentions by one of them, distributing letters of support between candidates, made me lose sponsorships especially in Europe!
"The hidden agenda - or not so hidden after all - is clear: under the guise of reforming Fifa lies the objective of further weakening it in favour of continental structures. This at a time when a strong governance of football, with regulatory and redistributive powers, is needed more than ever. It constitutes the perennial vision of Uefa since 1998!
"It is also to pave the road for the wealthy actors of the West European football to get their hands on the last thing they do not control yet: Fifa and the world government of football."