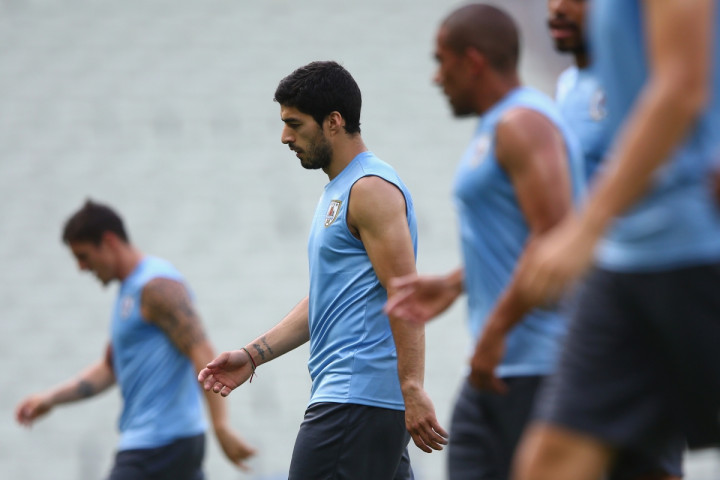 Liverpool striker Luis Suarez is '100%' fit ahead of Thursday's clash against England and is confident Uruguay are capable of exposing the 'defensive deficiencies' in Roy Hodgson's side in Sao Paulo.
Suarez underwent knee surgery last month and was an unused substitute in his side's shock 3-1 loss to Costa Rica on Saturday.
However, the 27-year-old has returned to full training and despite England taking a number of positives from their opening 2-1 loss to Italy, the striker believes the Three Lions' back four will be their downfall when the two sides meet later this week.
"I know all the players in the England squad, I know some of them because they are teammates or rivals," Suarez told Uruguayan outlet Ovacion Digital. "They have defensive deficiencies and we can take advantage of them."
After finishing as the Premier League's top scorer last season as he led his side to their closest Premier League title challenge in 24 years, Suarez was tipped to star in Brazil this summer with the 2011 Copa America champions.
Those hopes were momentarily in doubt when the striker underwent a procedure on his knee but the Liverpool star insisted there was never any uncertainty about his long-term fitness.
"At no moment did I think I would lose the chance of playing in the World Cup. I've never thought that during my recovery," he continued. "Now I am 100%."
After their shock 3-1 loss to Costa Rica, Oscar Tabarez's side realistically must beat England to keep their chances of qualifying for the knock out stages of the competition alive. With this in mind, Suarez had one message for Uruguayans: "Keep believing in us. We want to give you a lift."