Fifa World Cup 2014: Germany 2-1 Algeria, France 2-0 Nigeria - As it Happened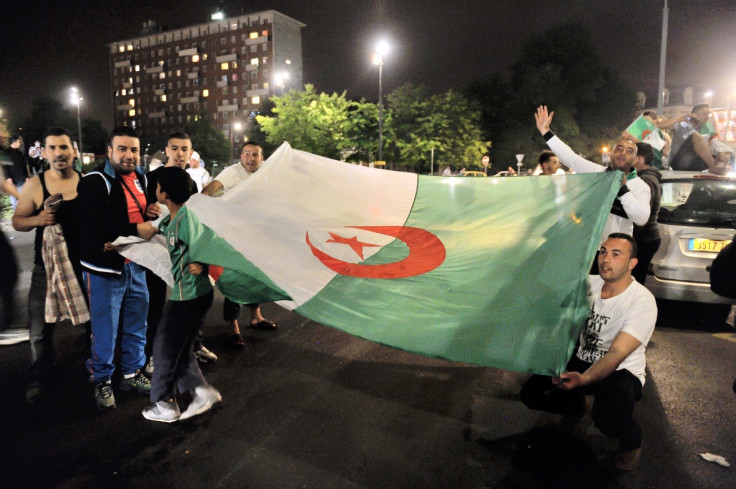 11:32: And that's it! What a pulsating game of football. Algeria have heroically pushed Germany to the limit this evening but in the end it hasn't been enough. Goals from Andre Schurrle and Mesut Ozil in extra time sees them join Brazil, Colombia, Netherlands, Costa Rica and France in the quarter-finals.
FULL TIME
Germany 2-1 Algeria
Germany will meet France in the quarter-finals.
11:31: Amazing! Algeria march up the other end and after swinging an excellent ball in from deep Djabouu races in at the far post to slam the ball into the back of the net! Not a comeback, surely?
Goal! Germany 2-1 Algeria (Abdelmoumene Djabou)
11:29: Now they seal it! Ozil slides the ball across goal having drawn the goalkeeper out but Schurrle's effort is blocked off the line. Ozil makes sure of it as the ball falls at his feet, lashing it home to seal a quarter-final meeting with France.
Goal! Germany 2-0 Algeria (Mesut Ozil)
11:27: Great defending from Boateng! Mandi sweeps another ball upfield that once again gets in behind the German defender. Slimani is racing onto it but Boateng races back and manages to nick the ball off his foot.
11:26: Kramer denied! The sub drives the ball towards the Algerian goal, plays a neat one two with Muller but from a tight angle inside the right of the box is denied by Mbolhi
11:24: Belkalem is still alive however to read the situation well and intercept Ozil's tidy pass intended for Muller.
11:22: Everyone is feeling the strain now, Mandi runs into space for Algeria but as he reaches to take the ball under control his legs go.
11:19: Bouguerra shows neat skill as he picks up the ball in his own half and bursts ahead before slipping a clever ball through to Mandi on the left wing. He's moved too quickly howeber despite looking straight down the line and Germany are given the free kick.
11:17: Brahimi takes but it bypasses his teammates and Neuer collects. Schweinsteiger can barely stand anymore and comes off to be replaced by Christoph Kramer.
11:16: Lahm is shown a yellow card after cynically pulling down Brahimi who has jinked past the German skipper. Algeria have the free kick in a good position about 30 yards out from goal.
11:15: Algeria get us started again, they have 15 minutes to keep their World Cup alive.
HALF TIME IN EXTRA TIME
Germany 1-0 Algeria
11:10: Thomas Muller is a machine. While those around him are faltering with cramp he skips elegantly out to the right flank, feints past his man and slides a ball across the face of goal but it's just out of the reach of Ozil and Schurrle in the box. Another great chance for Germany to end this.
11:07: Algeria inches away from equalising! Algeria lift a corner into the six yard area and Khedira makes a hash of the clearance. It falls to Mostefa who arrows one towards the bottom left corner but it flies just wide.
11:06: Thomas Muller has shown no signs of fatigue yet and does brilliantly to work space for himself about 20 yards out from goal and curl one towards the bottom right hand corner that veers just wide.
11:05: Bougherra has come on for the stricken Halliche.
11:04: Kroos sends Ozil running into space down the inside left channel with a fantastic opportunity to cut inside in shoot, but Halliche, nicks the ball off his toe before the Algerian collapses. He's cream-crackered.
11:02: It was Aissa Mandi of Algeria who lost possession for that goal, allowing Muller to race into space and draw the centre half out for Schurrle to work the space to finish. Brilliant move.
10:59: Germany have the lead at long last! Mandi Thomas Muller races down the left and slides a ball into the six yard area where Schurrle improvises brilliantly to flick the ball from behind him into the net!
Goal! Germany 1-0 Algeria (Andre Schurrle)
10:56: Germany get us started for the first 15 minutes of extra time. Miroslav Klose was just on camera limbering up on the sidelines. This game seems written for a record-breaking goal, right?
10:54: Extra time awaits after one of the most enthralling 0-0's you will ever see.
END OF 90 MINUTES
Germany 0-0 Algeria
10:51: Germany have one more chance from the corner but as it is lofted into the penalty area Mbolhi comes out to confidently claim.
10:50: Germany work the ball quickly down the right and Schurrle whips an excellent low ball in that Lahm is inches away from clipping into the back of the net, only for it to be hacked away.
10:48: We are into four minutes of added time. Extra time looms.
10:45: Algeria again launch the ball forward over Germany's backline and one again Neuer is off his line to make the clearance. Germany march straight up the other end and Schweinsteiger can only glance a header straight at the goalkeeper.
10:43: A candidate for the worst free kick routine you will ever see there. I think the plan was for Muller to dummy the run over and scurry in behind the Algerian wall to meet Ozil's dinked effort. Would have looked pretty neat had Muller not tripped en route.
10:42: Germany have a free kick about 25 yards out from goal. Schweinsteiger, Ozil and Muller stand over it.

10:40: Ozil attempts to bend a ball around the defence from the right for Muller to get on the end of but Mandi intercepts. There's now a brief pause as Halliche tries to get over a cramp.
10:38: Muller again! The forward brings the ball down inside the box, feints past Feghouli and looks to fool Mbolhi and slide one in at the near post but the ball gets caught underneath his foot and he sends it wide!
10:36: Another sublime save! Khedira guides a sublime cross in from the right that Muller leaps brilliantly to head, but from point blank range he heads it straight at Mbolhi. The Algerian showed brilliant reflexes to make the save however to bat it away and Schurrle's follow up effort is blocked for a corner.
10:34: Brilliant from Muller! The forward cuts out to the right and dances his way past two before swinging a peach of a cross into the middle where Shweinsteiger's attempts to meet it with a diving header. He can't get it on target however, and in fact it goes out for an Algeria throw.

10:31: Moments later the ball falls to Slimani on the edge of the box but his powerful effort is drilled straight into Neuer's gloves.
10:30: Ooof, close from Feghouli! From a throw in the winger lets the ball roll across onto his left footed and tries to curl a vicious effort into the far left corner. He can't quite get his laces on it however and it veers just wide.
10:27: Slimani races off the shoulder of the last German defender has another ball is lifted over the top but Neuer again is out of box in a flash, reading the bounce of the ball excellently to make a clearing header.
10:24: Low have been almost stubborn in his desire to keep deploying Lahm in midfield but he will be forced to change that now. Mustafi has been taken off on a stretcher after appearing to stretch too far and Sami Khedira has come to replace him with Lahm moving to right back.
10:21: Joachim Low looks slightly more satisfied with what he is seeing but how long will it be before he turns to Miroslav Klose? The 35-year-old needs just one more goal to become the World Cup's outright all time top goalscorer with 16. Given how tight this game has been, a poacher's effort might be needed to seal this.
10:18: Kroos wins another corner straight after that but Algeria cope - for now. Ozil chases down a loose ball in vain down the left and Algeria try to get the ball moving back upfield.
10:16: Schurrle has been an excellent outlet down the right since coming on. He wins yet another German corner as they start to build real pressure
10:11: Another great save from Mbolhi! It's neat build up from Germany as Schweinstieger slides the ball into the path of Lahm wo from the edge of the area tries to guide one into the top corner but he is brilliantly denied.
10:09: Algeria counter again as the ball falls tantalisingly close for Feghouli but he can't quite reach. It falls to Soudani whose shot is well blocked by Lahm. Pulsating start to this half.
10:07: Algeria go right up the other end and win a corner that Neuer just about gathers at the second time of asking. From there he produces an oustanding pass/clearance that drops straight into the path of Schurrle who is running between the two Algerian centre halves. They just about hack it clear through Ghoulam and from the German corner Kroos wants a penalty! Breathless stuff.
10:06: From the corner the ball falls to Kroos on the byline to the left wh stands up an inviting ball for Mustafi, who leaps above his marker but can only direct his header straight at the goalkeeper.
10:04: Germany work a series of neat passes coming in from the right with Schurrle bursting to get on the end of it. He gets his shot away but it takes a deflection and loops just the wrong side of the post. German corner.
10:02: One change for Germany in this half, Andre Schurrle has replaced Mario Gotze and has taken up a position on the right of attack.
10:01: And we are back underway for the second half in Porto Alegre.
9:47: Well, that wasn't the half we expected. Algeria have terrified Germany at times in this contest. If it wasn't for the swift reactions of Manuel Neuer who has had to rescue a nervous German line who have been caught too far up the pitch too often, they could quite easily be leading. Germany haven't really recovered from those jittery moments and apart from one opening where they were denied by a brilliant double save from Mbolhi, thy have been thoroughly second best.
HALF TIME
Germany 0-0 Algeria
9:45: Germany have looked far more composed in these final five minuted of the half. Carefully probing and switching play but Algeria's tireless pressing means they can't find the openings to make it count.
9:42: Great double save from Mbolhi! Germany are straight on the counter after Neuer's clearance and Toni Kroos tries his luck from distance. It's a good effort that Mbolhi saves and he makes a fantastic second save from Gotze's follow up effort. He should have done better with that.
9:40: Neuer is forced off his line once again to clean up his back line's mistakes.
9:39: Close again! A a huge throw in is launched into the box that breaks to Mostefa about 25 yards out from goal. He connects with a sweet half volley that is heading towards goal before it cannons ff Boateng and rolls out for a corner. Neuer was wrongfooted after that deflection, that could have gone anywhere.
9:37: The ball falls to Ozil just outside of the box and he drills one towards goal that Mbolhi spills. Muller is there first but after seeing Schweinsteiger move across goal gets caught in two minds and miscontrols the ball to give Algeria the free kick.
9:35: Germany work a neat move down the right that sees Mustafi swing in an excellent cross into the box. Muller looks second favourite to wins but brilliantly leaps across the Algerian full back to connect with a glancing header, but he can't direct it on target.
9:33: Feghouli takes the resulting free kick but fires it over the bar.
9:31: Ozil plays a neat ball through with Lahm racing to get onto the end of it but lLgeria win the back and pounce with Joachim Low's holding man out of position. Soudani leads the charge before finding Slimani on the right flank. He holds play up before returning the pass to Soudani on the edge of the D and he wins the foul. Algeria look menacing every time they run at that German backline.
9:29: Neuer to the rescue again! Soudani chases a ball down and puts pressure on the nervous Mertesacker who loses possession in a dangerous position out on the left and tries to recover it with a sliding challenge. He knocks the ball away, but only into no man's land with Soudani racing to get on the end of it but again Neuer is out of his box in a flash to slide in and clear the danger.

9:27: Ghoulam wins possession from Muller and launches another ball forward to test this worried looking German defence. This time, they just about recover the ball.
9:24: Germany have the corner and with four centre halves on the pitch, you fancy them to create something here. They don't.
9:23: That's better from Germany! Muller, who has barely touched the ball over the past ten minutes, drops deep to win the ball and sidesteps on challenge before playing a lovely ball down the inside left channel for Ozil to run onto. He has time to assess his options and clips one towards the backpost where Lahm has made the run and the Algerian goalkeeper has to tip it over the bar.
9:21: Algeria have been absolutely fantastic so far this evening. Germany look extremely shaken.
9:20: Algeria are in again! Germany are all over the shop at the minute as Mesut Ozil fails to track the Algerian full back Fauzi Ghoulam who powers his way into the box before letting fly with a dipping shot that veers just wide.
9:18: Soudani whips an excellent ball in from the left that Slimani heads in at the far post having got the better of Boateng, but he's flagged for offside.
DISALLOWED GOAL - Algeria
9:15: What a chance for Algeria! Feghouli runs at a nervous German defence down the right, forcing Howedes to back peddle into his own box. Feghouli cuts into the box, gets a lucky break as it cannons of Boateng and then does brilliantly to drag the ball inside the defender. Across goal he has two men open and only has to tee one of them up to give his side the lead but inexplicably decides to take the shot on himself from an impossible angle and fires over! Terrible decision.
9:13: Schweinsteiger finds a yard of space about 25 yards out and hammers one on goal. Mbolhi gets a strong hand on it as he bats it straight into the air before collecting.
9:11: Slimani is in again behind that German line after Boateng fell asleep but Mertesacker reads his run well to put a foot in and intercept. Joachim Low's side are living dangerously at the back.
9:09: Neuer comes racing out of goal and is nearly caught out by Algeria! A long ball overtop falls in behind Boetang and Mertesacker who are holding a very high line and Slimani chases the ball down down the left flank with Neuer coming in the other direction! The German shot stopper just gets to him in time and his sliding challenge does enough to put off the Algerian forward who can't get his effort on target.
9:07: Mustafi has proven to be a useful outlet down that right hand flank so far. Ozil this time finds him in space and but side-footed effort just doesn't have enough pace on it and the Algerian shot stopper can come out and collect.
9:04: Germany, as you would expect, dominating possession in the early stages in a very subdued atmosphere in Porto Alegre.
9:02: Lahm threads an excellent ball through for Mustafi who has broken down the right flank but the linesman has his flag up. Replays show the Sampdoria defender held his run perfectly, poor decision.
9:00: And Germany get us started for the first half.
8:55: And the national anthems are currently ringing out.
8:50: Both teams are making their way out onto the pitch, here's a reminder of the teams
Germany: Neuer; Mustafi, Mertesacker, Boateng, Howedes; Lahm (C), Schweinsteiger; Ozil, Kroos, Gotze; Muller
Algeria: Mbolhi, Ghoulam, Belkalem, Halliche (c), Lacen, Feghouli, Slimani, Soudani, Taider, Mandi, Mostefa.
8:44: Thomas Muller saw James Rodriguez of Colombia leapfrog him to sit atop the World Cup's top scorer charts at the weekend and he will be eager to add to his stunning record of nine goals in nine World Cup apperances.
8:28: While they will be driven by the determination to take some revenge, it's important to remember this is a very adept Algeria side who have the potential to cause Germany some trouble. After their tournament-opening defeat to Belgium - a game they took the lead in - the African side defeated South Korea in a thrilling 4-2 before coming from behind to draw with Russia and take their place in the knock out stages.
TEAM NEWS: Algeria make five changes to the side that fended off Russia for the right to be here tonight.
Algeria: Mbolhi, Ghoulam, Belkalem, Halliche (c), Lacen, Feghouli, Slimani, Soudani, Taider, Mandi, Mostefa.
8:10: In an effort to play down Algeria's 32-year beef with the Germans, manager Joachim Low - although in making an excellent point - may have just wound them up a little further.
It is irritating when I read that this match is about vengeance.
Most of the players on my team weren't even born (in 1982).
Why should Algeria want to punish us? It's incomprehensible for me. Our players don't know anything about that (West Germany) team back then.
It's not an issue for us. Maybe some on the other side want to make an issue out of it to motivate Algeria." [via BBC Sport]
8:00: Revenge is in the air. While a match in the knock out phase of the World Cup doesn't need anything to make it more important, the subplot behind this fixture makes it stand out from the pack. And anyone who watched West Germany and Austria play out a tame affair that had all the intensity of an under-11 training session in their final group game at the 1982 which robbed Algeria of the chance of qualifying from the same group will tell you likewise.
The African side provided the upset of the tournament as they beat then-European champions West Germany 2-1 in their opening game and finished their campaign with two wins from three with just one defeat.
But in the days when final group games didn't have to be played at the same time, Germany and Austria hatched a plan that ensured both qualified at the expense of Algeria.
A win by one or two goals for West Germany would result in both them and Austria went through. As a result, both sides sauntered around the pitch for 90 minutes with neither looking to take an advantage in a shambles of a contest that ended 1-0 to the Germans. It is still remembered as one of the most disgraceful scenes in World Cup history. Algeria complained amid the clear suggestions that the match was fixed but the result stood and they went home early. 32 years later, Algeria fancy inflicting some heartbreak of their own.
7:40: Some early team news ahead of Germany v Algeria, Both Mats Hummels and Lukas Podolski are absent. The Borussia Dortmund centre half has the flu and his replaced by Shkodran Mustafi while Mario Gotze comes in for the Arsenal forward.
7:15: We are an hour and 45 minutes away from our second game of the evening as Algeria, now the only African team remaining in the competition, look to derail the force that is Germany. We will have all your team news as it comes in.
6:58: And that's it! Nigeria have toiled magnificently against the French but it was a mistake from Vincent Enyeama, one of the rarest sights you will see at this competition, that allowed Paul Pogba to head in the decisive goal. Antoine Griezmann helped force a Joseph Yobo own goal in extra time to help them ensure a place in the quarter-finals of the World Cup along with Brazil, Colombia, Netherlands and Costa Rica.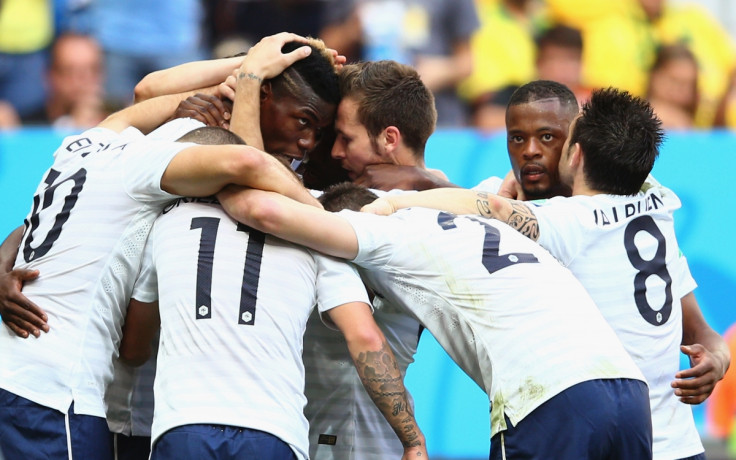 FULL TIME
France 2-0 Nigeria
France advance to quarter-finals
CORRECTION: That may go down as an own goal from Joseph Yobo who got a touch on the ball before it rolled over the line. All credit to Griezman, however, whose run across the defender was excellent.
6:50: That seals it! Nigeria fail to get themselves organised as France play a sly short corner, allowing Valbeuna to bring the ball forward down the byline and slide the ball into the box. Griezmann, who has been excellent since replacing Giroud, reacts first and gets across his man to divert it into the back of the net.
Goal! France 2-0 Nigeria (Yobo OG, 90+1)
6:47: France starting to believe now as we edge towards the end of 90 minutes. Five minutes of time have been added on.
6:45: Moses tries to ping a cross into the box that appears to take a touch of Debuchy's hand. There was nothing the full back could have done about that, however.
6:43: Good save from Enyeama! He was at fault for the goal but he has produced a fine save to deny the excellent Antoine Griezmann from distance with a dipping shot towards the top right corner. France have the corner but Mikel clears.
6:39: Nigeria must now throw everything forward. Musa pelts down the flank and lifts an inviting ball into the box but Lloris is out to comfortably claim and smothers the ball.
6:35: France have their goal! After two close calls Vicent Enyeama comes out for a corner but cannot claim it, allowing Pogba to power a header into an empty net!
Goal! France 1-0 Nigeria (Paul Pogba)
6:32: Ambrose just about hacks Benzema's goal bound shot clear but the ball falls to Cabaye who has hit the cross bar with a brilliant volley! France are getting closer and closer!
6:26: Nigeria clear off the line! What a sublime move that was from France and Benzema as the Real Madrid striker cut in from the right, powered past two men before playing a neat one two with Griezmann on the edge of the box. Enyeama comes out by Benzema's shot rebounds off him and it tantalisingly close to crossing the line, but Victor Moses is back to heroically clear off the line!
6:24: Griezmann flings in a cross from the left that Enyeama comes out to punch with Paul Pogba lurking but he can't quite reach it and Oshaniwa, positioned between the two, clears in with an acrobatic overhead kick.
6:22: Nigeria are building momentum here. Odemwingie again does excellently drop a shoulder, drift past his man and find a yard of space on the edge of the area to fire a low drive on goal that Lloris is equal to.
6:20: Odemwingie neatly pulls the ball away from his marker before he meets the firm shoulder of Matuidi and is send flying. Nigeria have the free kick but it;s taken down by Debuchy inside the right of the box and cleared. France are struggling for a bit of inspiration at the moment.
6:19: Emenike drifts in from the left and lets fly with a disappointing effort from range that fails to test Lloris. Giroud meanwhile is coming off for France with Antoine Griezmann coming on in his place.
6:17: Gabriel has finally come on for Onazi for Nigeria.
6:16: Cabaye takes a neat touch and slips the ball into Valbeuna who suddenly has acres of space in front of him. He shapes to shoot but then notices Debuchy's onrushing run up the right flank and slides the ball through to the Newcastle man but his ball into the box is terrible.
6:14: Koscielny clears another Nigerian ball pumped into the box and they have another corner. Appiah's side are playing with 10 men at the minute, they haven't decided who to bring on for the stricken Onzai.
6:13: Onazi is on the stretcher for the second time during this game and is unlikely to re-emerge following that awful challenge from Matuidi.
6:12: Matuidi is shown the first yellow card of the game for a nasty challenge on Onazi. The ball gets away from him allowing the Nigerian to nick possession away but Matuidi is late and catches his ankle with some force.
6:11: Varane is left in a heap following that excellent clearance but after gathering his bearings he is okay to continue.
6:09: Moses attempts to dance his way in from the right flank, dragging the ball back in the box to try and deceive his marker but he never really has the ball under control. It's cleared, but only as far as Ambrose who whips an excellent ball intowasrds the near post with Emenike looking to pounce, but Varane is bravely across to clear.
6:08: This delivery is slightly better as its whipped into the six yard area but Koscielny can't elap quite high enough to connect.
6:07: Oshaniwa is forced to hobble off with a sore ankle and the French resume their attack, winning a corner nick that Valbuena stands over.
6:04: This half picks up from where the first left off as Nigeria immediately pounce upon getting the ball back with Moses forcing a corner down the right. It's yet another poor delivery however and France clear their lines.
6:03: Karim Benzema does well to swivel past his marker on the edge of the box and slides a ball down to the left where Giroud is rushing to get on the end of it but Odemwingie gets their first. He doesn't deal with it however andf Giroud muscles him off the ball but the striker's ball across goal sails over everyone and goes out for a throw in.
6:01: And both teams are back out onto the pitch as the second half awaits.
5:51: And the referee brings an end to an excellent first half of football. Both sides have attacked at will and all we are missing are a couple of goals. Vicent Enyeama has provided another stunning stop, keeping out Paul Pogba's acrobatic volley while Hugo Lloris was also called into action to keep on Emenike's vicious effort. We are nicely poised for the second half; more of the same, please.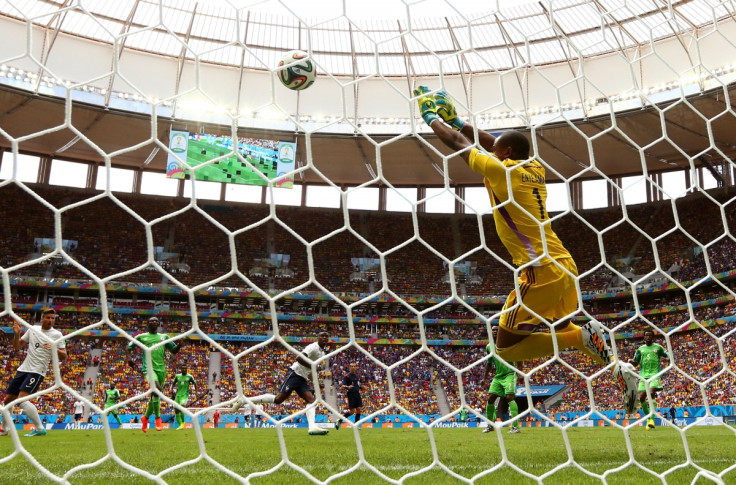 HALF TIME
France 0-0 Nigeria
5:46: France will have one more chance to pump the ball into the box from a free kick. Laurentr Koscielny jumps and gets to the ball ahead of Enyeama but the whistle has gone for a foul and that will be it from the first half.
5:45: France pass up the opportunity to catch Nigeria on the break. It's Patrice Evra who starts it with an excellent ball out the back that eventually comes to Valbuena. He has both Benzema and Giroud in the box but the promising moves comes to nothing.
5:44: Lloris saves! Emmanuel Emenike works a bit of room for himself cutting in from the left and rifles one on target that Loris palms away. Moses is on the rebound but controls it with his arm and the free kick is given France's way.
5:42: Debuchy does well to race to the byline down the right and dig out a very decent cross into the box but it would appear none of his teammates fancies him to get there and failed to make a run into the box.
5:39: Matuidi recieves the ball just inside the Nigerian hald and embarks on another of his surging runs through the middle. No one can keep up with him and the midfielder has the time to pick out Valbuena on the inside right channel. Debuchy, cutting infield, gives him the option inside and Valbeuna obliges, teeing up the Newcastle full back to blast a powerful effort wide. Good chance.
5:38: Again, the corner comes to nothing. I can't recall a single corner that has caused real worry in either box so far, and there have been a few of them.
5:36: The game has taken a slight breather at the minute as Nigeria stroke the ball around in front of their goalkeeper but Oshaniwa quickly changes that and clips a dangerous ball in down the inside left channel that has Varane scampering across to knock out for a corner.
5:34: Pogba has been at the heart of almost every France attack. He dances past his man through the middle but is quickly surrounded by green shirts. He clips the ball out wide for Valbeuna to chase down but with little on in the box he looks for the Juventus midfielder who is still stationed on the edge of the box. This time he looks for a more deft approach and tries to slide a ball through to Giroud but he moved too soon and is offside.
5:32: A frustrated Olivier Giroud appeared to have a look in the direction of John Obi Mikel before leaving an elbow in on the Nigerian. Rather luckily for the Arsenal striker, no action is taken.
5:31: Nigeria win another corner but again it's wasted. Lloris almost flaps at it as he comes to collect but eventually gathers.
5:29: Excellent football from Nigeria! Cutting in from the right Mikel brilliantly flicks the ball outside to Ambrose who finds Odemwingie on the edge of the French box. His first touch is excellent but Koscielny reads it well and makes a good challenge.
5:27: Pogba fires another low effort across goal that almost breaks favourably for Benzema inside the box, but Omeruo hastilly boots the ball clear to safety.
5:26: This has been a breathless first half of football. Nigeria and France are taking turns in launching attack after attack on one another and there is no indication suggesting the pace will drop.
5:23: A quick word on Emenike's offside goal, replays suggest he had strayed into an offside position.
5:22: France have the corner but it is wasted and Nigeria launch themselves down the other end, again looking for space in wide positions. They win the corner but France clear, but Nigeria soon force another corner. This time Hugo Lloris is out to bravely claim at the far post.
5:21: Brilliant from Pogba, but it is even better from Enyeama! The Juventus midfielder surges past two Nigerian shirts in midfield before sliding a ball through to Valbuena who has found space down the inside right flank. He clips the ball into Pogba who has brilliantly continued his run and volleys an effort on goal from point blank range, but Enyeama reacts brilliantly to save it!
5:19: Nigeria see an opening goal chalked off! It was Emenike who showed great movement in the box to move from right to left into space and divert Musa's cross past Lloris, but the off side flag goes up immediately.
DISALLOWED GOAL - Emineke (Nigeria)
5:18: Emineke has the resulting free kick but he hammers it well over the bar.
5:17: This is an incredibly open game so far. Nigeria launch the ball down field to find Musa on the right flank. His first touch is superb and his cross isn't too bad either, finding Odemwingie on the edge of the box. He takes it down but is knocked to the floor by Cabaye. Nigeria free kick.
5:16: France immediately counter down the inside left flank but as the ball comes to Giroud on the egde of the D he leathers one wide when perhaps Valbeuna was better placed to take the shot.
5:15: Odemwingie swings an excellent cross into the back post but Mikel can't get any direction on hia header and nods over.
5:14: Onazi is down following that collision with Pogba. There's a tangle of legs between the Frenchman and another Nigerian player and the Lazio man comes off the worst and leaves the pitch on a stretcher.
5:12: Pogba sees an opening ahead of him from midfield and powers through unchallenged, but a poor touch allowes green shirts to close in around him. Pogba wants a free kick but the referee isn't interested and Nigeria counter. The ball finds Emenike down the left flank and he wins the free kick from a dangerous position.
5:10: Benzema is guilty of losing possession allowing Nigeria to push forward. Onazi leads the charge and has options to his left and right but takes too long to make up his and Laurent Koscielny does well to close down.
5:08: Onazi shows some good footwork to work a couple of yards of space for himself in midfield and clips a through ball over to Moses who is trying to run into space behind Patrice Evra. The ball is overhit, however, and the chance is gone.
5:06: It;s been a good start from Nigeria too who are relentlessly chasing down the opposition on every occasion. John Obi Mikel does well pulling out to the right and slides the ball to Ambrose who clips an excellent ball into the box that finds Odemwingie who has pulled off his man. His first touch isn't the cleanest however, and it allowes a Frenchman to nip in and clear.
5:04: Very neat work from France as Benzema drives towards goal. He spots the overlapping run of Matuidi who is bursting into space aheasd of him on the left and brilliantly finds the PSG midfielder. Matuidi brings it into the box but he can't find a teammate.
5:02: Matuidi is found in space down the inside right channel and his clipped ball back across the box is just about intercepted by Yobo who takes it off the toes of Benzema. Nigeria bring the ball out of defence.
5:01: An early crunching challenge from Oshaniwa as he wins back a loose ball off the toes from Benzema and the ball is worked back to Lille goalkeeper Enyeama who gets an early touch of the ball.
5:00: And Nigeria get us started in the Brazilian capital for a place in the quarter finals.
4:56: A reminder there that the last five times France have got past the first round of the World Cup stages they have gone on to reach at least the semi-finals. Not a bad omen to have.
4:52: Both teams are out onto the pitch now as the national anthems get underway.
4:50: Just ten minutes away from kick off, here's a quick reminder of those teams.
France: Lloris, Debuchy, Varane, Koscielny, Evra, Pogba, Cabaye, Matuidi, Valbuena, Giroud, Benzema
Subs: Ruffier, Landreau, Sakho, Cabella, Griezmann, Mavuba, Mangala, Sagna, Digne, Sissoko, Remy, Schneiderlin
Nigeria: Enyeama, Ambrose, Yobo, Oshaniwa, Omeruo, Musa, Onazi, Mikel, Moses, Odemwingie, Emenike
Subs: Ejide, Agbim, Uzoenyi, Gabriel, Egwuekwe, Odunlami, Oboabona, Azeez, Nwofor, Uchebo, Ameobi
4:42: A quick note on Nigeria's only change from the side that tested Argentina. Victor Moses comes in for Michael Babatunde who suffered a fractured arm when he accidentally got in the way of teammate Ogenyi Onazi's shot on goal. Such was the power on his shot it caused Babatunde's arm to bend backwards in a way in which arms simply should be moving.
4:34: Supporters are now starting to pile into the Estadio Nacional in Brasilia as kick off edges closer.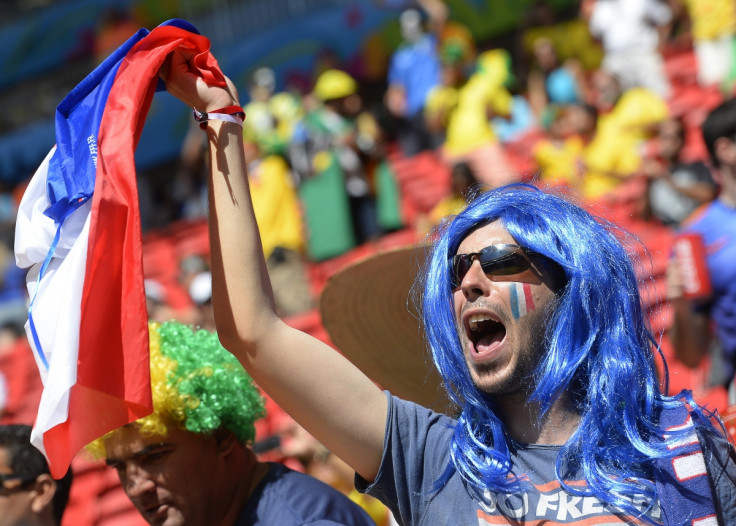 4:26: Karim Benzema currently has a not too shabby record of three goals in three appearances in Brazil so far but will feel unlucky not to be sitting joint top with Colombia's James Rodriguez. The Real Madrid striker struck that venomous effort that hit the post and Jonathan Pearce into delirium before it crossed the line in France's opening win. Unfortunately it went down as an own goal from the Honduran goalkeeper and he suffered more bad luck a few days later against Switzerland.
With the last kick of the game Benzema swept a wonderful effort into the top left hand corner of the net that would have made it France 6-2 Switzerland. Unfortunately, the killjoy referee had blown his final whistle seconds before Benzema struck his sweet shot and the goal did not count.
4:22: Nigeria's World Cup campaign and more importantly, their preparations ahead of their clash with France was somewhat undermined in recent days by another row over money. A training session was cancelled last week as the row saw Nigerian president Goodluck Jonathan forced to intervene but John Obi Mikel recently took the opportunity to play down the incident.
I don't think there was any major issues about money, I think it was just little discussions here and there, the players and the coaches and the football association, it's just what happens anywhere.
4:15: The winner of this contest will go on to meet the winner of Germany v Algeria, which kicks off at 9:00pm (BST) this evening. We already have two quarter-final ties signed and sealed with hosts Brazil taking on everyone's adopted favourited Colombia, while Netherlands will look to bring an end to Costa Rica's fairytale.
LINE UPS
France: Lloris, Debuchy, Evra, Koscielny, Varane, Cabaye, Valbuena, Benzema, Matuidi, Pogba, Giroud.
Nigeria: Enyeama, Ambrose, Yobo, Oshaniwa, Omeruo, Onazi, Mikel, Musa, Odemwingie, Moses, Emenike.
TEAM NEWS
4:08: France make six changes after resting a few names for their final group game against Ecuador. Yohan Cabaye returns from suspension and partners Paul Pogba in midfield. Reports earlier in the day suggested Mamadou Sakho was struggling with injury and he has since been left out of the starting XI with Laurent Koscielny stepping in. Olivier Giroud also comes in for Antoine Griezmann.
TEAM NEWS
4:04: Chelsea winger Victor Moses returns to Steven Appiah's starting XI after missing the 3-2 defeat to Argentina. He is the only change in the Nigerian team.
4:00: Nigeria have never been beyond the last 16 of this competition. In both USA 1994 and France 1998 they topped their group to qualify for the knock-out stages but that is as far as they have managed.
3:52: No team news to bring you but L'Equipe suggest France will be forced into a couple of changes this evening. They suggest Liverpool centre half Mamadou Sakho is not fit to start while Olivier Grioud will be preferred to Antoine Griezmann in attack. Moussa Sissoko could also miss out.
3:45: This World Cup is moving far too quickly. Already we're at the half way stage of the first knock out phase of the World Cup and by Tuesday evening we will have the last eight teams standing. Given the controversies, infighting and general mayhem that has marred their last couple of international tournaments you would have been forgiven for not believing France would be one of those sides.
Despite the absence of Franck Ribery Les Blues cruised into the knock out stages largely untested. Their free-scoring form was quelled in their final group game against Ecuador but it did little to deter one of the most collected French teams we have seen in some time.
After their thrilling performance against Argentina in one of the competition's finest games so far, Nigeria proved they are certainly not out of place mixing it up with the big boys of world football. Inspired by Ahmed Musa – who become the first Nigerian to ever score more than once in a World Cup game - Stephen Appiah's well drilled side came close to spoiling the Argentine party were it not for the feats of one Lionel Messi.
It promises to be a compelling clash between the two vibrant teams but one of them will be joining Chile, Mexico, Uruguay and Greece in leaving us this evening.
Bouguerra
© Copyright IBTimes 2023. All rights reserved.