Fifa World Cup 2014: Netherlands 0-0 Argentina AET (2-4 on penalties) - As it Happened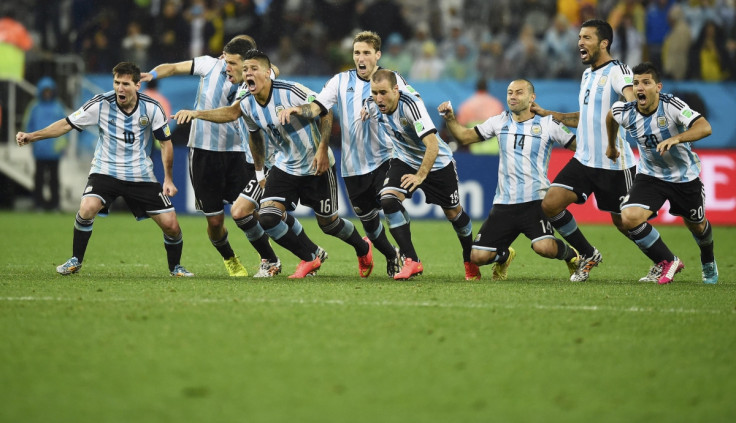 Netherlands 0-0 Argentina - After Extra Time - Argentina win 4-2 on penalties

23:48: Sergio Romero is the hero as Argentina reach the World Cup final where they will face Germany. Ron Vlaar and Wesley Sneijder missed for the Dutch as the lottery of the shoot-out comes down on the side of Sabella.
That's all we've got time for on this World Cup live text. Until next time goodbye.
ARGENTINA INTO THE WORLD CUP FINAL TO FACE GERMANY

Maxi Rodriguez scores (2-4)

Dirk Kuyt scores (2-3)

Sergio Aguero scores (1-3)

Wesley Sneijder misses (1-2)

Ezequiel Garay scores (1-2)

Arjen Robben scores (1-1)

Lionel Messi scores (0-1)

Ron Vlaar misses (0-0)

23:38: Here we go then. Netherlands up first for a place in the World Cup final.

23:36: Penalties it is. What a waste of 120 minutes, during which neither side wanted to win. The Dutch have been involved in two shoot-outs in World Cup history, with their victory over Costa Rica in the quarter-final their sole win. In European Championships, Holland have lost three out of four. Argentina have meanwhile been involved in four shoot-outs in the World Cup, winning three. They have the historical advantage going into this one.

Full time in extra time: Netherlands 0-0 Argentina

23:30: Another half chance for Argentina as Messi crosses from the right towards the back post where Rodriguez mis-hits a volley into the floor and into Cillessen's hands.

23:28: The best chance by a long, long way is spurned by Argentina. The ball is flicked over the top of the dutch defence where Palacio is waiting but his tame header is straight at Cillessen. Nearly.

23:23:

23:21: Problem for Argentina here as Pablo Zabaleta is down and getting a lot of treatment after a late challenge from Dirk Kuyt. Kuyt's shoulder when straight into Zabaleta's mouth and he's off the field as the game continues. Argentina have made all their substitutes so they need the City full back to return.

23:18: Under way in the second period of extra time. If you have stayed with me throughout this farical episode, a pat on the back for you.

23:15: Palacio's cross is just beyond Aguero in the Dutch box. That brings an end to the first half of extra time. Only 15 minutes until penalties.

23:12: The game is at times being played at walking pace, which is embaressing for the World Cup semi-final. The BBC are showing the highlights of this game. Very good luck to them. Penalties in full I would suggest.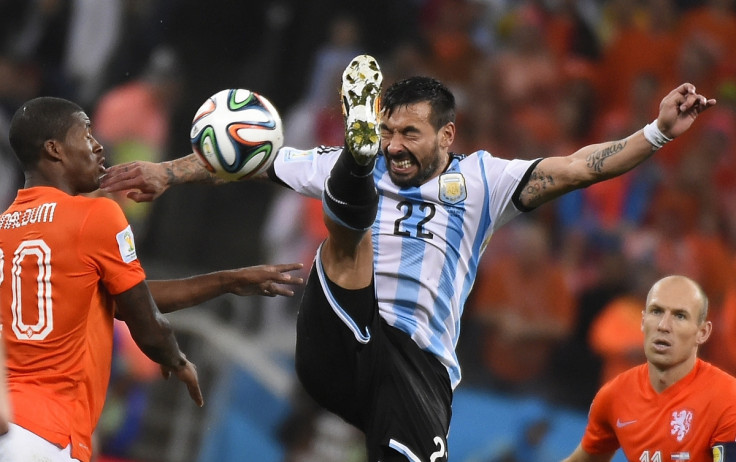 23:08: Arjen Robben cuts inside and shoots towards the near post, wher Romero makes an easy save. Netherlands the better of the two sides since full time, Messi almost anonymous. Rojo skies a cross. Make it stop. Final change for Argentina as Lavezzi is replaced by Maxi Rodriguez.

23:04: Robin van Persie off and Klaas Jan Huntelaar on. Third change for the Dutch, so that means no Tim Krul for the penalty shoot-out. The Netherlands are attempting that novel thing of attempting to win the game.

22:58: Under way in extra time. I give you permission to get pillows ready.

22:53: Ninety minutes none of us will get back. Netherlands and Argentina can't be seperated after 90 torrid minutes in Sao Paulo. Extra time, and when that turns out to be boring and dull, penalties to follow. Sorry.

Full time: Netherlands 0-0 Argentina
22:50: WHAT A CHANCE! Netherlands should have won it as Robben goes through on goal and after taking a touch too many Mascherano makes a goal saving challenge. Shades of South Africa about that miss.

22:43: A shot! Marcos Rojo hits one from 30 yards and Cillessen holds on at the second attempt. Less than seven minutes remaining of normal time.

22:41: Right, a double change for Argentina. Sergio Aguero and Rodrigo Palacio on for Enzo Perez and Gonzzlo Higuain. Good intent from Sabella.

22:37: Nearly, so nearly a chance. Perez crosses from the right and Higuain sticks out a leg and ball hit the side-netting. The Real forward was also offside. Now Sneijder overhits a free-kick. Not long to go until the extra 30 minutes.

22:33: Lionel Messi woefully overhits a free-kick from the right, which sails over the bar and behind. This isn't just a defensive game of football, it's one that is lacking the fundermentals of the game. iI's a shocker.

22:29: Clasie's introduction has improved Holland's possession in the six or so minutes he has been on. Another break in play as Janmaat is down after heading clear. Hope you all like extra time.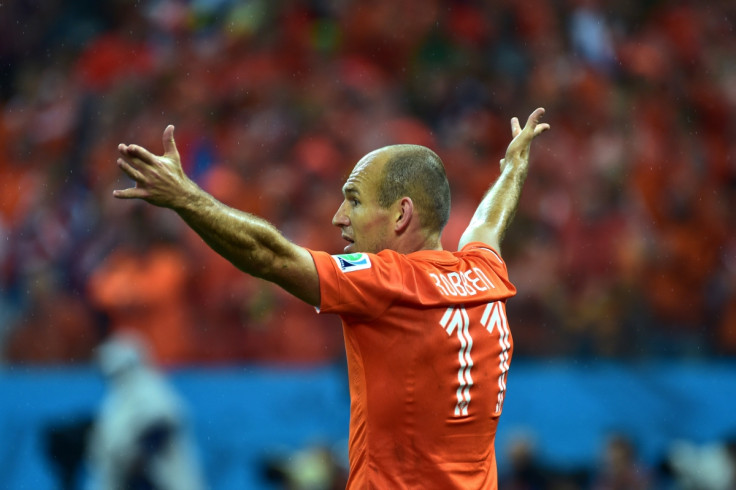 22:22: Jordy Clasie on for Nigel de Jong. Not a straight swap this, with the Feyenoord man likely to play with the ball more. Lucas Biglia remains down after a late challenge from Janmaat. Not sure if he's going to be able to continue until he gets to his feet.

22:18: Was that the best chance so far? Lavezzi gets away down the right, cuts inside before his cross in towards Higuain is headed clear somehow from Janmaat. Super clearance, given that he was on the wrong side for so long.

22:14: Those looking for goals, or even a vague hint of a goal had better go elsewhere. This is for the purists. Both sides bereft of quality or intent. Could be a long evening. Robben runs at Bemichelis, but loses possession almost immediately.

22:09: Free-kick for Netherlands and a yellow card for Demicheli for getting too close to Robben. Wesley Sneijder goes for goal from nearly 30 yards and the ball sails over. Closest the Dutch have come to be honest, and is was woeful.

22:08:

22:06: Starting to become a common theme that referees are being lenient in these games later in the tournament. De Viji is somehow not yellow carded when he takes out Perez on the left.

22:04: Back under way in Sao Paulo. Change for Netherlands as Daryl Janmaat replaces Bruno Martins Indi, who was booked in the first half. Dirk Kuyt moves across to the left hand side.

21:50: We might not have had the goal-glut that we had in the first semi-final, but we have a far more competitive game in Sao Paulo. Chances have been few and far between in this first half between Netherlands and Argentine but it's been an intriging tactical 45 minutes. Coming to the boil this one, stay with it.

Half time: Netherlands 0-0 Argentina
21:46: Bruno Martins Indi booked for a cynical foul on Messi as he looked to get away on the left. Free-kick for Argentina from the left but Cillessen gathers the Messi cross. Two added on minutes in Sao Paulo.

21:42: As was to be expected, it's very tight and nervy in this first half. Barely a chance to speak of in this opening 40 minutes. Netherlands with 10 men behind the ball whenever Argentina have it and squeezing the space in front of their back three whenever possible. Messi has barely had a kick.

21:40:

21:35:

21:34: First chance for Netherlands to test Sergio Romero, who has been the weak link of the Argentine back line it must be said. He punches from the first Dutch corner of the game before a ball back into the box sees Van Persie given offside. Fortunate for Martin Demichelis, who had bundled the United forward to the ground.

21:30: The Barcelona man returns to the pitch but I am sorry, he should be nowhere near the remainder of this game. If the replays are anything to go by, that is very negligible from the Argentina medical staff.

21:29: Plenty of concern over Javier Mascherano here. He goes up for the header with Wijnaldum and comes off second best and is laid motionless on the turf. Medics are currently checking his health after he fell to the floor some times after the contact. Mascherano walks off but surely he can't be allowed to continue?

21:25: Good end-to-end game now and after Argentina clear following an exchange of passe with Van persie and Kuyt, they're away again and Perez, who has been very impressive in the early stages wins another corner. The ball is in towards Garay, who puts his head in where it hurts and heads over. Took a Ron Vlaar boot to the face in the process but he's recovered.

21:21: Messi plays a daisy-cutter of the corner which almost comes through to an Argentine attack before Netherlands hastily clear. Sabella's side have started much the better and they have another corner as Martins Indi puts Lavezzi's cross behind.

21:16: First real chance of them game comes for Argentina. Enzo Perez is fouled on the edge of the box and a free-kick is awarded, giving Lionel Messi a chance on goal. He goes round the wall and Cillessen is equal to it.

21:14: Javier Mascherano makes a superb tackle on Arjen Robben but his clearance is wretched and the ball falls to Sneijder, who hits one instantly but the ball bounces wide.
21:08: An odd visual observation early on, but great to see both teams in their iconic colours, Netherlands in orange shirts and white shorts, while Argentina have blue and white stripes with black shorts. Great atmosphere from a crowd which is sporting signficantly fewer yellow Brazil shirts than during previous games. Can't think why.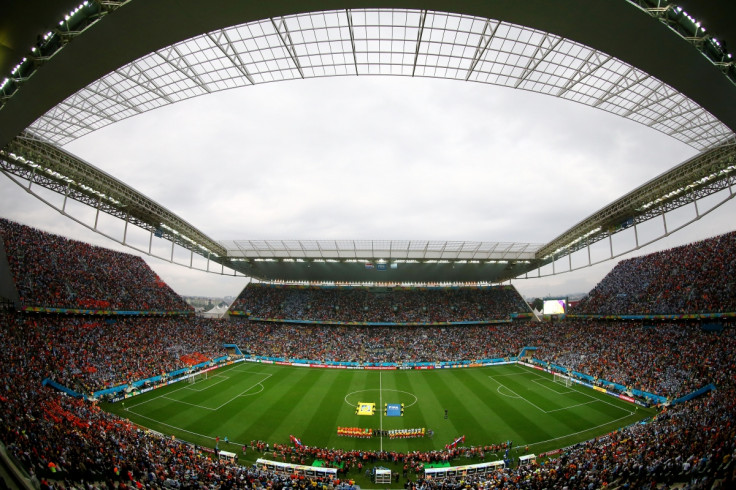 21:04: Some light sparing from both sides in the early minutes. Each have a foray into the opposition half. As expected, Nigel de Jony is hunting down Messi every time the Argentine glances at the ball, while Argentina will double up on Robben on the right.

21:01: OK we're almost ready to go in Sao Paulo. For the right to face Germany in Rio on Sunday. We're underway!

20:58: Argentina's players wearing black armbands in the memory of Alfredo di Stefano, who passed away aged 88 on Monday. A minute silence will also be held before the game in his memory.

20:56: Teams on their way out in Sao Paulo. As you would expect, Argentina with the stronghold in the stands despite the Dutch having brought signficant numbers to this tournament.

20:47: If this match could be decided by how Louis van Gaal deals with Lionel Messi, then no on-field duel upstages Messi against the Netherlands' own talisman Arjen Robben. Both players have carried their teams throughout this tournament, but which side relies on them more? How each can be patrolled this evening will be pivotal to the overall result.

20:37: These two sides are bathed in World Cup history. While the World Cup final in 1978, where Mario Kempes inspired Argentina to victory in extra time, is perhaps the most famous meetings between the pair many fondly remember the 1998 clash where Dennis Bergkamp's late goal saw the Dutch through. Netherlands have a 3-1 win record over Argentina in World Cup meetings and are looking to reach a second successive final. Argentina are bidding for a final appearance for the first time in 24 years.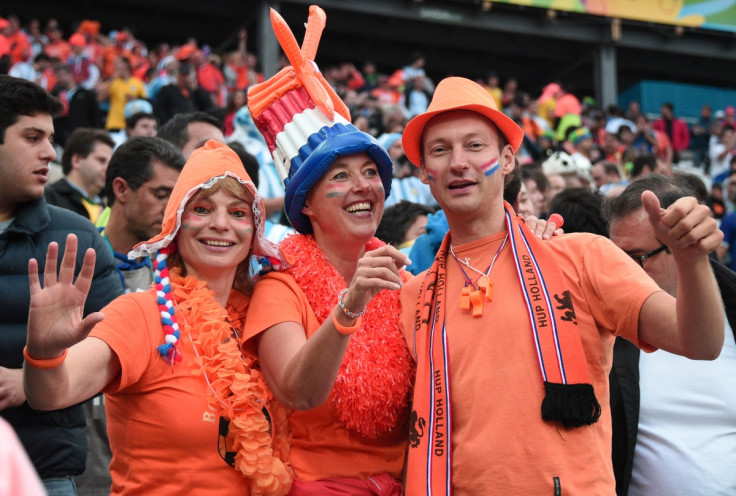 20:32: Naturally, the fall-out from last night's Brazil 1-7 Germany has been unrelenting. There is little doubt the result has shocked world football. The most discussed sporting event in Twitter history and it's hard that even before this eagerly anticipated second semi-final, to stop talking about it. For 90 minutes or maybe longer, we'll try our best.

20:26:

20:25: Netherlands are expected to line up with three at the back, as they did against Costa Rica, with Dirk Kuyt and Daley Blind operating at wing-back. Wijnaldum, De Jong and Sneijder will make it three across the midfield while Arjen Robben will partner Van Persie in attack. That could feasibly become a 5-3-2 or 4-4-2 at any time, depending seemingly on what takes Van Gaal's fancy. He's been known to tinker during this tournament.
Far simpler from Argentina, who have abandoned their ultra-attacking approach after injury for Di Maria, with Enzo Perez coming in to make a solid three alongside Lucas Biglia and Javier Mascherano. The front three is as has been for most of the tournament, with Lavezzi and Messi either side of Gonzalo Higuain. As ever, Messi wil occupy a free role.

20:19: How might both teams approach this semi-final? For IBTimes UK's full preview the game, see our video below.

20:11: So, a quick look at both line ups in Sao Paulo. Robin van Persie has recovered from illness to start in attack alongside Arjen Robben. Netherlands also recall Nigel de Jong, who has initially been ruled out for the tournament, back from injury in the only change from the win over Costa Rica.

Argentina make two changes from the win over Belgium. One of them in enforced as the injured Angel di Maria is replaced by Enzo Perez while Marcos Rojo return from suspension to start ahead of Jose Basanta.
20:05: Teams:

Netherlands: Cillessen; De Vrij, Vlaar, Martins Indi; Kuyt, Wijnaldum, De Jong, Sneijder, Blind; Robben, Van Persie.

Argentina: Romero; Zabaleta, Demichelis, Garay, Rojo; Biglia, Mascherano, Perez; Higuain, Messi, Lavezzi.

20:00: Who would have thought that a World Cup semi-final would be a case of after the Lord Mayor's Show? After Germany humiliated Brazil in record-breaking fashion in Belo Horizonte on Tuesday, but tonight we learn who will complete Sunday's World Cup final as Netherlands and Argentina square-off in a repeat of the 1978 final. As ever, all the attention is on two men; the Dutch coach Louis van Gaal and the Argentine forward Lionel Messi. Both will be pivotal to their side's hopes of facing Germany this weekend, while aiming to avoid the most awkward of sporting fixtures in the form of Saturday's third place play-off. Team news and a full preview is on the way.

Feyenoord
© Copyright IBTimes 2023. All rights reserved.