Fifa World Cup 2014: Ecuador 0-0 France - Honduras 0-3 Switzerland - Nigeria 2-3 Argentina - Bosnia-Herzegovina 3-1 Iran: As it Happened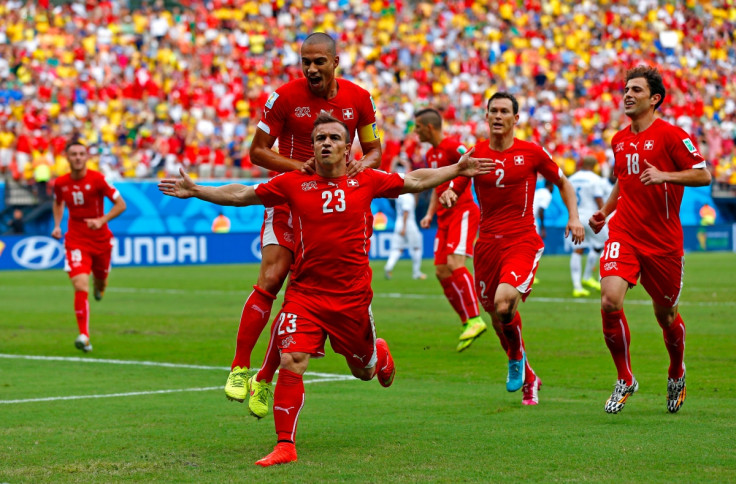 Summary
Lionel Messi scores twice as Argentina seal top spot with 3-2 win over Nigeria

Nigeria also qualify in second place in Group F

France draw 0-0 with Ecuador to top their group

Switzerland beat Honduras 3-0 to finish second in Group E at the expense of Ecuador

Argentina will meet Switzerland in next round while France face Nigeria
10:55: And that's it, it is Switzerland who join France in qualifying from Group E after Xherdan Shaqiri's wonderful hat-trick. After their goal-laden opening two games, France failed to score against a ten men Ecuador but a point was enough to see them top their group and avoid a meeting with Argentina in the knock out stages.
FULL TIME
Ecuador 0-0 France
Honduras 0-3 Switzerland
10:50: Into added time now in both games, as things stand, France and Switzerland will qualify for the knock out stages.
10:48: Pogba tries again from the edge of the area but his low drive fizzes the wrong side of the right hand post.
10:44: Another good stop from Dominguez! The balls falls kindly to Remy to the left right of goal who moves the ball onto his left to curl one into the far right corner of the net. The Ecuadorian keeper is again equal to it, however. Just two minutes of normal time remaining and Ecuador need two goals.
10:40: End to end stuff at the moment, Ecuador attack, then France advance. The latter's latest effort comes through Karim Benzema who, after combining neatly with Giroud, lashes another on goal but again it is straight at Dominguez. The Ecuadorian goalkeeper has been solid throughout but France's finishing has been fairly poor this evening.
10:38: Ibarra this time leads the Ecuadorian attack, cutting in from the right before hitting a shot on target that Lloris bats away. The rebound won't fall kindly for Enner Valencia however and by the time he can get a shot away Schniederlin is well positioned to block.
10:35: Another chance for Ecuador on the counter as Ayovi plays through Arrayo. Coming in from the left he has Koscielny for company and wildly lashes his shot well clear of goal. He should have done better and knows that himself as he punches the turf in frustration.
10:32: What a chance for Pogba! Sagna lifts a perfect cross into towards the backpost from deep but the Juventus midfielder nods it across the face of goal and out for a goal kick. Really poor effort.
10:31: Shaqiri has his hat-trick! Drmic is again provider as he cuts in from the left, dances past his marker with a couple of stepovers before sliding the ball across goal for Shaqiri to tap home. Ecuador must now score two to qualify.
Goal! Hondruas 0-3 Switzerland (Shaqiri, 71)
10:29: It;s another horrible attempt on goal, this time from Paul Pogba whose ambitious effort flies hilariously wide.
10:27: The resulting free kick is an absolute waste however as Michael Arroyo goes for goal and skies it over the bar.
10:25: Ibarra is cynically taken down by Digne as he threatens to break away on the half way line and the PSG full back is shown a yellow card.
10:23: A couple more changes to tell you about, Alex Ibarra has come on for Jefferson Montero and Olivier Giroud has taken the place of Matuidi.
10:21: Honduras are rightfully furious to see a penalty claim turned down. Wilson Palacios finds Jerry Palacios in the box and after taking the ball under control is bundled over my Johan Djourou. It's a clear penalty, but the referee isn't interested.
10:19: Digne saunters down the left but cannot pick out a teammate in the box. First change for France as Mamadou Sakho is replaced by Rafael Varane.
10:17: Now it's France who come close as Benzema battles his way into the box from the inside left channel before sliding the ball across to Pogba whose goal-bound shot is brilliantly blocked by Paredes.
10:14: Montero this time gallops into space down the left flank but his final touch is just too heavy and can only fire into the side netting upon reaching the byline. Ecuador performing much better with 10 men then they did with 11.
10:11: Oh what a chance for Ecuador to take the lead! Moments after being reduced to ten men they spring a counter after Pogba loses possession. Enner Valencia leads the charge and they have a man advantage as Noboa joins the attack to his right but as he recieves the ball he is already falling and sends his shot from just inside the box horribly wide. What a chance.
10:08: Ecuador are down to ten men and their hopes of qualifying take a telling blow. It looked 50-50 challenge between him and Lucas Digne who went to ground to intercept but Valencia's studs were up as he clashes with the French full back. Replays suggest the Ecudorian had his foot raised to control the ball before the contact wth Digne was made but it the referee deemed it dangerous enough to justify a red. Valencia leaves the pitch without complaint.
RED CARD - Antonio Valencia (Ecuador)
10:05: France almost take the lead! Griezmann reacts quickest at the near post and gets a shot away at point blank range but Dominguez does excellently to get in the way and divert it onto the Cross bar. Ecuador survive, for now.
10:02: And we are back underway for the second half.
9:55: As it stands at the moment France will top their group and meet Nigeria in the next round while Switzerland's two goal lead will see them escape their group in second place for a meeting with Argentina. Ecuador must do something in this second half to keep their slim hopes alive.
HALF TIME
Ecuador 0-0 France
Honduras 0-2 Switzerland
9:41: Ecuador's best chance of the game! It's Enner Valencia who leaps fantastically well to outjump Digne at the near post but Lloris makes the save before Sakho hacks clear.
9:38: It's not quite Terry Butcher, but does Cristian Noboa? He's probably not thrilled about it, to be honest.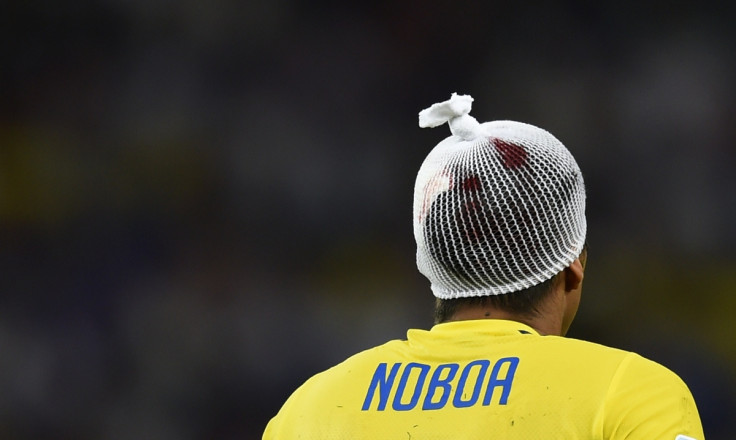 9:36: Griezmann is nearly knocked out of his shorts by Parades who smashes into the Frenchman out on the left wing. The Real Sociedad forward takes the resulting free kick and Pogba rises to head back across goal, drawing an acrobatic save out of Dominguez.
9:34: Antonio Valencia cuts in from the left and attempts to find his namesake with a outside of the foot cross, but Lloris reads it well and collects.
9:32: The Swiss don't miss! Against Honduras anyway. Shaqiri is on the score sheet again after calmly slotting past Valladares after being slipped through by Drmic. It was an awful error from Bernandez that allowed the Swiss to capitalise and solidify their position in second place in Group E.
Goal! Honduras 0-2 Switzerland (Shaqiri, 31)
9:29: Cristian Noboa and Blaise Matuidi clash heads and the Ecuadorian comes out the worse. He leaves the field to receive some treatment and returns sporting a fetching hairnet pinning down some blood soaked tissues. That'll do the job.
9:25: Sagna whips an inviting ball into the six yard area that Dominguez doesn't deal with, but his presence just enough to prevent Karim Benzemaf from nodding into an open net.
9:22: Blaise Matuidi carelessly loses possession for the first time during this tournament, momentarily allowing Enner Valencia to race onto the loose ball before Lloris comes out to collect. Moments later the French backline are given another reminder of the Ecuadorian's blistering pace as he bursts in between both centre halves to chase down a ball. He gets it but can only fire wide from a very tight angle.
9:19: Shaqiri takes the ball down brilliantly and cuts around Figueroa who responds by taking the Swiss winger down. The wall does its job moments later but Shaqiri appears to having some trouble with his wrist.
9:17: Enner Valencia is hobbling after a particularly fierce challenge and goes to the sidelines to receive some treatment, but is okay to continue.
9:16: Fricksen Erazo makes a mess of a deep cross from the French and his clearance falls to Sissoko on the edge of the box, who connects with fierce volley that veers just wide.
9:13: Coming deep Benzema pops the ball back to Pogba who looks up playing a brilliantly weighed clipped through ball into the box looking for Sissoko but the Newcastle man can't stretch quite far enough to take it down.
9:09: Mamadou Sakho looked like he left an elbow in on Enner Valencia there but the referee either didn't see it chose to take no action. France looking fairly comfortable with Lucas Digne being encouraged to go forward at every opportunity.
9:06: A sensational striker from Shaqiri gives his side the lead! Cutting in from the right, the Bayern Munich man shrugs off a challenge from his marker, moves the ball onto his left foot and from outside the area curls an exquisite effort into the top corner. It's one of the best goals you will see in this tournament.
Goal! Honduras 0-1 Switzerland (Shaqiri, 6)
9:02: There's an almighty scramble in from the the Honduras goal but they some how scramble it away! It's a brilliant run from Drmic who cuts across his man from right to left before making his way into the box and sliding the ball across goal for a teammate. Shaqiri tries to get a shot off but the Honduran goalkeeper makes the stop before it pinballs off a defender and is cleared.
9:00: Ecuador get us started at the Maracana.
8:50: Teams are on their way out onto the pitch now as we approach kick off.
8:46: Arsene Wenger is keeping busy this summer, and not just in his efforts to strengthen his Arsenal side. The Gunners boss is at the Maracana for French television casting an eye over France v Ecuador.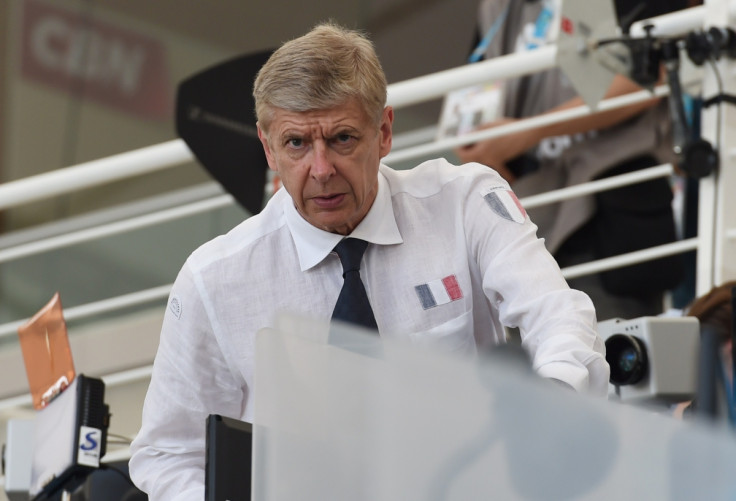 8:38: A win for France this evening will see them join Netherlands, Colombia and Argentina in topping their group with a maximum points haul.
8:26: While they are an array of permutations that threaten to disrupt pre-match assumptions, France are expected to top this group which means they will meet Nigeria in the first round of the knock out stages. Who will join them is anyone's guess at this moment in time, but a meeting with Lionel Messi and Argentina awaits them next week.
8:20: Karim Benzema has seen both Neymar and Lionel Messi move ahead of him in the top goal scoring rankings this week and the Frenchman may feel he's unlucky not to be still sat top of that pile. In between his two goals against Honduras it was Benzema's excellent effort that cracked off the post before coming off goalkeeper Noel Valladares en route to crossing the line.
Even more agonisingly, the Real Madrid striker looked to have sealed his side's emphatic win over Switzerland with an excellent sweeping strike in the final seconds of that game, only to find out after the referee had blown the final whistle milliseconds before he struck the ball.
LINE UPS
Ecuador: Dominguez, Guagua, Erazo, Paredes, Noboa, Montero, W Ayovi, E Valencia, Minda, Arroyo (c), A Valencia.
France: Lloris (c), Sakho, Benzema, Griezmann, Matuidi, Sagna, Digne, Sissoko, Pogba, Koscielny, Schneiderlin
Honduras: Valladares (c), Figueroa, Bernardez, J Garcia, W Palacios, Bengtson, Costly, B Garcia, Espinoza, Claros, Beckeles.
Switzerland: Benaglio, Lichtsteiner, Inler (c), Xhaka, Behrami, Rodriguez, Mehmedi, Drmic, Djourou, Schaer, Shaqiri
TEAM NEWS: Morgan Schneiderlin, who just four years ago was battling in League 1 with Southampton, will start for France alongside Paul Pogba this evening. Lucas Digne also comes into the starting XI as Patrice Evra is rested while Antoine Griezmann also returns after being left out against Switzerland.
8:00: So Argentina and Nigeria have qualified for the knock out stages of the World Cup. But who will be joining them? France's imperious start to the competition means they are almost certain to be there and only a defeat to Ecuador, a seismic change in the goal difference column and a Switzerland win will deny them top spot in Group E. The South Americans will have to beat Didier Deschamps' side and ensure their goal difference remains superior to that of the Swiss to join them.
The Ecuadorians however will seal their qualification with a point, and can even achieve that with a loss providing Switzerland don't better their result. However, Ottmar Hitzfeld's side are in action against rock-bottom Honduras and will be expected to take something from this game.
Honduras' hopes of qualifying are extraordinarily slim, but still alive. They must beat Switzerland and hope France beat Ecuador by a large enough margin for Honduras' goal difference to better that of Switzerland and Ecuador.
Of course all of that will change throughout the evening, so who knows.
6:57: And that's it. A wonderful performance from Lionel Messi has inspired Argentina to victory in a thrilling conclusion to their group campaign. Nigeria and the brilliant Ahmed Musa ensured it remained a contest throughout and both sides deservedly advance to the knock out stages after Iran failed to beat Bosnia-Herzegovina.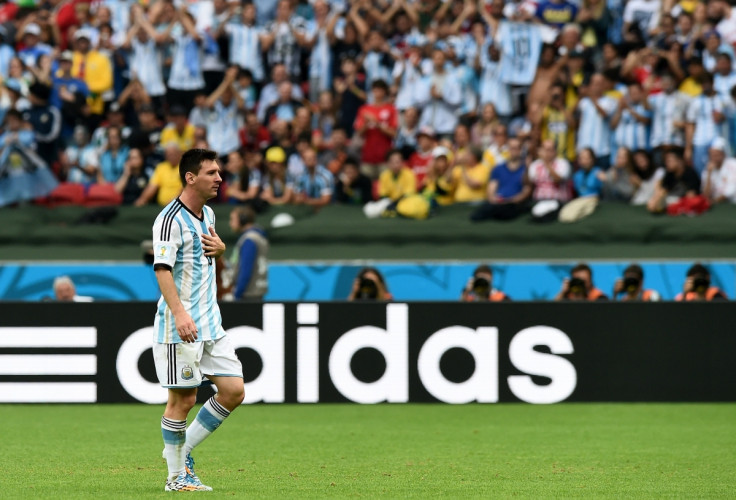 FULL TIME
Nigeria 2-3 Argentina
6:51: Di Maria tries an outrageous effort from just inside the Nigerian half with Enyeama off his line. It bounces onto the roof of the net but the referee had already pulled play back. Full time whistle expected any minute now.
FULL TIME
Bosnia-Herzegovina 3-1 Iran
6:49: In to time added on now, four minutes in Porto Alegre and and three at the Arena Fonte Nova.
6:47: Efe Ambrose ventures forward in space down the right but his effort is fired into the side netting. Moments later Higuain drives into the Nigerian box drawing Enyeama out of goal. The Napoli forward is forced wide however and instead works the ball back across goal outside the area where Mascherano lets fly with any effort, but it's straight at the Nigerian 'keeper.
6:43: Emenike tries to bury one into the bottom corner from 25 yards but it veers just the wrong side of the post. Moments later Di Maria is freed down the inside left channel but his powerful drive is straight at Enyeama.
6:41: Iran are back in it! For about half a minute, anyway. Reza Ghoochannejad's scores his country's first goal of the competition, tapping it at the far post after peeling off his man. Straight after the restart however Iran lump everyone up looking for a would-be-winner, but are immediately caught out at the back with full back Vrsajevic racing forward to thump one into the back of the net
Goal! Bosnia-Herzegovina 3-1 Iran (Avdija Vrsajevic, 82)
Goal! Bosnia-Herzegovina 2-1 Iran (Reza Ghoochannejad, 81)
6:38: Musa denied the hat-trick! His run down the left wing is brillliantly found via a long ball that gets in behind Zabaleta. Musa picks it up, turns inside and looks to curl one past Romero but Zabaleta recovers brilliantly to slide across and make the block. Tremendous defending.
6:36: Lavezzi wins yet another free kick and Argentina try something from the training group as a clever scooped pass finds Lavezzi down the right inside the box. Enyeama stays big and makes the block however.
6:35: Nigeria move the ball around nicely in front of the Argentine box before finding Odemwingie out on the right. The Stoke forward shapes to find a teammate and then tries to catch Romero out, lifting an effort towards the back post. The Argentine reads it well however and claims.
6:33: The ball falls to Musa to the right of ther Argentina penalty area and he hits a first time effort on goal in hope of finding his hat-trick. He hits it sweetly, but under pressure from Zabaleta cannot keep it down.
6:31: News of Bosnia's second has filtered through to both teams, you would imagine. There has been a slight drop off in the pace of the contest despite it being nicely poised at 3-2 with Argentina seemingly content with retaining possession. Nigeria are still driving forwards looking for an equaliser, but must unlock a far more conservative Argentina midfield to do so.
6:29: Gonzalo Higuain tries to channel his inner Messi with a drive upfield from right to left but holds onto the ball for too long and is dispossessed.
6:27: The stricken Babatunde is replaced by Uchebo, an absolute giant of a human being.
6:25: Concern for Nigeria as Babatunde is down and looks to have done some serious damage to his arm. Replays suggest the guilty party was his own teammate Onazi, whose powerful strike a few minutes ago crashed into his teammate's arm, snapping it back in a rather nasty looking fashion. Babatunde will have to go off with his arm being placed in a cast.
6:20: Lionel Messi won't get his hat-trick today as he comes off with Javier Mascherano taking the captain's armband. He is replaced by Rikcy Alvarez.
6:18: There's a bit of a scramble in the Argentina box as they fail to deal with a corner. The ball falls kindly to Mikel just outside the six yard area and he attempts to curl one into the far right corner, but Romero is well placed to pluck it out of the air.
6:16: Iran are made to pay for their dire attempt to play the ball out of defence with Edin Dzeko pouncing on a loose pass that he slips through to Pjanic. The Roma maestro calmly slots home and that should be enough to guarantee Nigeria second place whatever happens in Porto Alegre now.
Goal! Bosnia-Herzegovina 1-0 Iran (Miralem Pjanic, 58)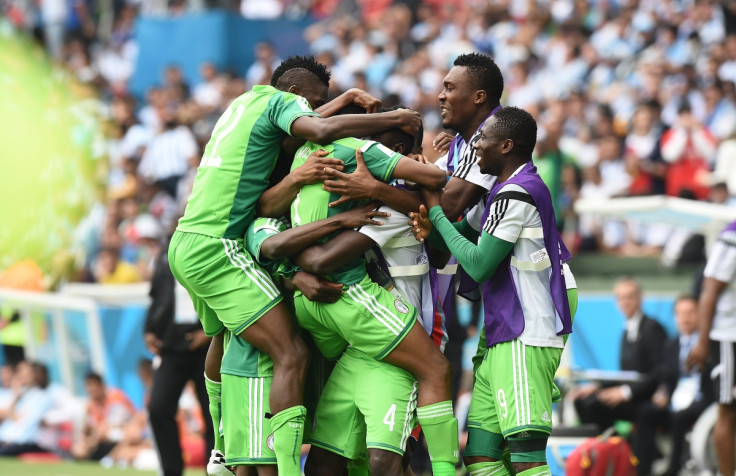 6:14: There is a wonderful noise from both sets of fans reverberating around the stadium in Porto Alegre. On the pitch Argentina are moving the ball around the pitch masterfully.
6:11: Marcos Rojo restores Argentina's lead! From Di Maria's stinging effort Argentina get the corner that Messi drops into the six yard area. Ezequiel Garay rises first and glances the ball on to Rojo who gets enough contact on the ball to drive it over the line!
Goal! Nigeria 2-3 Argentina (Rojo, 49)
6:09: Ooof, Di Maria lets fly with an effort from outside the area that Enyeama has to palm over the bar.
6:07: Nigeria are level again! Musa starts the move, cutting in from the left and stabbing the ball into the path of his teammate who holds the ball up well and lays it off for Musa who is galloping into space on the edge of the area. There is far too much space between the two Argentine centre halves and Musa is free to poke the ball past Romero to double his tally.
Goal! Nigeria 2-2 Argentina (Musa, 47)
6:02: And we are back underway in both our games.
5:51: Messi's tournament prior to this evening had been marked by two moments of sheer brilliance amid two fairly average performances by his remarkable standards. Two goals, the second a wonderful free kick, have gone some way in addressing that. The Barcelona star has looked at ease in this contest, taking on the opposition at will with the confidence and bravado that was sometimes missing against Bosnia and Iran. Those goals have seen him pull level with Neymar's tally for Brazil, you would expect him to surpass that this evening.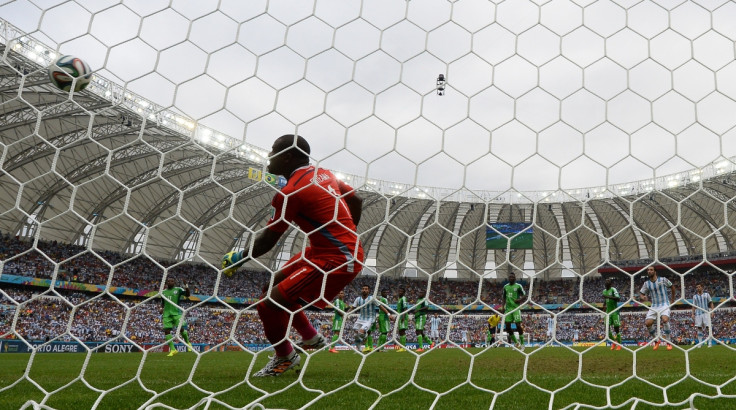 In this evening's other game, Bosnia have the lead over Iran which will ensure Nigeria have no worries about sealing second place in the group should the score remain the same.
HALF TIME
Nigeria 1-2 Argentina
Bosnia-Herzegovina 1-0 Iran
5:47: It's absolutely sublime from Messi. From slightly closer in than his effort moments ago, he curls an inch perfect free kick over the wall into the right hand corner of the net. And with that the referee calls half time on the Lionel Messi show.
Goal! Nigeria 1-2 Argentina (Lionel Messi, 45)
5:45: Messi picks up the ball and drives through the heart of Nigeria's defence, dancing his way past defenders until Oshaniwa sticks out a leg. Free kick and the no. 10 will have another chance to add a second from distance/
5:44: Lavezzi is taken down and Argentina win a free kick a good 30 yards out from goal, just off to the right. Lionel Messi stands over it and bends a terrific effort over the wall that Enyeama has to leap across his goal to keep out.
5:41: Mikel hoofs a ball forward from his own half with the hope of Musa getting on the end of it. No one is expecting him to but he almost manages it but his hooked effort at the byline doesn't have enough on it.
5:38: Spahic is also being forced to leave the game early following a late challenge from Iran's Ghoochannejhad. The Bayer Leverkusen man leaves the pitch on a stretcher.
5:36: Sergio Aguero looks to have suffered another injury set back and is being replaced by Ezequiel Lavezzi. The Manchester City striker suffered a string of thigh and hamstring injuries last season and never really enjoyed a consistent spell of fitness after Christmas.
5:35: Emenike finds space to the right of the penalty area but is wrestled to the ground by Mascherano. Free kick.
5:33: The offside flag was up anyway. Oh well, is still looked nice.
5:32: Begovic in the Bosnia goal has just been called upon to make a terrific save to keep his side ahead after Besic gave away the free kick on the edge of the area. It's blasted in the wall but is cleverly volleyed on after being sent back into the box, forcing Begovic to leap across goal and make the block. Terrific goalkeeping.
5:30: Argentina mounting pressure again. This time Angel Di Maria tried his luck, pinging a fizzing effort to the bottom right hand corner. Enyeama does well to read the bounce it takes on its way through and palms it around the post. Argentina corner.
5:29: Nigeria do not to be asked twice to shoot from range, Odemwingie is the latest to try his luck, letting fly with an effort from 25 yards that sails just over Romreo's bar.
5:27: Excellent work again from Di Maria who steps down the left flank ahead of his man and drives an inviting ball across the face of goal. Messi can't quite stretch far enough to divert it past Enyeama.
5:25: Iran nearly hit back immediately! Shojae stabs one towards goal from the edge of the box that cracks off the underside of the bar but doesn't cross the line.
5:22: Dzeko gives Bosnia-Herzegovina the lead! It's pretty poor defending from Iran who invite the Manchester City striker to shoot from distance. He doesn't need to be asked twice, feinting once before sweeping a low drive into the bottom right corner. That goal will be music to Nigerian ears; a Bosnian win ensures they will qualify to the knock out stages.
Goal! Bosnia-Herzegovina 1-0 Iran (Edin Dzeko)
5:19: Bosnia meanwhile have comfortably taken control of their game without creating too much of note. Dejagah just provided a telling reminder of his threat however, bursting in from the left before driving an effort on goal that was hacked away.
5:18: Messi again dances his way down the right and wins the corner. The delivery is inviting but no one is attacking the ball and Enyeama collects.
5:17: That was three in three for Messi, by the way, after scoring just once in his previous World Cup campaigns.
5:14: Messi, Higuain, Aguero and Di Maria are combining effortlessly with the pace and verve that was missing in their opening two games. Another neat move forces Aguero just a little wide to shoot or find a teammate in the six yard area and Enyeama smothers the ball.
5:10: It hasn't been as lively in our other game. Bosnia won a free kick in a dangerous position moments ago which Miralem Pjanic stands over, but can only fire into the Iranian wall.
5:07: Argentina mean business. Di Maria lets fly with a powerful effort from 25 yards out that Enyeama can only parry to safety. Moments latyer Higuain is freed by Messi on the inside left channel but after attempting to round the Nigerian shot stopper can only fire his shot into the side netting. Exhilarating start.
5:06: Nigeria peg them back immediately! It's stunning effort from Musa who cuts inside from the left and curls a magnificent strike into the stop right corner. 1 minute and 20 seconds between the two goals.
Goal! Nigeria 1-1 Argentina
5:03: Argentina have the lead! Mascherano picks Angel di Maria out with a superb through ball that the Real Madrid man takes brilliantly in his stride. He fires for the bottom left corner but it hits the post but Messi is on the scene to fire into the roof of the net!
Goal! Nigeria 0-1 Argentina (Lionel Messi, 2)
5:02: Early worry for Argentina as Javier Mascherano goes down following a hefty challenge from Peter Odemwingie but is okay to continue.
5:01: And we are underway! Argentina get the ball rolling in Porto Alegre as Bosnia get us started at the Arena Fonte Nova.
4:56: National anthem time; Argentina fans once again providing one of the best renditions of the tournament. BBC sport suggest there are 200,000 of them around Porto Alegre this afternoon.
4:52: Both teams are now making their way out onto the pitch. Here's a quick reminder of ther starting XI's:
Nigeria: Enyeama, Ambrose, Yobo, Omeruo, Oshaniwa, Onazi, Mikel, Babatunde, Odemwingie, Emenike, Musa
Argentina: Romero, Zabaleta, Federico Fernandez, Garay, Rojo, Gago, Mascherano, Di Maria, Messi, Higuain, Aguero
Bosnia: Begovic, Vrsajevic, Spahic (c), Kolasinac, Besic, Pjanic, Ibisevic, Dzeko, Susic, Sunjic, Hadzic.
Iran: Haghighi, Haji Safi, Hosseini, Sadeghi, Nekounam (c), Shojaei, Timotian, Montarezi, Ghoochannejad, Dejagah, Pooladi.
4:47: Argentina haven't needed divine intervention just yet, but their fans have given us a gentle reminder that they also have the Pope in their corner should Lionel Messi have a quiet evening.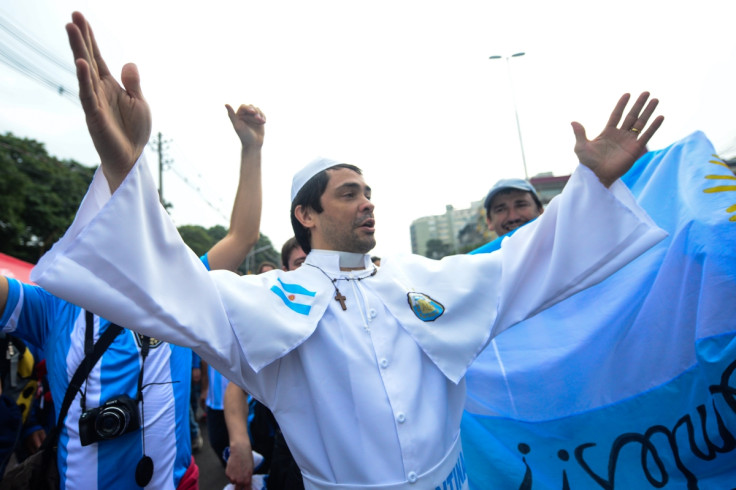 4:38: Argentina and Nigeria are no strangers; they met in both the 2002 and 2010 competitions with the south Americans walking away as 1-0 victors on both occasions. Four years ago in South Africa the game morphed into a one on one duel between Lionel Messi and Vincent Enyeama as the Nigerian shot stopper embarked on a one man mission to deny the Barcelona star. He managed that feat, but was unable to keep out Gabriel Heinze's sixth minute winner.
4:34: Here's a rather tasty stat on Argentina's Angel Di Maria.
4:28: Alejandro Sabella isn't taking any risks; his side are unchanged as are Nigeria.
LINE UPS
Nigeria: Enyeama, Ambrose, Yobo, Omeruo, Oshaniwa, Onazi, Mikel, Babatunde, Odemwingie, Emenike, Musa
Argentina: Romero, Zabaleta, Federico Fernandez, Garay, Rojo, Gago, Mascherano, Di Maria, Messi, Higuain, Aguero
TEAM NEWS: Iran name an unchanged side from the one who came so close to earning a famous point against Argentina. For Bosnia, Vedad Ibisevic returns up front alongside Edin Dzeko.
Bosnia: Begovic, Vrsajevic, Spahic (c), Kolasinac, Besic, Pjanic, Ibisevic, Dzeko, Susic, Sunjic, Hadzic.
Iran: Haghighi, Haji Safi, Hosseini, Sadeghi, Nekounam (c), Shojaei, Timotian, Montarezi, Ghoochannejad, Dejagah, Pooladi.
TEAM NEWS: Nigeria's Godfrey Oboabona has recovered from injury that could see him return to the starting XI after missing the win over Bosnia. With qualification assured, Alejandro may be tempted to rest a number of players but with top spot still up for grabs, he will exercise that option at his own peril.
4:18: It's simple for Argentina, a point will be enough to see them qualify as Group F winners and avoid a likely meeting with France in the last 16. Nigeria however can still dent those plans if they get the win. With Iran also still capable of qualifying, the Super Eagles must play with the goal of usurping Argentina at the summit of the group and will be looking to Emmanuel Emenike to supply the firepower to help them accomplish that.
4:10: Had it not been for two moments of sheer brilliance from their no. 10, it would be fair to put down Argentina's campaign so far as one of the most forgettable of the tournament. While he hasn't been at his imperious best this summer Lionel Messi has still managed to produce two unforgettable moments to lift his side to the top of their group. If this is him just getting warmed up after a demanding domestic season that punctured by injuries, then it bodes well for Alejandro Sabella and his side's chances of rectifying the shortcomings that have plagued the national team.
Group F: Nigeria v Argentina and Bosnia-Herzegovina (5:00)
Group E: Ecuador v France and Honduras v Switzerland (9:00)
4:00: After the fireworks of Tuesday night we are back to the small matter of qualification for the knock out stages of the World Cup this evening. Luis Suarez's bite on Giorgio Chiellini has understandably dominated the news agenda amid calls for the Liverpool striker to be banned for the rest of the tournament and, rather hyperbolically from BBC's Danny Mills, for him to be thrown in jail for the rest of his life.
Fifa have since confirmed they have opened disciplinary proceedings against Suarez but while all that's going on, there is still a World Cup going on. A lethargic Argentina have already confirmed their place in the knock out stages thanks to two moments of inspiration from Lionel Messi but a defeat to Nigeria would see the Super Eagles replace them at the summit of the group. Iran meanwhile must take all three points against Bosnia-Herzegovina and hope the group leaders discover their free scoring touch to have any hopes of qualifying for the next stage.
The runners up in Group F are all but certain to face a tricky last 16 game against France, whose six points from two games and a commanding goal difference advantage should see them top Group E whatever happens against Ecuador. With both the Ecuadorians and the Swiss level on three points, both sides could still join Les Blues in qualification.
© Copyright IBTimes 2023. All rights reserved.