The football World Cup is a very social event, with millions of people gathering in pubs, clubs and public places across the world to watch their team - but even more people are following the World Cup on social media.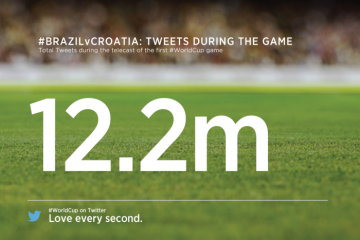 Twitter has just released some data about the reaction during the opening game of the World Cup in São Paulo on Thursday which showed that despite some high-profile departures at the micro-blogging site due to stuttering growth, there are still tens of millions of people ready to share their thoughts on the World Cup on the service.
The headline figure released on Twitter's blog was that 12.2 million tweets were posted about the match in the 90 minutes of the opening World Cup game.
As you can see in the map below, tweets came from all corners of the globule with 150 countries joining the conversation during the opening match of the World Cup.
The map shows that North America, Europe and of course Brazil itself were the source of most tweets. The heat map also shows that the volume of tweets peaked around the time of each goal, with the controversial penalty awarded to Brazil in the second half seeing a Twitter peak.
As well as scoring two of Brazil's goals and taking home the official Man of the Match award (which was partly voted for by Twitter users), Neymar also gained more than 165,000 followers in the 90 minutes of the opening game.
This is 10 times Neymar's normal daily follower growth average and brings him to almost 11 million followers.
Neymar was the most mentioned player during the game beating Oscar and Marcelo who scored an own goal in the 11th minute. For Croatia, Marcel Brozović, Luka Modrić and Ivan Rakitić were the most mentioned players.
The most retweeted World Cup tweet during the game was a message from Chelsea and Belgium star Eden Hazard whose message of congratulations for his Chelsea team mate Oscar - after he scored the third goal - was retweeted over 14,400 times.
The next most popular tweets came from a rather more unlikely source with Keaton and Wesley Stromberg of American band Emblem 3 seeing a series of their tweets shared 10,000 times.