Video footage taken on the mobile phones of refugees inside the Moria camp on the Greek island of Lesbos show the substandard conditions in which people are living.
The film, taken in January and sent to IBTimes UK by a reliable source, shows a lack of running water in a bathroom facility, as well as dirty sinks and showers.
The footage also shows thick snow blanketing the tents, which are tightly packed together, as well as wet and muddy conditions as the snow melts.
Around 3,000 people are living in Moria, a former military base near the town of Mytilene in Lesbos. The island is only a few miles from the Turkish coast and has seen an influx of refugees and migrants in the last five years.
As Greece experiences an unusually cold winter, a spate of deaths at Moria has raised concern about the conditions inside the camp. In one week in January, three men were confirmed to have died in Moria, but a Syrian refugee living there, who did not want to be named, told IBTimes UK there had been a fourth death.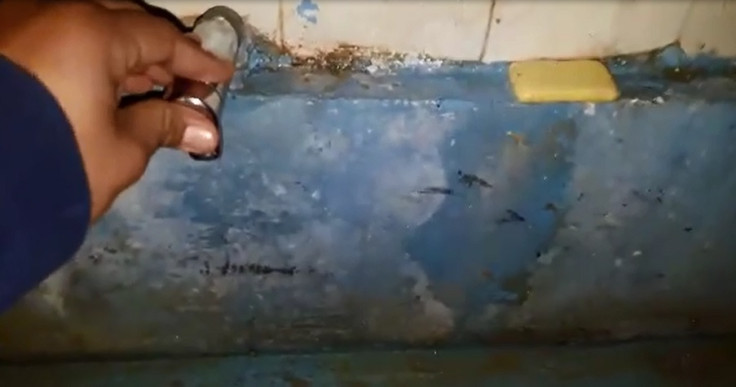 The three refugees who died include a 20-year-old from Pakistan, a 22-year-old Egyptian and a Syrian man aged 46. Greek media reported the men had inhaled fumes from a heater while trying to keep warm, but this has not been confirmed by the Greek authorities.
A 20-year-old man from Afghanistan living in Moria said there were many problems inside the camp, including a lack of washing facilities. "The water is no good, the showers no good, the toilets are no good in Moria," he told IBTimes UK.
Ahmed, an Algerian migrant living in an abandoned building near Moria also spoke of unsanitary conditions inside the camp. "Once a month I go to the camp to take a shower but I don't like it. It's not clean over there. I don't live in Moria because I don't feel safe there," he said.
More than one million people have travelled through Greece since 2015. Although the Greek government has created temporary housing for the thousands of people stranded by the EU-Turkey agreement, many of the camps are below accepted humanitarian standards.
Aid organisations including the British-based NGO Muntada Aid have been delivering essentials such as blankets, warm clothes and winter shoes to camps in Lesbos.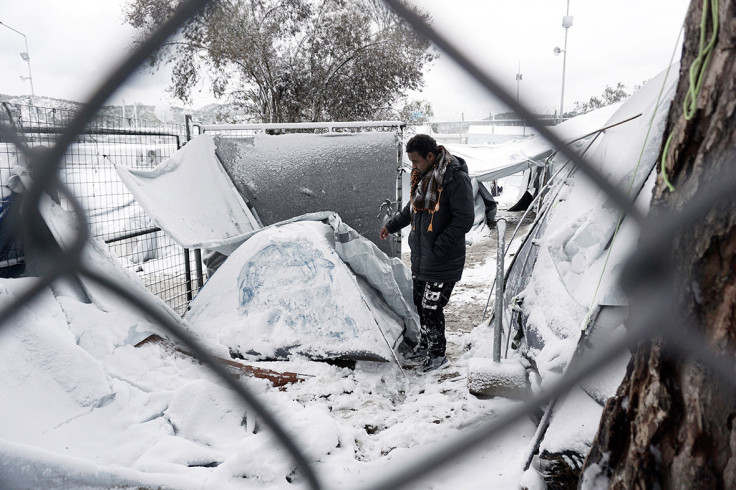 Roland Schönbauer, a spokesperson for the United Nations refugee agency (UNHCR), said they have warned against the "miserable living conditions for refugees and migrants".
"Seeing that the government-run camp Moria would not be made fit for winter in time, back in November, we discussed options with the authorities how we could step in," he said.
"So we were allowed to put up four heated rub halls as an emergency response, and we are trying to help the authorities with shelter improvements. In addition, we helped get over 600 people out of Moria, particularly vulnerable persons and families with children, to accommodate them in our residential containers in the municipality-run camp Karatepe (200 people) and in private places.
"The snow was only the tip of the iceberg, the underlying problem is the overcrowding due to marathon-long procedures. Greek authorities with the support from European asylum experts need to shift the gear to allow more asylum-seekers to mainland Greece where better accommodation is available."